Study: Hockey's enforcers die younger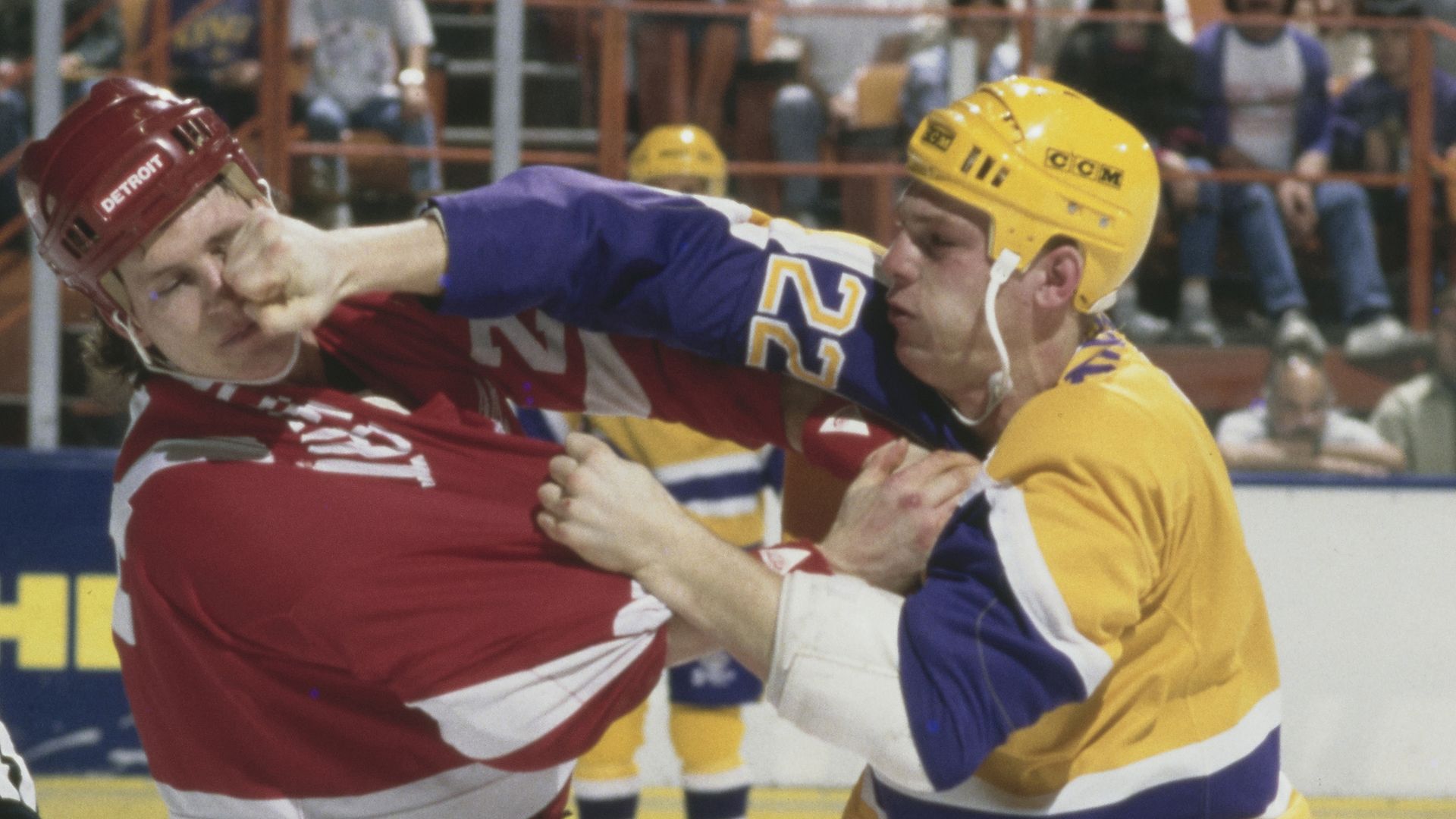 A new study shows that former National Hockey League enforcers — guys who fought a lot — live significantly shorter lives than their peers.
Why it matters: Fighting has already nearly disappeared from the NHL. Studies like this could lead to it ultimately being banned.
Details: Researchers at Columbia University analyzed data from 6,039 NHL players from 1967 to last spring.
They defined enforcers as players who had participated in 50 or more fights.
They compared them to similar players (age, height, weight, position, etc.) who had not.
By the numbers: Over 90% of the players in the study are still alive. But among those who have died, there's a stark difference between the fighters and non-fighters.
The average age of death for the enforcers who have died was 47.5.
For the control group, the average age of death was 57.7.
Between the lines: The differences in causes of death is also striking.
Of the 21 enforcers who died, 11 died of causes often linked to chronic traumatic encephalopathy (CTE), the study notes.
There were three suicides, two drug overdoses, two neurodegenerative disorder deaths and four car crashes.
Aside from one car crash, no control group players died of these causes.
State of play: The debate about fighting in hockey has been raging for years. Some see it as outdated and unimportant; others think it's a crucial part of hockey culture and still has a place in the modern game.
It's starting to feel like the end is near, though: The Quebec Major Junior Hockey League (QMJHL), one of the three junior leagues in Canada, announced in March that it is banning fighting.
The change was spearheaded by Enrico Ciccone, a former NHL enforcer who's been vocal about the toll it took on him and many others.
The other side: "I think it's a really bad call … I don't agree with it at all," Dallas Stars forward Max Domi said when asked about the QMJHL's change.
"I'd say about 99.99% of the NHL … most guys are gonna say fighting is pretty crucial," he added.
"I'm a huge advocate for keeping fighting around, and I think it's a huge mistake by the [QMJHL]."
The last word: "With declining rates of fighting and a lack of evidence that fighting promotes attendance, winning, or player safety, it is time that the NHL … eliminates fighting," the study's authors conclude.
Go deeper