Sullivan meets with China's top diplomat as U.S. seeks to reopen communication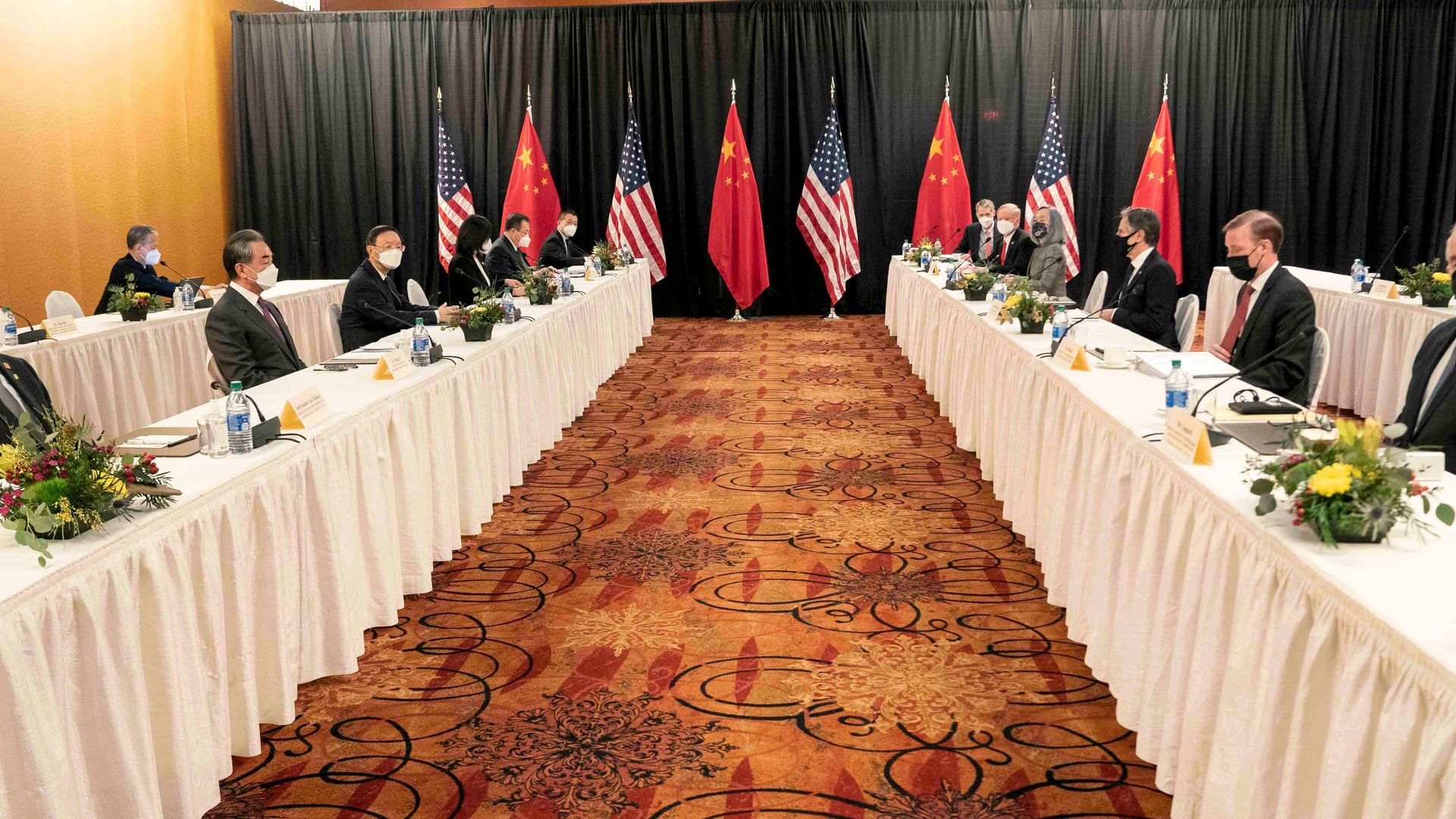 White House national security adviser Jake Sullivan met with China's top diplomat Wang Yi in Vienna this week as the U.S. seeks to resume and maintain high-level communication channels with the Chinese government.
Why it matters: Lines of communication between Washington and Beijing, particularly around defense issues, were largely severed after the U.S. shot down what officials said was a Chinese spy balloon in February. Since then the U.S. has repeatedly said it was trying to restart communications.
U.S. Secretary of Defense Lloyd Austin wants to meet his Chinese counterpart Gen. Li Shangfu on the sidelines of a high-level defense meeting in Singapore in early June, two sources familiar with the Pentagon's plans told Axios.
Bloomberg was the first to report the Biden administration's efforts for a possible Austin-Li meeting in Singapore.
What they're saying: "The two sides had candid, substantive, and constructive discussions on key issues in the U.S.-China bilateral relationship, global and regional security issues, Russia's war against Ukraine, and cross-Strait issues, among other topics," the White House said in a readout of Sullivan's meeting with Yi.
"This meeting was part of ongoing efforts to maintain open lines of communication and responsibly manage competition," the readout added.
"The two sides agreed to maintain this important strategic channel of communication to advance these objectives, building on the engagement between President Biden and President Xi [Jinping] in Bali, Indonesia, in November 2022."
Chinese state news agency Xinhua reported that the two officials also "exchanged views" on the situation in the Asia-Pacific, Ukraine and "other international and regional issues of common concern."
The big picture: The readout of the Sullivan-Yi meeting made no mention of the status of the two countries' military-to-military communications.
Austin is expected to travel next month to Singapore to participate in the Shangri-la Dialogue organized by the Institute for International Security Studies (IINSS), a source with direct knowledge said.
The source said the Chinese defense minister is also expected to attend,
Neither Li nor Austin's participation has been publicly announced.
State of play: A U.S. official said the Pentagon is still in the planning process of Austin's trip but stressed the Biden administration has been very clear about its "intent to increase communication" with China "at all levels."
Li was sanctioned by the U.S. in 2018 over Russian arms purchases. The U.S. has said the sanctions will not prevent U.S. officials from meeting him.
A Pentagon spokesperson told Axios on Thursday that the Department of Defense "seeks to maintain open lines of communication with PRC military leaders, including the PRC Minister of National Defense."
"It has been the PRC's decision to ignore, reject, or cancel multiple U.S. requests for senior-level communication. We hope that the PRC will recognize the importance of opening up those lines of communication."
The Chinese embassy in Washington did not respond to a request for comment.
Go deeper