Exclusive: House majority whip confident about GOP border bill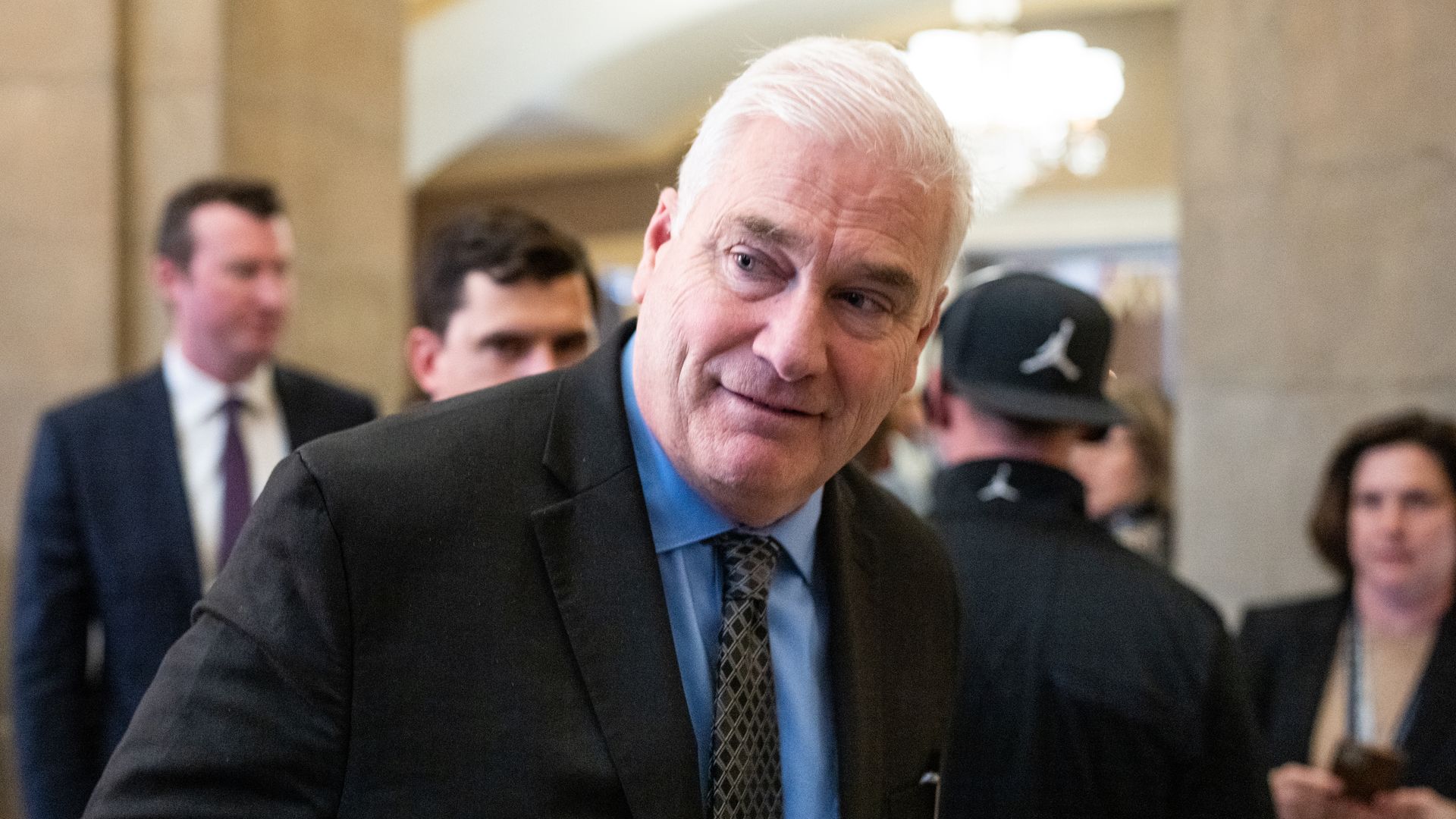 GOP leaders like their odds for passing a sweeping border security bill ahead of a new immigration crisis, House Majority Whip Tom Emmer (R-Minn.) told Axios.
Why it matters: Members on both sides of the aisle have voiced concerns about Thursday's expiration of Trump-era Title 42, which allowed for the swift expulsion of migrants during the COVID-19 pandemic.
While no Democrats are expected to vote for the bill, an increasing number say action needs to be taken to address the surge of migrants attempting to enter the country after Title 42 ends.
The Biden administration recently unveiled a plan aimed at mitigating the end of Title 42, but Republicans argue it does not go far enough to prevent overwhelmed border authorities and facilities.
Between the lines: The legislation serves as an early test for Republicans on unifying on difficult issues in a slim majority, and Emmer said that last-minute tweaks will get it to passage.
Republicans overcame their first procedural hurdle on the bill on Wednesday, leaving it expected to reach final passage on Thursday.
Emmer and House Speaker Kevin McCarthy huddled with lawmakers who were concerned that the language on E-Verify could place a burden on the agricultural industry and small businesses.
The bill is also set to be amended to address concerns over foreign terror organization language.
Zoom in: Emmer said taking a bottom-up approach has helped overcome hurdles that prevented Republicans from passing legislation in 2018.
"Some of it gets done right towards the end and it's more technical than it is substantive, but even that matters — members want to be heard," Emmer said.
The Minnesota Republican said the whip team met with members to hear out their individual concerns throughout the process, and credited McCarthy for setting the stage early with key negotiators to pass the bill on the timeline they sought.
"Kevin's the one who sat down with the chairs of those committees, and then with several members on the committee to say, 'Hey, we're committed to getting these done, but we have to have an orderly process so that we can make sure we can do our job and to hear everybody out,'" Emmer said, "and as it turns out, it was the right thing to do."
The bottom line: The bill is dead on arrival in the Senate and President Biden has vowed to veto it if the measure is sent to his desk. But GOP lawmakers are looking to use the legislation as a messaging tool as they look toward 2024.
One moderate Democrat told Axios there are aspects of the bill they agree with but felt the GOP should have made more of a bipartisan effort.
Multiple Republicans said they see the border and immigration as a key issue heading into 2024, arguing the legislation provides them opportunity demonstrate how they would address the issue if the GOP held control.
"I think Democrats understand the issue, I think they're very worried about a very radical part of their base that doesn't seem to want to deal with this at all," Emmer said.
Go deeper