House GOP jabs again at Hunter Biden and family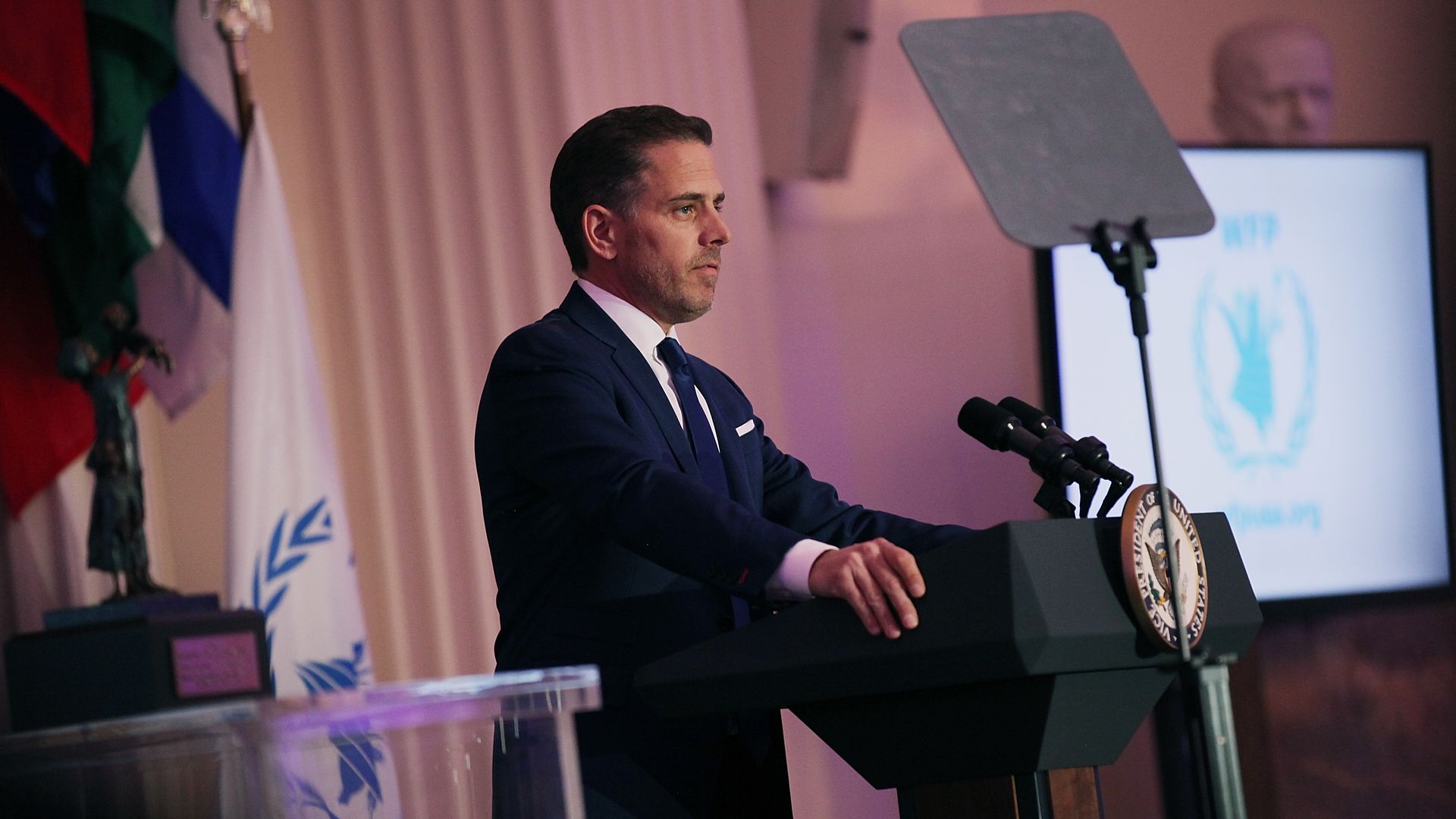 House Republicans took another swing at the Biden family Wednesday, alleging that the president's son, Hunter, received more than $1 million from a company controlled by a Romanian businessman during the time Joe Biden was vice president.
Why it matters: It was the latest in a series of financial transactions Republicans are highlighting to suggest the Biden family is "influence peddling" — a vague accusation involving capitalizing on the family's name by accepting money from foreign nationals in China and Romania.
Yes, but: The memo presented Wednesday by House Oversight chair James Comer (R-Ky.) included no evidence that President Biden acted improperly or took any official action because of his family's business affairs.
Zoom in: Comer's memo outlined several transactions from 2015 to 2017 with a company owned by Romanian businessman Gabriel Popoviciu — transactions conducted through an intermediary, who then routed the money to Hunter Biden and other Biden family members.
Hunter Biden, a lawyer, was retained in 2015 by Popoviciu, who was being pursued by anti-corruption prosecutors in Romania, as NBC and the New York Times previously reported. Popoviciu eventually was convicted of bribery.
Comer's memo also repeats allegations that Hunter Biden and other family members received another $1.3 million from the intermediary, who had been wired $3 million from a Chinese energy company.
And the memo provides more details about the China-related payments — money that President Biden has denied was sent to his family.
The big picture: Most of the findings beyond the specific transactions from the company controlled by Popoviciu are not new.
Comer has made "influence peddling" by the Biden family a top focus of his committee. Republicans' latest conclusions come from information provided by four different banks that were subpoenaed by the panel.
Those subpoenas, the memo says, were "tailored to specific individuals and companies that engaged in business activities with Biden family members and their business associates."
Republicans have yet to allege illegal activity, but they're trying to create a narrative of potentially unethical behavior — and have hinted at wanting to craft legislation targeting similar activities by public officials and their family members.
What they're saying: Ian Sams, White House spokesperson for oversight and investigations, said in a statement, "Congressman Comer has a history of playing fast and loose with the facts and spreading baseless innuendo while refusing to conduct his so-called 'investigations' with legitimacy."
Abbe Lowell, a lawyer for Hunter Biden, told Axios, "It's been five years of investigations into Hunter Biden and his legitimate business activities, and still Republicans have nothing to show for it."
"Today's so-called 'revelations' are retread, repackaged misstatements of perfectly proper meetings and business by private citizens," Lowell added.
"Instead of redoing old investigations that found no evidence of wronging by Mr. Biden, Rep. Comer should do the same examination of the many entities of former President Trump and his family members."
Go deeper