GOP hardliners push McCarthy on White House debt ceiling meeting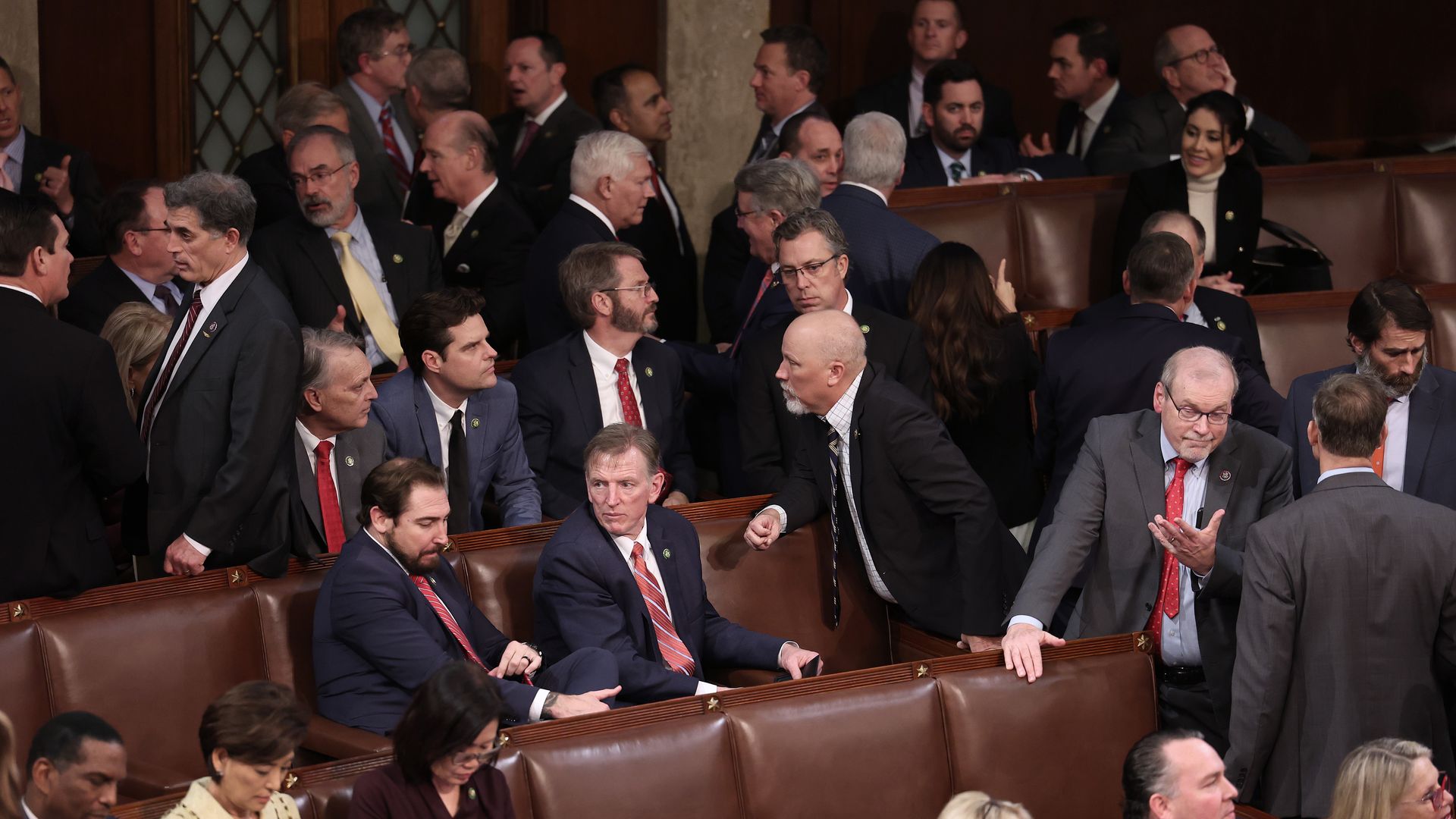 House conservatives have high expectations for Speaker Kevin McCarthy's White House debt ceiling meeting on Tuesday, saying he doesn't have a "lot of wiggle room" when negotiating with President Biden.
Why it matters: The House GOP's strictest fiscal conservatives say McCarthy has promised them he won't accept any legislation that doesn't include the majority of their demands that made it into the House-passed measure.
"Kevin doesn't have a lot of wiggle room to negotiate off the (mostly) Freedom Caucus designed plan the House passed. It's almost like he's in a straitjacket," Rep. Matt Gaetz (R-Fla.) told Axios.
Multiple GOP sources argued that House Republicans — by beating expectations and passing a bill — put McCarthy in a solid negotiating position.
"Kevin will stand rock-solid behind the only bill that has passed- our House bill. If Biden and [Senate Majority Leader Chuck] Schumer don't like it, they need to quit whining and pass one of their own," Rep. Ben Cline (R-Va.) told Axios.
But some GOP moderates fear that conservatives' expectations are too high, with some voicing that the most likely outcome is a debt ceiling bill that includes some COVID funding clawbacks.
What they're saying: "The Limit, Save, Grow Bill is the negotiated deal. As you know, we conservatives did not want to raise the debt ceiling and we worked on this for 60 days or so, led by the House Freedom Caucus," Rep. Bob Good (R-Va.) told Axios.
"What we've told the Speaker of the House is to hold the line, and we'll get what we've asked for in our proposal, our resolution and more if it keeps going," said Rep. Ralph Norman (R-S.C.).
The bottom line: Biden has largely maintained his position that the debt ceiling should not be used as a negotiating tool, calling for a clean debt ceiling increase.
Republicans expect McCarthy to reiterate that the House is the only entity that passed a bill to raise the debt ceiling, avoid default, and pursue significant reforms and that the Senate and White House need to negotiate and act before it's too late.
Senate Minority Leader Mitch McConnell has backed up McCarthy, calling for "substantial reforms" in a recent letter to Schumer.
Go deeper