"Your obstacles are your path": Sen. Amy Klobuchar's "The Joy of Politics"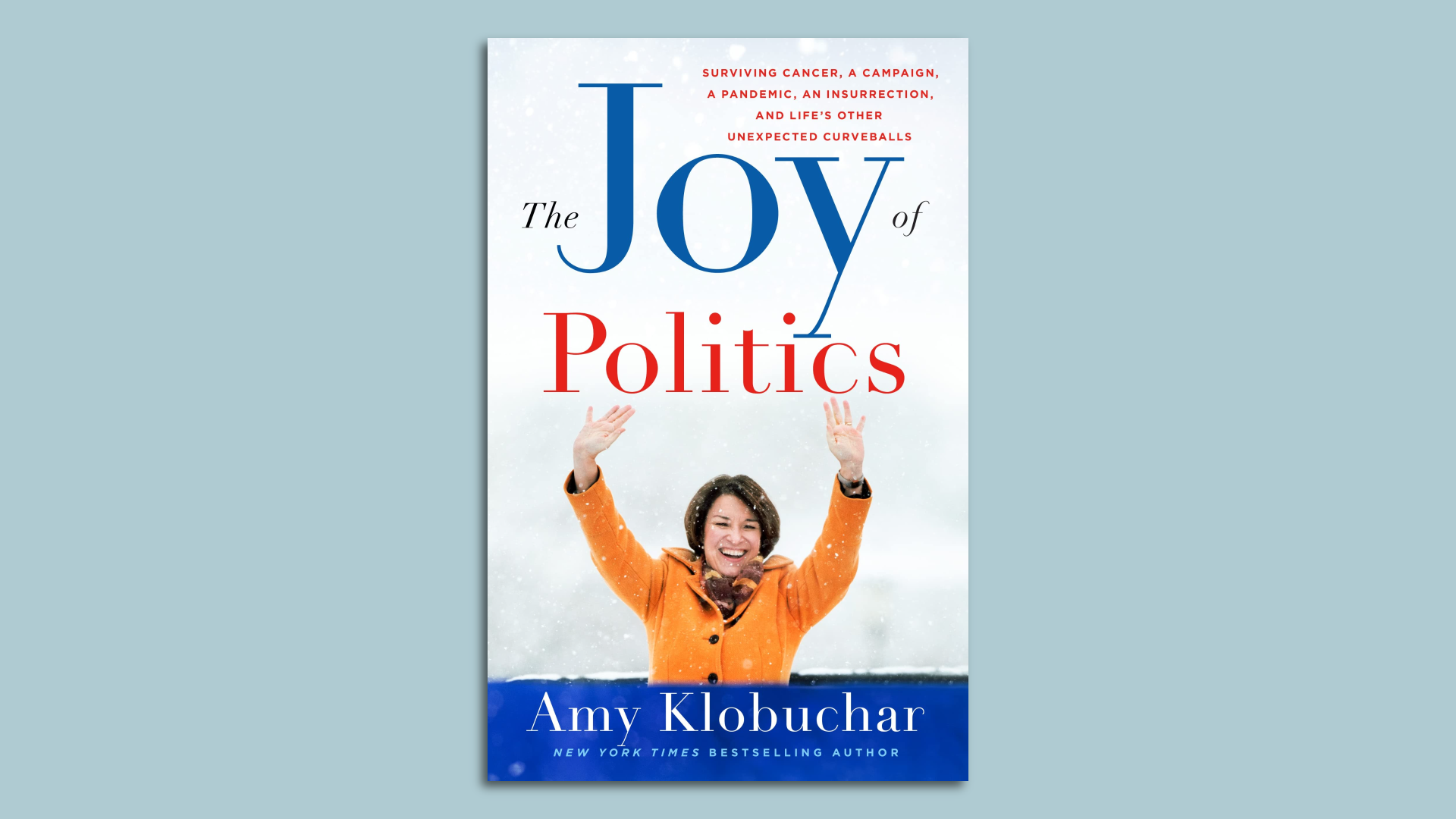 Here's a special excerpt for Axios readers from "The Joy Of Politics: Surviving Cancer, a Campaign, a Pandemic, an Insurrection, and Life's Other Unexpected Curveballs," out Tuesday from Sen. Amy Klobuchar (D-Minn.).
Why it matters: "You see, you need to start where you are," the senator writes in the introduction. "Your obstacles are your path. And sometimes when you don't quite make it to the top of the trail, you learn all kinds of lessons along the way."
When threats against members of Congress have exponentially increased and threats against judges and their court staff have more than tripled in four years, we know we have a problem, she writes in her afterword.
And when one out of six local election officials has reported personal threats against themselves and/or their family, and more than 50 percent of Americans had an election denier on the ballot in 2022, things are clearly way out of whack in our democracy.
So why pick this particular moment in time to write a book about "joy" in politics? As in how Pollyannish, how dumb-headed, how completely naive can you actually be?
I wrote this book because I believe that it is on all of us — as citizens, as elected officials, as people who simply want to pass on a better world to our kids and grandkids — to look for the good and do it.
We must — as Amanda Gorman reminded us when she read her poem under that perfect blue sky of the 2021 inauguration — "find light in this never-ending shade."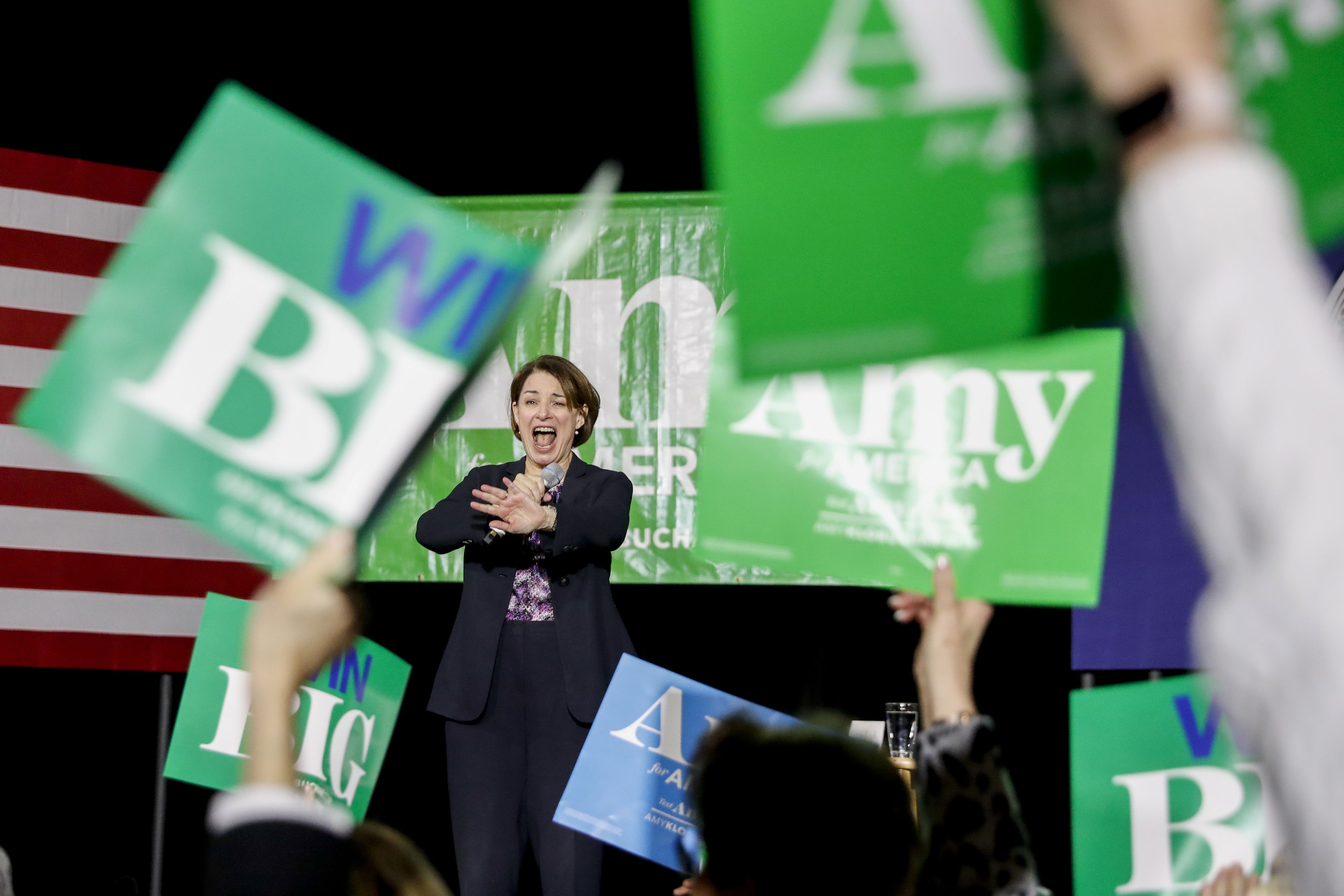 That means being honest about not just our country's shortcomings, but also our strengths. ...
As this book has documented, like all Americans, my last few years didn't go as planned. In my case, I lost a presidential primary, almost lost my husband to COVID, lost my dad, lost my sense of well-being after learning I had breast cancer, and, at times—as so viciously captured on January 6th— nearly lost my faith in our collective ability to move forward as a nation.
I wrote this book not for the purpose of lamenting each and every setback, but to rejoice in the comebacks. To remind my fellow Americans that, as the visiting preacher Reverend Dr. Claudette Anderson Copeland said at Reverend Raphael Warnock's church in Atlanta, "you START WHERE YOU ARE," not where you were in the past or even where you thought you'd be before your life veered off what you thought was your well-planned path.
On the bad days, I remind myself of the amusing story I recalled in chapter 2 of this book about the ever-optimistic Paul Wellstone—the beloved former senator from Minnesota. One late afternoon after suffering a public defeat on a bill on the Senate floor, he walked into his offices grumbling and mad about the loss. He then saw his staff—who'd watched it all unfold before their eyes on TV—with their heads down, glum as could be. Without missing a beat—and with full awareness of the irony of it all—he gruffly called out: "Where's the JOY in this room? Where's the JOY?"
Let me answer that today.
On my personal journey over these last few years I've managed to find plenty of joy. Despite the loss in the presidential race, what a privilege it was to travel the country and make my case and test the limits. The people I met and the young staff and volunteers who believed in our cause were awe-inspiring. And then to endorse Joe Biden and help him win the election was a privilege, not a chore.
Political resiliency, like resiliency after any life challenge, can best be measured by how you deal with setbacks. Do you try your best to move on and look for the good and a new mission? Or do you retreat, miring yourself in dark thoughts, revenge, and pity? As recounted in these pages, I have had a front-row seat to learning resiliency from the best of the best. ...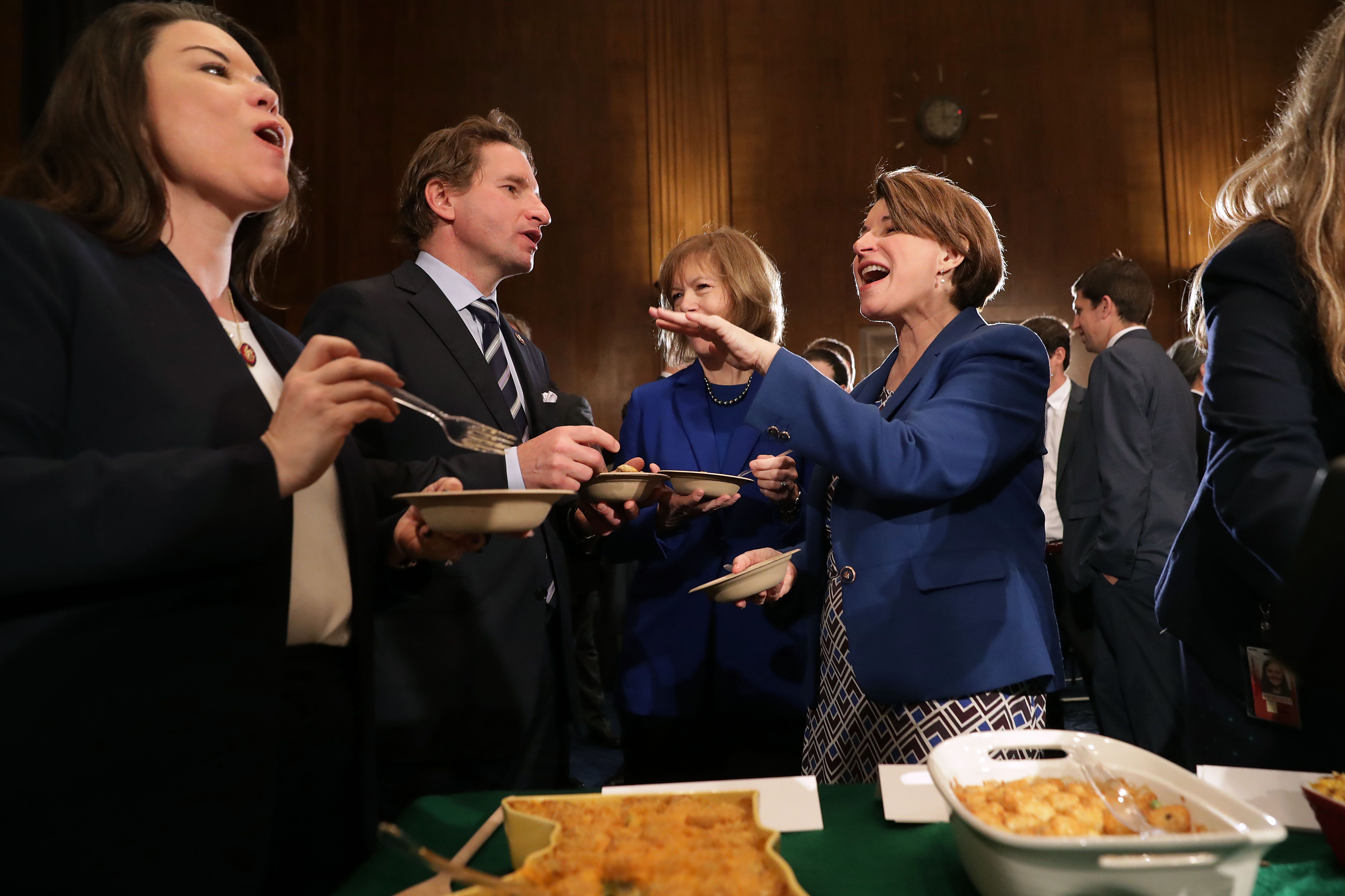 I have always been blessed to have a place to come home to, a state and a family that I love so much. For nearly everyone, the pandemic years have been marked by missed events, lost friends and family, and many sorrows.
But for some of us, these years have also involved unexpected and unplanned time with family. Seeing our daughter make her way in the world of work and enter law school as happy and purposeful as any parent could hope for has been pure joy. Someone once shared an old adage: "You're only as happy as your least happy child." ...
In the middle of all of this, of course, we lost my dad. While his magnificent mind was riddled with Alzheimer's in his closing years, he was still joyful. He told tons of amusing stories from his various perches: a patio lawn chair, a couch in the assisted living family area, on his bed sitting upright in his brightly decorated room, the walls filled with photos of the people he adored and the treks he had taken from Nepal to Tanzania to Peru.
How he loved to tell stories. And some of them were even true. "Okay," I remember explaining to the nursing assistants one morning, "I know he's focused on this today, but he really didn't have breakfast with Isaac Newton."
The remarkable thing about my dad was that he knew he was dying for months. He had always been a believer. He loved going to church. He led religious trips to Israel. He was proud of his Catholic roots while nevertheless becoming a Lutheran after his divorce from my mom and before his second marriage.
To see someone who had been so incredibly ambitious, such a master of words, slip away with late-onset Alzheimer's was, yes, very sad. But the joy? It was there in his irascible spirit and faith in God that guided him through the end. He had literally climbed some of the world's highest mountains. But he had also descended into the lowest of valleys during his years-long struggle with alcoholism.
In his later years — after a successful recovery and hundreds of meetings—he could no longer venture out to his Alcoholics Anonymous group or morning Bible study. Instead, members of his AA and Bible groups would come to him in the assisted living facility. Per their accounts, he would sometimes look around the communal living area and note with a smile, "I've been sober for years now, but you couldn't get a drink around here anyway."
My dad's story was one of redemption. That was his joy.
Now during those same few months we knew we were losing my dad, I found out I had breast cancer. There's no sugarcoating it: there isn't a lot of joy in a breast cancer diagnosis.
And there's certainly no joy in the surgery's and radiation's aftermath, with assorted — but not unexpected — hot flashes and various other medical challenges. Yes, there were the devoted doctors and nurses and my friends and family who were there with me every step of the way.
There was the gratitude and lessons learned that you should never take anything or anyone for granted (something we all learned during the pandemic). But most of the joy in that time of healing came from knowing that by making the diagnosis public, I could help others.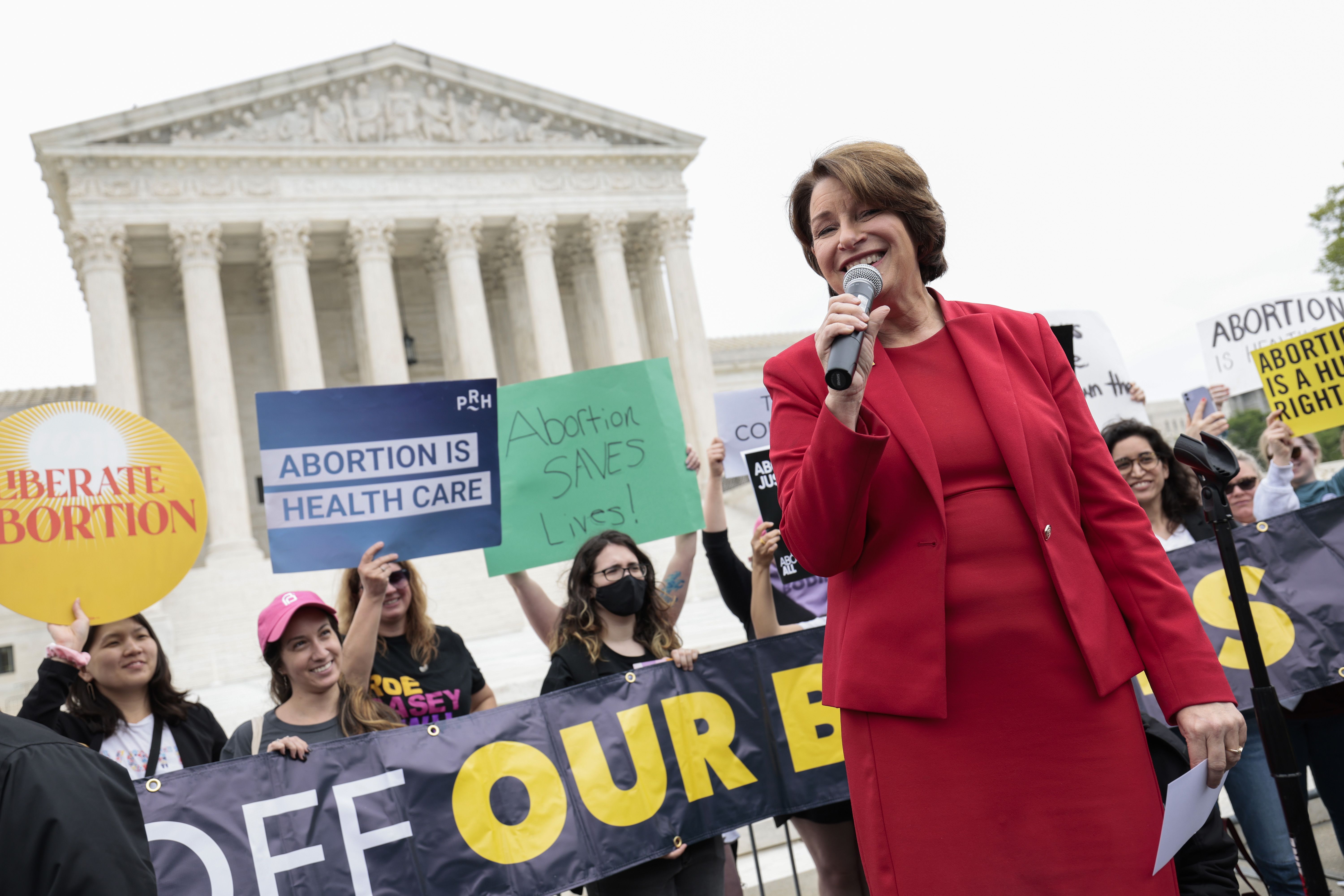 I think about my Senate colleagues and their staffs — both Democrats and Republicans (and yes, three Independents) — crafting bills late into the night and painstakingly working to reach agreement on amendments. I think about the White House and agency staff doing the same and responding to all kinds of crises.
I think about brave Republicans, like Liz Cheney and Adam Kinzinger and Jeff Flake, who put their whole careers on the line just to buck Donald Trump and stand up for our Constitution and our country. I think about my constituents, reading the news, asking me detailed questions about complex issues of war and peace and health and tax policy.
When I need any inspiration, I conjure up the images of the veterans gathering at the memorials, the volunteers at the food banks, the young people protesting injustice, the workers working extra shifts or extra jobs just to pay the rent and put food on the table for their families.
As time goes on I continue to gravitate toward issues and causes where the critics and special interests are so loud, but where the people who I am standing up for are either silenced or suppressed by the big guys with all the power. ... The small businesses squeezed out by monopolies. The people of Ukraine—the underdogs invaded by a nuclear and military superpower —who stood up just when everyone had counted them out.
"Be nice to your mom this weekend," my husband once told my daughter. "She has the biggest companies the world has ever known up against her and she's been banned from Russia." ...
I go forward ... with a deep love of our country and the realization that our work is never done. Not everything turns out as we want, but there are still many paths ahead. But most of all I go forward with joy, with a spring in my step, to a tune that's not yet finished.
Copyright © 2023 by the author and reprinted by permission of St. Martin's Publishing Group.
Go deeper