Asian Americans left out of climate movement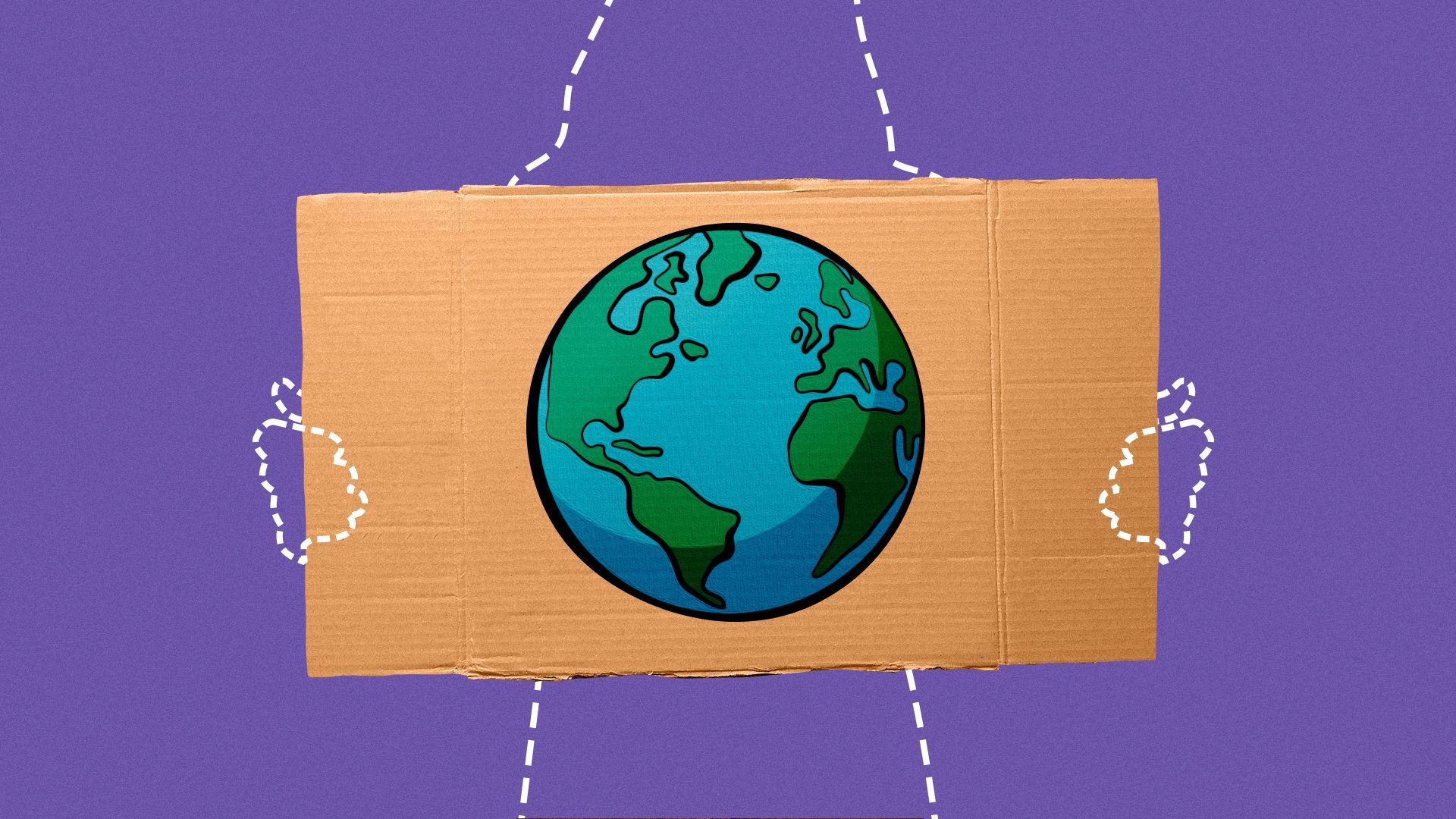 Despite elevated degrees of exposure and many decades spent advancing justice, Asian Americans have long been excluded from the national climate movement, activists and scientists tell Axios.
The big picture: Asian Americans across the country are working to change that legacy of omission by leading climate organizations, protests and research.
What they're saying: Climate justice activist Alexia Leclercq, who is Taiwanese with Indigenous ancestry, tells Axios that growing up in Texas, "upper class, white, mostly men" were always depicted as scientists or environmentalists.
Although representation has "somewhat improved," Leclercq says the larger Asian American community is still "not included" in leadership within these spaces.
This is due to "Asian people not being heard or seen as activists, which has contributed to the erasure of Asian Americans in the climate space," according to Leclercq, who co-founded the queer and BIPOC-led climate justice nonprofit Start:Empowerment in 2019.
Between the lines: Age-old stereotypes have portrayed Asian Americans as civically disengaged and politically inactive, obscuring the community's history as initiators in the fight against climate impacts they've suffered firsthand.
Nearly 70% of Asian American voters surveyed in a 2022 poll agreed that Congress and the president "should pass stronger legislation to reduce the effects of climate change."
"It's important to be able to take seriously Asian-American organizing as a strategic endeavor in our fight against the climate crisis," says Aru Shiney-Ajay, who is of South Asian descent and deputy campaigns director of climate advocacy organization Sunrise Movement.
"And I think those stereotypes can lead to not doing that."
State of play: Demographics within leading climate agencies and behind global climate reports that help set the national policy agenda tell another story.
A new report by the National Oceanic and Atmospheric Organization's Subcommittee of the Science Advisory Board finds that just 4% of employees across NOAA's workforce identify as Asian men, and 3% as Asian women.
NOAA is the top institution most represented among authors contributing to the UN's Intergovernmental Panel on Climate Change (IPCC) reports — considered "the most authoritative reports on the subject" — per a 2023 Carbon Brief analysis.
Zoom in: In 2018, Asian Americans made up 5.6% of the U.S. population but earned only 3% of ecology Ph.Ds, and were "markedly absent" from leadership positions in ecology, according to a 2020 paper in the Bulletin of the Ecological Society of America.
Lead author Sian Kou-Giesbrecht wrote that Asian Americans are "explicitly omitted" from the discussion on the lack of diversity in environmental fields.
One example: The National Science Foundation — where "Asians encounter the highest rate of rejections" — doesn't consider Asian Americans to be an underrepresented minority, excluding them from diversity supplements that may "increase support for both investigators and research focused on Asians," per a 2019 study.
Yes, but: "The idea of the model minority myth is so pervasive and so powerful, and we're fighting against it every single day," says Andrea Chu.
Poverty rates "vary widely" among Asian Americans, per a 2021 Pew Research report, which found most Asian origin groups face poverty rates that were as high as or higher than the U.S. average in 2019.
Plus, Asian American groups are "often missing from data," particularly concerning poverty and social service assessments, per a 2018 Urban Institute report.
Meanwhile: The "shadow" of the China Initiative — a controversial Trump administration-era policy which ended last year following allegations of racial profiling — has further strained longstanding research equity issues.
Some Asian American scientists have since reported being "unwilling to apply for federal grants," per the Chronicle of Higher Education.
Of note: The lack of disaggregated data on different Asian American subgroups contributes to the "systematic exclusion" of Asian Americans in environmental research fields, according to Chu.
"In terms of the science, in so many ways, we don't exist, because the data doesn't exist," says Chu, who studied environmental science.
"And so it becomes very difficult to fight the narrative that Asian Americans are not a part of this movement, or are not being impacted by climate issues."
Zoom out: Communities of color face higher levels of air pollution at every income level, a racial disparity shaped by redlining and segregation policies.
Asian Americans are no exception. Compared to white people, they are less likely to report "good" air, water and noise quality where they live — adverse conditions that can be exacerbated by climate change.
The bottom line: "We continue to be invisibilized and basically get left behind and never spoken about," Chu tells Axios. "My approach to this problem has been not to try and fight for space ... but to create the spaces that we need."
Go deeper