Biden admin offers temporary fix to Afghan refugees in limbo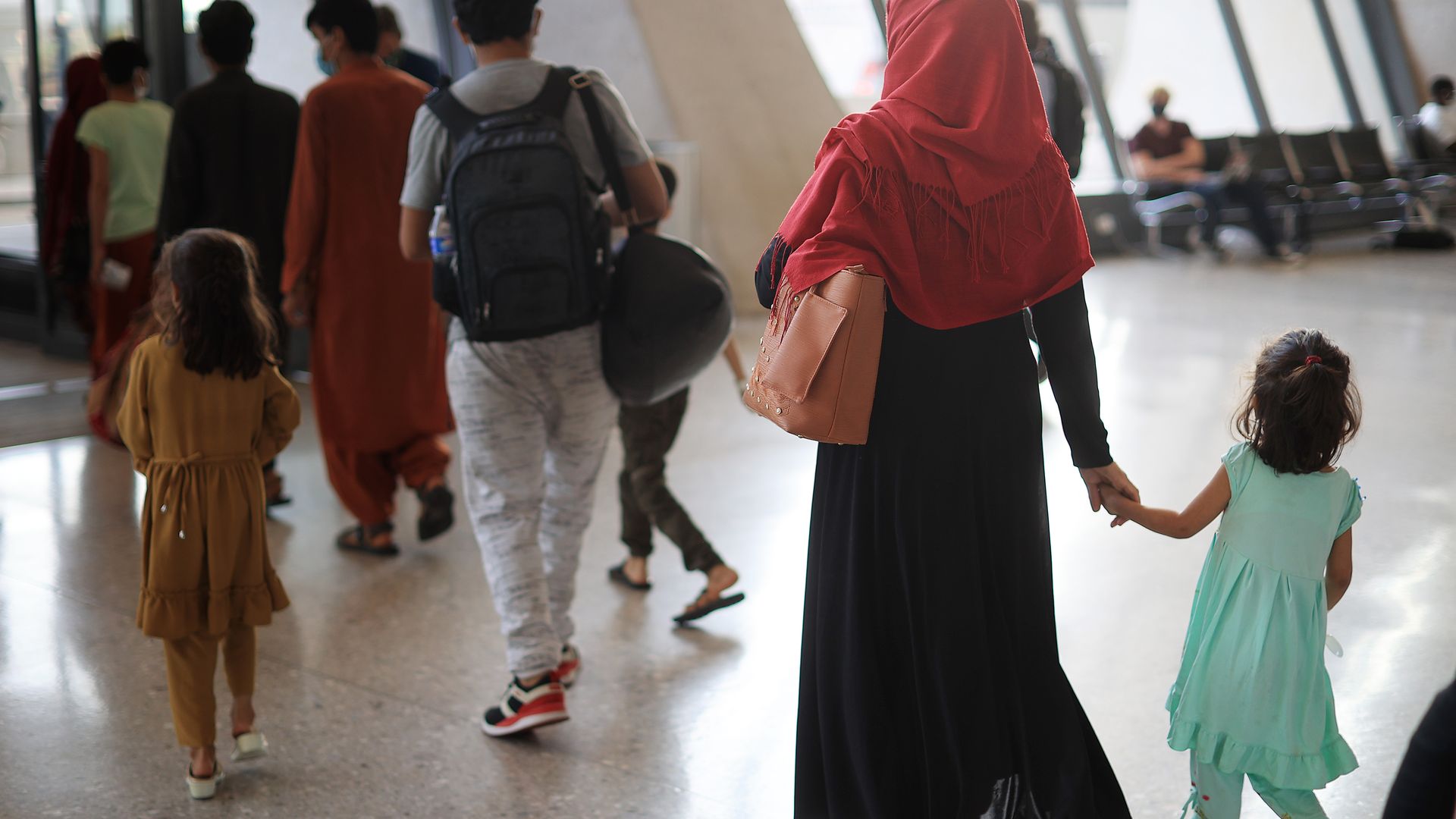 The Biden administration announced Friday a plan to allow Afghan refugees who fled their homes for safety to temporarily extend their time in the U.S. as they face uncertainty about their future.
Why it matters: Thousands of refugees, many of whom served alongside American troops as interpreters during the decades-long war, faced the prospect of soon having to return to Afghanistan — now in the Taliban's draconian grip.
"The amount of stress, trauma this uncertainty is causing these Afghans is enormous," Mustafa Babak, the executive director of the Afghan-American Foundation, told Axios before the announcement.
The big picture: Since the U.S. chaotically withdrew its final forces from Afghanistan in August 2021, lawmakers in Washington have failed to pass legislation that would carve out pathways to permanent residency for the thousands of Afghans evacuated to the U.S.
Those Afghans, many of whom faced potential reprisals from the Taliban, were resettled in the U.S. using a short-term mechanism known as parole.
The parole program, which provided protection from deportation and the ability to work for two years, allowed the U.S. to avoid the typical years-long visa process.
But for thousands of Afghans, that parole expires this summer, which left their ability to work, send their kids to school, and stay in the country in limbo, Babak said.
Driving the news: Eligible Afghans in the U.S. will be able to re-apply for parole starting in June, the Department of Homeland Security said in a press release Friday.
Applications will be considered on a "case-by-case basis for urgent humanitarian reasons and significant public benefit," it added, noting that additional details would be released soon.
CBS News first reported the news earlier this week.
Yes, but: Parole is a temporary measure and leaves Afghan refugees without a long-term solution.
What they're saying: "While mechanisms like re-parole provide some protection to resettled Afghans in the U.S., they do not provide long-term and sustainable safety and stability for this vulnerable population," Babak said in a statement following the announcement.
Babak urged Congress to pass the AAA "to reaffirm the U.S.'s commitment and to fulfill our promise to providing long-term protection and safety to our Afghan allies."
Background: The AAA stalled in December after it was excluded from the omnibus spending bill amid opposition from some Republicans.
A spokesperson for Sen. Amy Klobuchar (D-Minn.), one of the lawmakers who introduced the bipartisan bill last year, confirmed to Axios that efforts are underway to reintroduce the legislation in the new Congress.
Sen. Jeanne Shaheen (D-N.H.), who had co-sponsored the AAA, told Axios before Friday's announcement that extending parole was a "necessary step" in the absence of congressional action to provide a permanent solution.
"We owe the people we evacuated in August 2021 and who have settled into communities across America the peace of mind that they are safely out of harm's way," she added.
Go deeper