The panic over mortgage fees, explained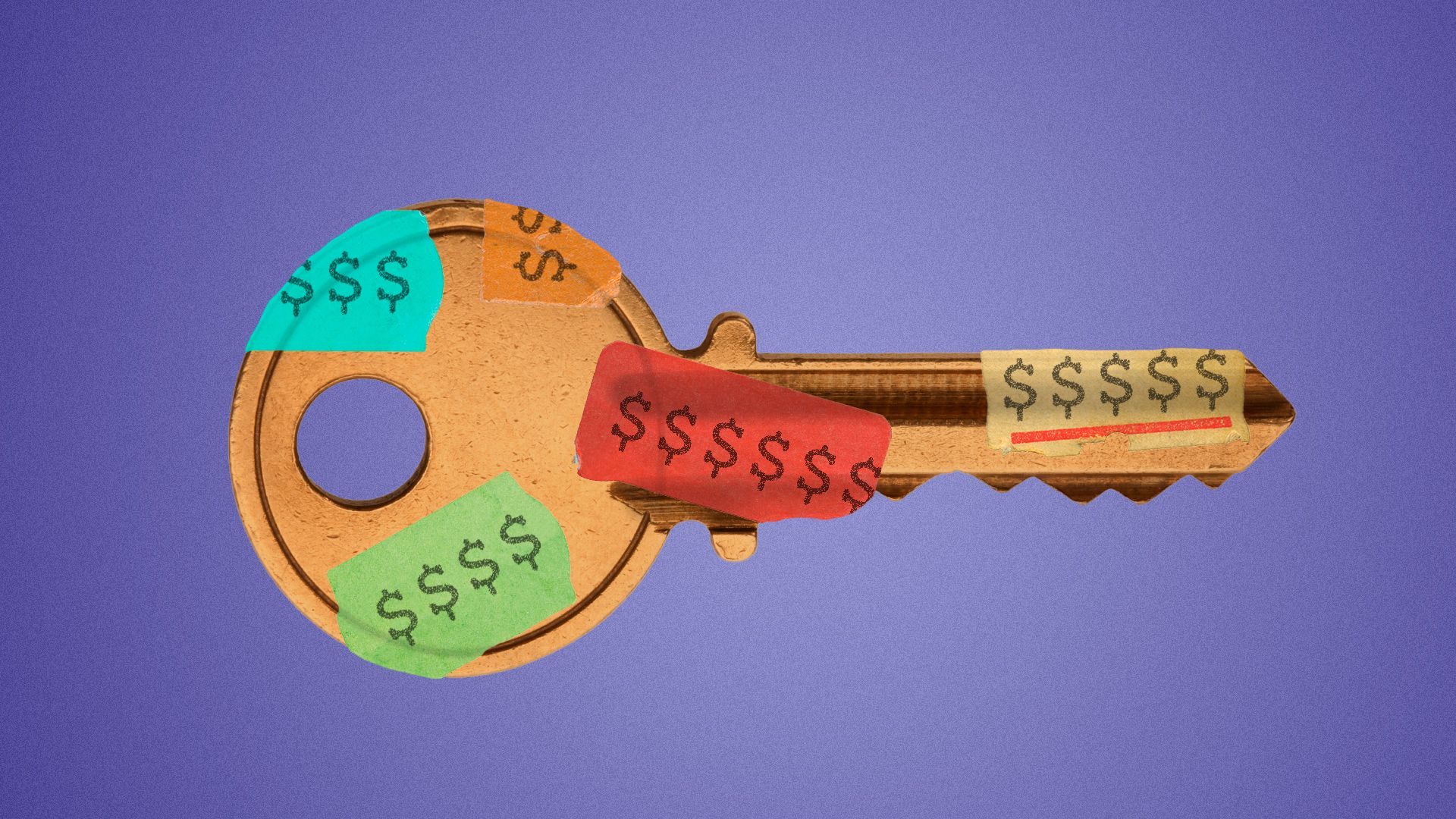 You may have heard something in the news lately about homebuyers with good credit scores paying more for mortgages in order to subsidize those with lower credit scores.
Why it matters: It's not true. This year, the fee structure around mortgages set by housing regulators did change, but rest assured those with good credit scores still pay less than those with worse ones.
What happened: Fannie Mae and Freddie Mac's regulators at the Federal Housing Finance Agency (FHFA) changed the fees they charge on mortgages — Fannie and Freddie buy up about half of all single-family mortgages in the U.S., keeping the housing market working.
The fee structure had been unchanged for about a decade, and the FHFA began taking a fresh look at it in 2021 to see if it still made sense.
How it works: The fees at issue are charged in exchange for taking on the credit risk of the loans: higher risk = higher fees. Risk is determined by credit score and down-payment size relative to home value.
The fees are essentially invisible to a home buyer. They're charged to lenders, who then tack them on to the mortgage rate borrowers agree to pay.
The average fee was 0.56 percentage points in 2021, the FHFA told Axios.
Risk-based fees were introduced in the wake of the financial crisis after bad mortgages tanked the whole economy, as well as Fannie and Freddie.
Zoom in: Last year, the FHFA announced increased fees on second-home loans, high-balance loans, cash-out refinances and investor property loans — these are mortgages that aren't really core to the agency's mission.
Later in 2022, with the help of the higher fees on non-mission critical loans, they eliminated fees for certain first-time borrowers, including lower-income borrowers and those in underserved communities (like folks in rural housing, and manufactured housing).
All of those borrowers have good credit ratings, but may not have big down payments available to buy a home. (If they put less than 20% down on a house, they'll get charged additional points by their lender.)
At no time was race considered as a factor in the FHFAs changes — as was implied in a segment on the fees that appeared on Fox News host Tucker Carlson's last show.
At the start of 2023, the FHFA announced changes to the overall fee pricing structure, based on credit ratings and down-payment amounts.
Under the new structure, borrowers with better credit and higher down payments still pay lower fees.
An Urban Institute analysis shows this — by taking into account both the new fee structure and the extra points tacked on to borrowers with smaller down payments.
Lenders started using the new fee structure after the announcement, and ahead of a May 1 deadline for when the agencies would start purchasing loans with the new pricing.
The media coverage heated up in April.
What they're saying: With misinformation swirling, even industry insiders who oppose the new fee structure have made statements to debunk these reports.
"We've spent the past week responding to misinformation that spread from the media to social media to Capitol Hill," Mortgage Bankers Association spokesperson Adam DeSanctis said in a video statement Tuesday.
"Borrowers with higher credit scores will still pay less than those with a lower credit score and the same down payment," he said.
None of the changes are "about penalizing borrowers with good credit scores to subsidize borrowers with bad credit scores. That simply doesn't happen," Mickey Shemi, a principal adviser at the FHFA told Axios this week.
Republican chair of the house financial services committee Patrick McHenry is calling on the FHFA director Sandra Thompson to reverse the fees.
"These changes violate the fundamental principle of risk-based pricing, namely that lower-risk borrowers should pay lower prices for access to credit than higher-risk borrowers," he wrote in a letter to Thompson last week.
Thompson issued a detailed statement the same day, debunking those claims.
The bottom line: No one paid much attention to Fannie and Freddie when mortgage rates were low. Now that the rate on the 30-year is over 6%, the spotlight is shining.
Go deeper