Michelle Obama launches food firm aimed at getting kids healthier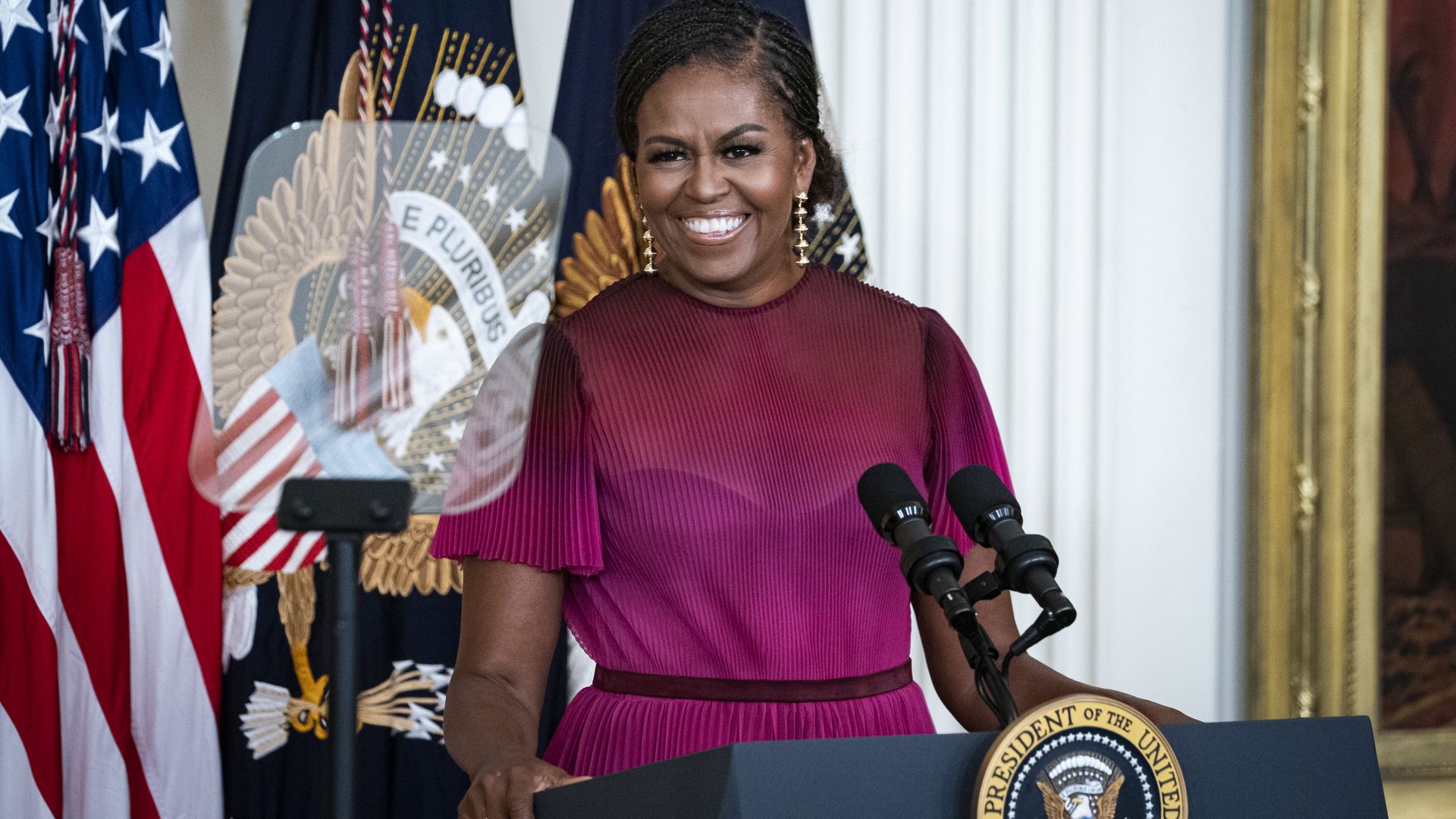 Michelle Obama announced Wednesday that she's co-founded PLEZi Nutrition, a food and drink company that says it aims "to help raise a healthier generation of kids."
Driving the news: Building on Obama's "Let's Move!" health campaign that she launched at the White House in 2010 when she was first lady, the first product is a kids' drink called PLEZi , which has no added sugar and 75% less sugar than average leading 100% fruit juices.
"PLEZi Nutrition will also provide an educational platform for parents and kids. A sizable portion of the marketing budget will be dedicated to promotional content around what's best for kids' health," per a company statement.
"The company will actively promote drinking water and eating whole fruits and vegetables."
What they're saying: "I've learned that on this issue, if you want to change the game, you can't just work from the outside," Obama said as she announced the company at The Wall Street Journal Future of Everything Festival.
"You've got to get inside — you've got to find ways to change the food and beverage industry itself."
The big picture: The CDC reported in February that nearly half of young kids aren't eating a daily vegetable and 1 in 3 aren't getting at least one daily fruit in their diets.
The CDC notes that in 2021, 32.1% of children aged 1–5 did not eat a daily fruit and 49.1% did not eat a daily vegetable during the preceding week and 57.1% drank a sugar-sweetened beverage at least once during the preceding week.
A CDC report found in 2017–2018 the average daily intake of added sugars was 17 teaspoons for children and young adults aged between 2 and 19 years old.
"Limiting or reducing foods and beverages higher in added sugars, including sugar-sweetened beverages, is important because added sugars are associated with increased risk of obesity, dental caries, diabetes, and cardiovascular disease," the CDC said in its February discussion of the 2021 data.
Go deeper: Michelle Obama to star with puppets in new Netflix food show for kids
Go deeper