The British monarchy's guide to communicating through clothing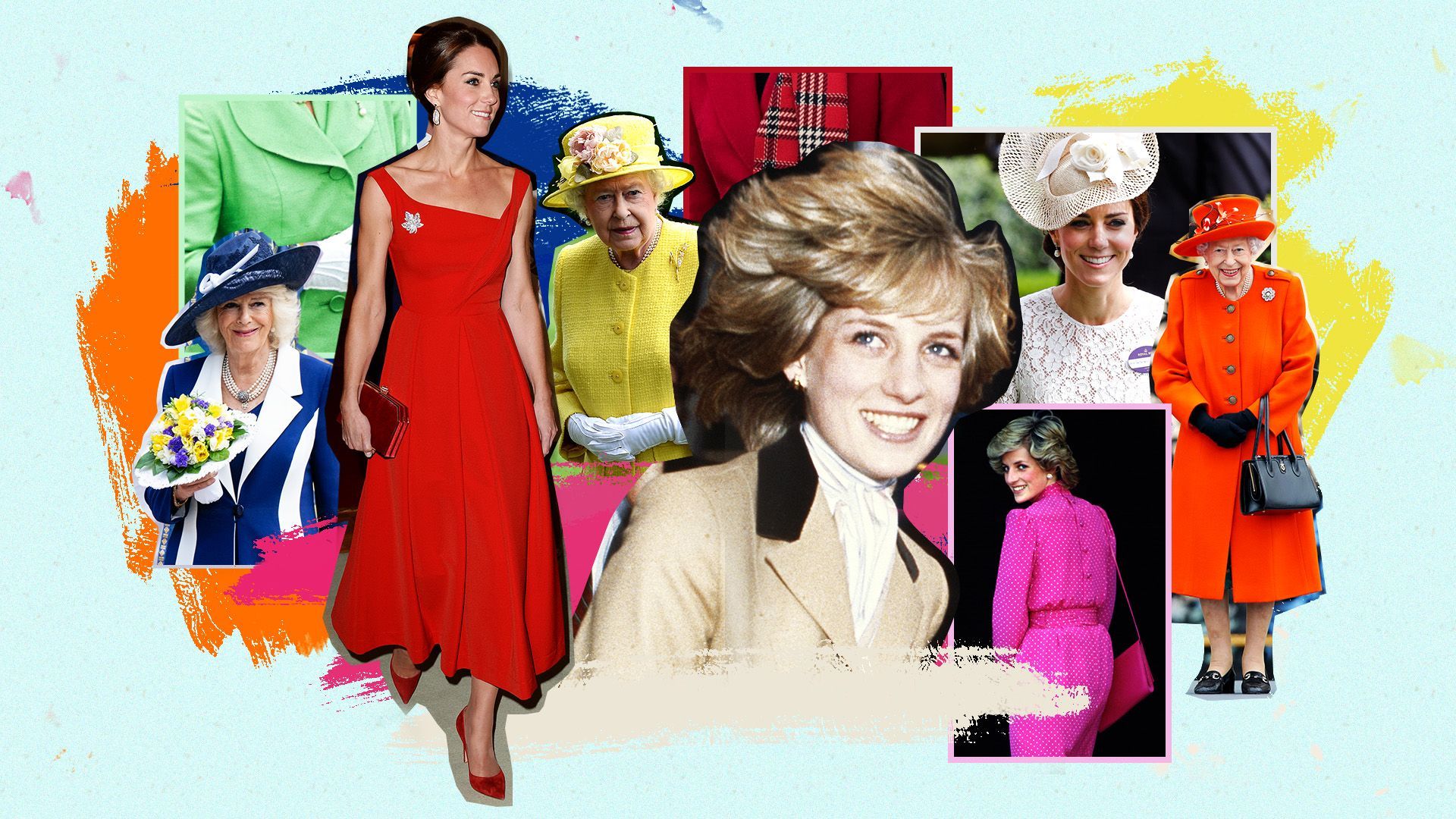 Queen Elizabeth II only gave one sit-down television interview during her lengthy reign — but she still found ways to provide cultural commentary without saying a word.
Why it matters: As attention spans shrink, visual communication has become an increasingly important tool for public figures and brands alike.
According to research from Canva, the typical adult only spends 47 seconds focusing on one item, so compelling visuals are key to conveying a message that will hook audiences.
The big picture: While the public rarely hears from them directly, the women of the British monarchy have long used their clothing to convey emotions and send messages.
Zoom in: According to the National Portrait Gallery, Queen Elizabeth is the "most portrayed person in the world" and she famously said she needs "to be seen to be believed."
Her royal style became a recognizable, iconic uniform — signaling consistency, sensibility and commitment to service.

"The head-to-toe color allowed her to be seen in crowds," writes Elizabeth Holmes, fashion journalist and author of "HRH: So Many Thoughts on Royal Style. "Every detail is considered, from the depth of her neckline (lower and cooler in spring, higher come fall) to the shape of the skirt (pleats added when extra movement might be needed). The sturdy block heel of her shoes helps her stand for hours at a time. Her purse handles are long enough to hang comfortably, but not so long as to inhibit handshaking."

During diplomatic trips, the Queen would often flag dress — by wearing the colors of the country — and incorporate local designs or florals, like the California poppy appliquéd dress she wore during her 1983 visit with the Reagans.
When Queen Elizabeth opened Parliament in 2017, she wore a yellow and blue hat that many thought resembled the European Union's flag.

There was speculation that this was her way of taking a side in the great Brexit debate. Without saying a word — and without breaking her official stance of political neutrality — the queen made a statement.
Diana used clothes to convey a mood, and according to her private secretary Patrick Jephson, "there was always a message." Look no further than the iconic revenge dress.
Yes, but: She also omitted traditional garb from her wardrobe to make a statement — namely hats ("You can't cuddle a child in a hat," she said) and gloves.
During a 1987 visit to an AIDS clinic, "Diana dressed in a simple blue dress, greeted the hospital workers warmly with her bare hands ... instantly dispelling myths about how contagious the disease was," writes Holmes.
Kate is known for her classic and functional style. She is a master at flag dressing and sticks to specific silhouettes or colors.
Kate embraces the Union Jack color palette more often than the other royals Axios studied. In fact, 67% of her outfits are in shades of blue, red or white.
Camilla has long used color as camouflage. Her wardrobe palette is the most muted, and more than a third of her outfits are darker shades.
And Meghan Markle, while on royal duty, was known for her thoughtful fashion choices. She wore accessible brands and chose colors and patterns that represented her values, according to experts.
What we're watching: This Saturday, May 6, marks the U.K.'s first coronation in over 70 years, and what the royals wear will take on outsized significance, conveying a message about the future of the monarch.
Go deeper .. Axios data visual on communicating through color.
Go deeper