Muslim mayor says being denied entry to WH event "reeks of Islamophobia"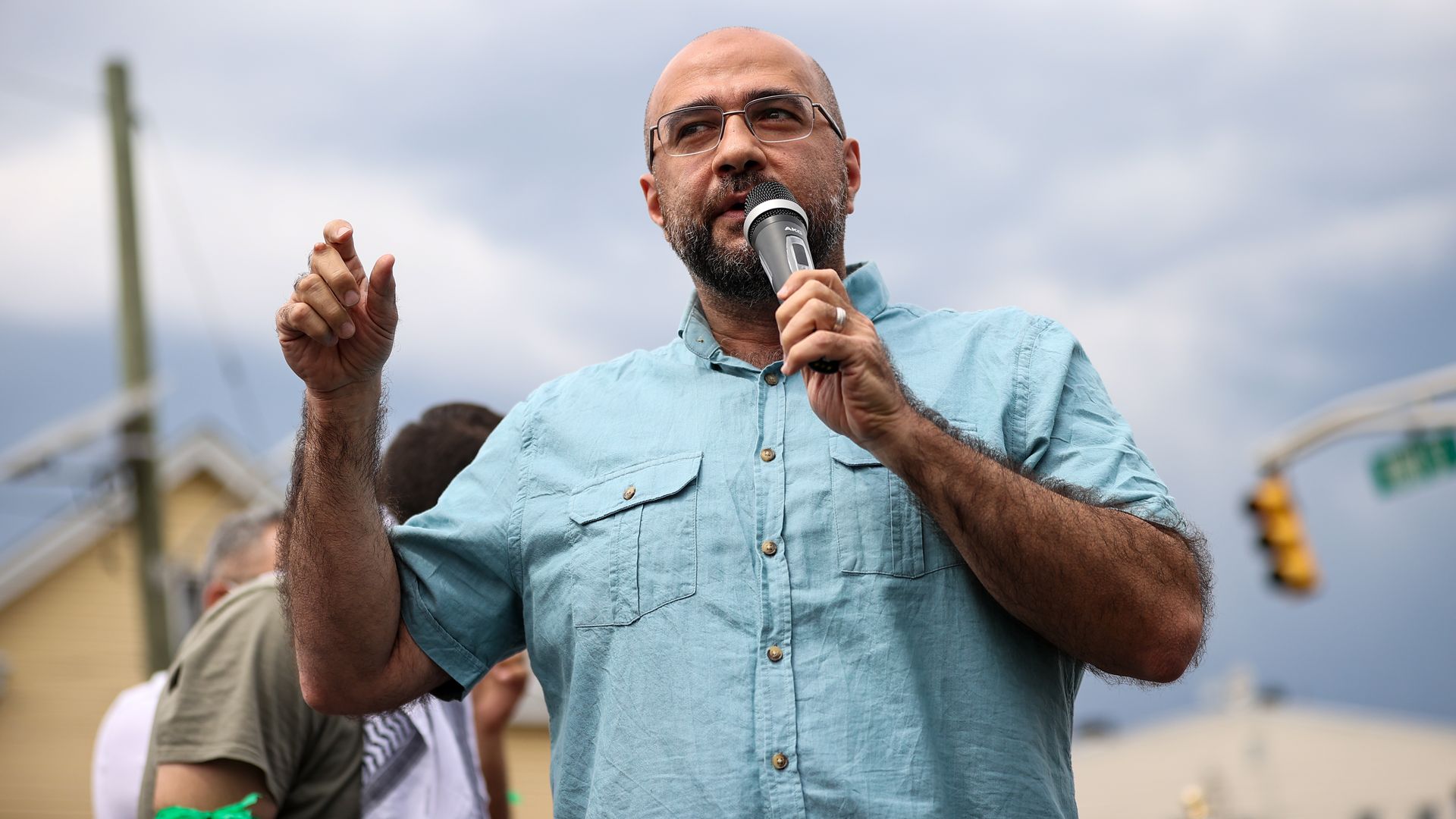 New Jersey's longest-serving Muslim mayor said he's "shocked" the U.S. Secret Service denied him entry to the White House's celebration marking the end of the Islamic holy month of Ramadan on Monday.
Why it matters: Prospect Park Mayor Mohamed Khairullah said in a statement Monday night that his experience of being turned away to an event hosted by President Biden that he was invited to "reeks of Islamophobia by certain federal agencies."
Khairullah told Axios in a phone interview late Monday that he believes he has been the victim of racial profiling after the Council on American-Islamic Relations (CAIR) told him that a name matching his had appeared on an FBI terrorism watch list since 2019 — when he was stopped at JFK International Airport and detained for nearly three hours.
"I have been experiencing travel difficulties since 2019, which I thought were resolved two years ago," said the Syrian-born Khairullah, who's been a U.S. citizen since 2000 and is now in his fifth term as mayor. "Only to find out today that I'm still on some type of government list."
Driving the news: Khairullah told Axios he was "about half an hour away from the White House" to attend the belated Eid al-Fitr celebration when he received a call informing him that the Secret Service couldn't give him security clearance, so he should return home.
"To be denied entry in such a way... and two days prior, I was with the governor of my state, in the governor's mansion," he said. "It just baffles me."
Khairullah said he hadn't heard from the White House following the incident.
U.S. Secret Service spokesperson Anthony Guglielmi said in an emailed statement that while "we regret any inconvenience this may have caused, the mayor was not allowed to enter the White House complex this evening."
He declined to comment further.
Of note: CAIR said in January that leaked copies suggest the terrorism watch list comprises "almost entirely lists of Arabic and Muslim names."
Khairullah said that he's speaking out because many other Muslims who have been racially profiled cannot.
"I feel that we are being tried by our names, by our identities, by our faith, and we clearly cannot defend ourselves," he said of the list.
What they're saying: CAIR-N.J. executive director Selaedin Maksut said in a statement on Monday evening that the incident "lacks transparency and reeks of government overreach."
Maksut called on the White House to "override the Secret Service," reinstate the mayor's invitation, disband the "secret watchlist" and issue an apology to the mayor. 
"If these such incidents are happening to high-profile and well-respected American-Muslim figures like Mayor Khairullah, this then begs the question: What is happening to Muslims who do not have the access and visibility that the mayor has," Maksut added.
Representatives for the White House and the FBI did not immediately respond to Axios' request for comment.
Go deeper