Updated May 2, 2023 -

World
Israel launches air strikes on Gaza after rocket fire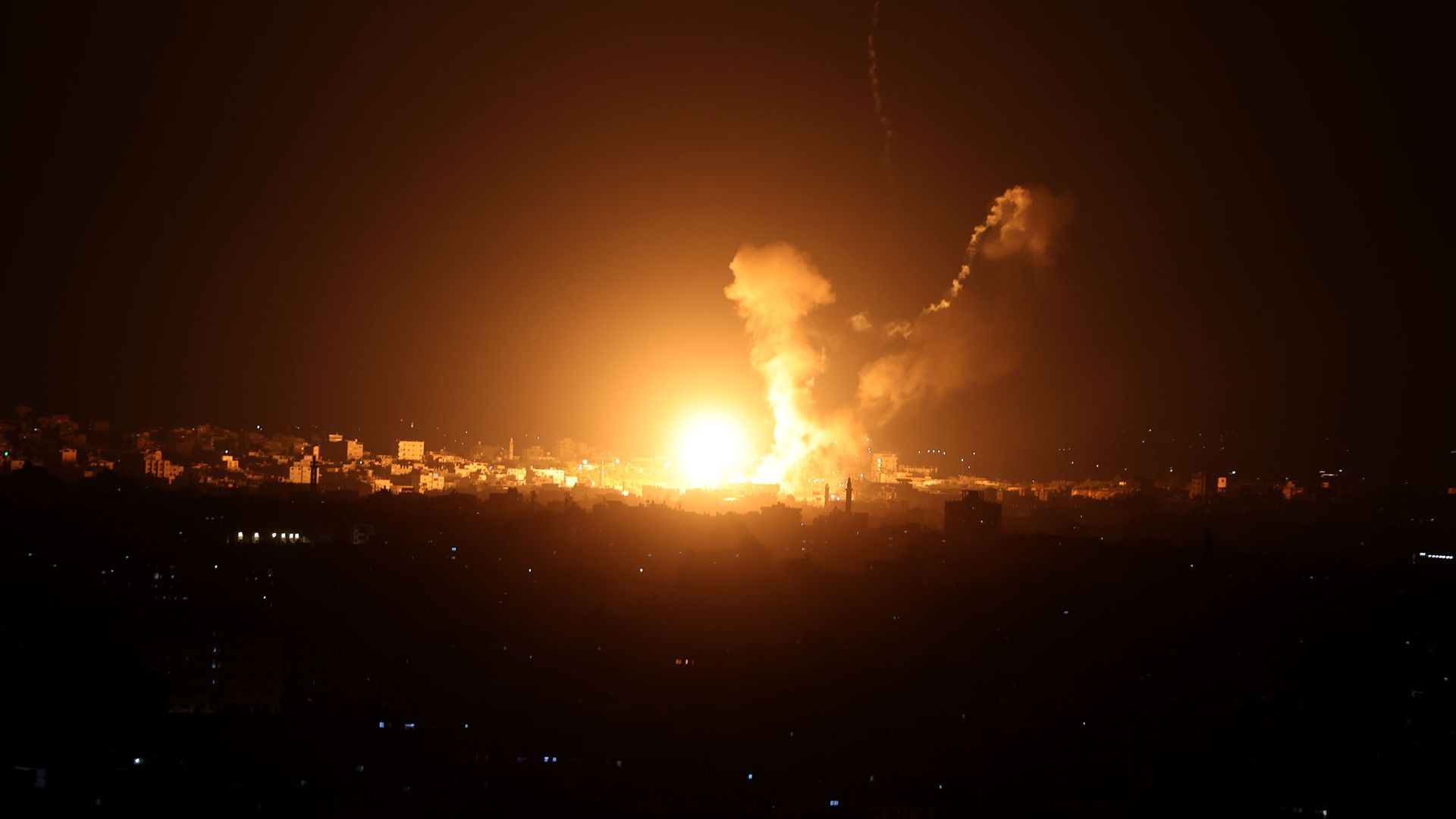 Prominent Palestinian detainee Khader Adnan died in Israeli custody on Tuesday after an 87-day hunger strike, prompting Palestinian factions in Gaza to fire dozens of rockets toward Israel and the Israeli military to respond with air strikes on the Palestinian enclave.
The big picture: Adnan was a member of the Palestinian Islamic Jihad (PIJ) militant group and was perceived by many Palestinians as a symbol of resistance. His death and the rocket fire that followed could lead to a wider escalation in Gaza and the occupied West Bank.
Driving the news: The Israeli prison authority announced Adnan's death on Tuesday morning shortly after he was found unconscious in his cell. The prison authority said Adnan had refused to receive medical treatment for weeks.
Physicians for Human Rights, an Israeli non-governmental organization, said last week that Adnan's medical situation was life-threatening. A doctor from the NGO visited Adnan and said he needed to be moved from the prison authority medical facility to a hospital due to his condition.
Shortly after the announcement of Adnan's death on Tuesday, three rockets were fired toward Israeli villages near Gaza. Another barrage of rockets was fired toward Israel several hours later. At least 40 rockets had been fired since Tuesday morning, according to Israel's military.
Three Chinese construction workers were wounded when one of the rockets hit a construction site they were working in.
Several hours later, Israel responded to the rocket fire by conducting air strikes in Gaza. It was unclear if there were any casualties.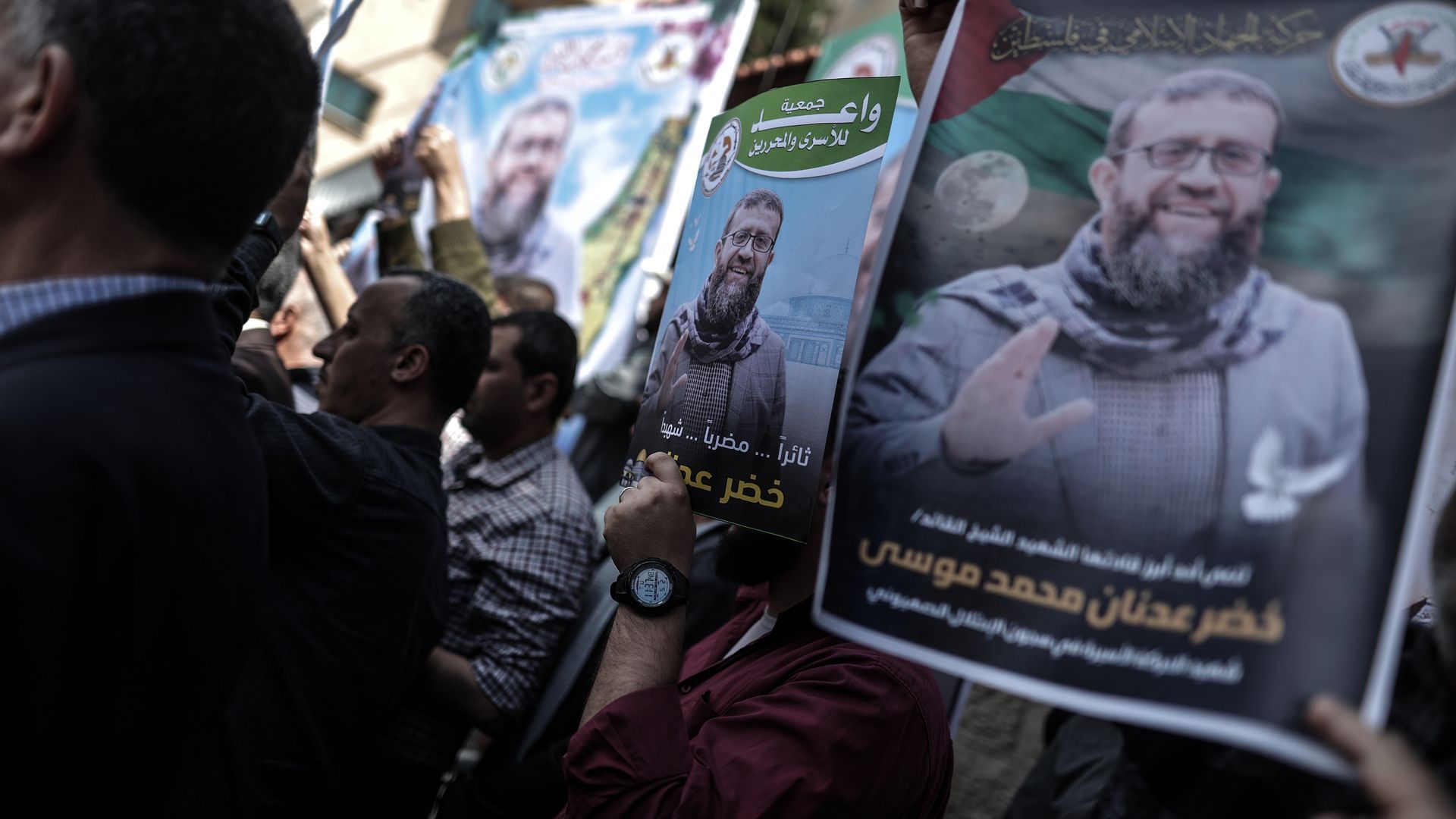 What they're saying: The PIJ, Hamas and other factions in Gaza issued a joint statement claiming responsibility for the rocket fire and stressed it is only "an initial response" for Adnan's death.
The Palestinian Authority said Israel was responsible for Adnan's death and called for an international investigation.
Background: Adnan became a prominent symbol over the years after conducting long hunger strikes while in administrative detention, a controversial tactic used by Israel in which a suspect is held without charge or trial. The Israeli security services claim Adnan was involved in terrorist activities.
Adnan conducted many hunger strikes in a sign of protest against his arrests, including one that lasted for 66 days in 2021 and another that lasted for 56 days in 2015, according to the Palestinian Prisoners Association. He was released both of those times after his medical situation significantly deteriorated.
Adnan was most recently arrested by the Israeli military last February and was indicted on charges that included incitement to violence and membership in an illegal organization. In the weeks before his arrest, Adnan spoke in favor of attacks by Palestinian militants in Jenin and Nablus against Israeli soldiers and settlers.
Editor's note: This story has been updated with additional details.
Go deeper