Perception of Latinos' race impacts crime sentences, study finds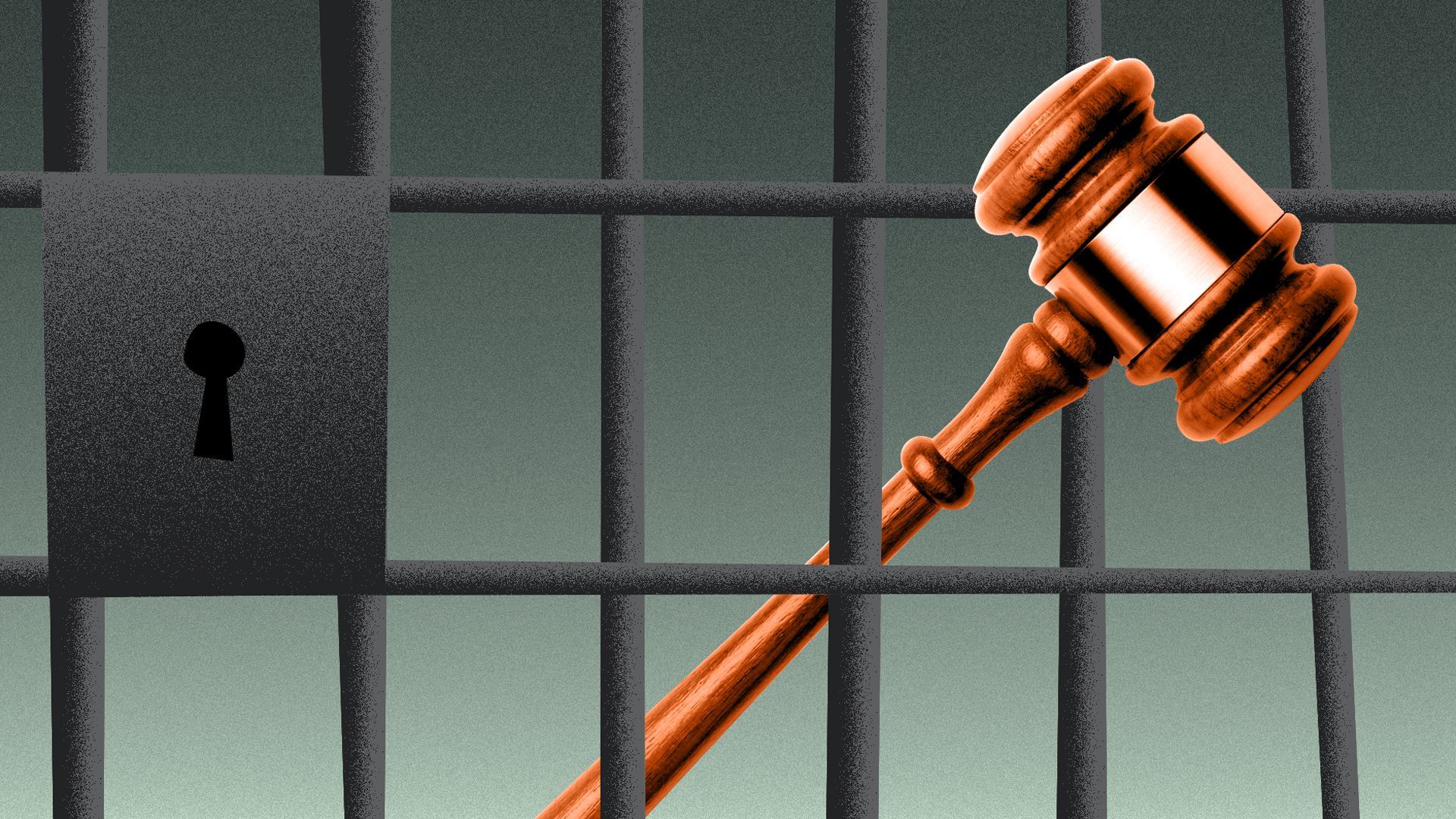 A recent deep dive into how the criminal justice system's assumptions of who is Hispanic and who is not found that Latinos who are perceived to be racially white are much less likely to serve prison time.
The big picture: The study is the latest to indicate how Latinos, who can be of any race, may be treated differently by criminal justice institutions based on someone's assumption of their ethnic background. These studies could help inform how Latinos interact with the criminal justice system and lead to reforms.
Jails and police rarely track Latinos' racial and ethnic data. When they do, most often a police officer makes the determination, research shows.
Yes, but: The federal ethnicity data that does exist, based on reporting by corrections departments across the the U.S., shows that adult Latino men are more than twice as likely to be incarcerated as white non-Hispanics.
Details: The study by two researchers at the University of Oregon School of Law examined the criminal records of people who served time in Oregon state prisons between 2005 and 2018. It found that stereotypes and biases against Latinos had an impact on their criminal justice outcomes.
People labeled by authorities as Hispanic were twice as likely to be sentenced to prison than white people and Hispanics who had been labeled as white but who later self-identified as Hispanic.
About 40% of Latinos had been identified not by their ethnicity but as white in state records.
Even when the severity of crime and criminal background were similar, researchers found that Latinos identified as such by authorities were handed disproportionate punishment.
"If you follow the sentencing guidelines, the idea is that there's not supposed to be a huge amount of discretion left … Yet perceived ethnicity still mattered," Erik Girvan, the study's co-author and a law professor, told Axios Latino.
What they're saying: The findings of the study and others like it can be used to mitigate potential bias, said Lourdes Rosado, president of LatinoJustice PRLDEF, a civil and human rights organization.
"We're not going to move the needle until key decision-makers — judges, those who make sentencing recommendations, others — have the cold, hard data in front of them and are obligated to set targets to reduce that disproportionality, and are held accountable when they do not," Rosado said.
She added that developing tools that make punishment less dependent on locking people up is also needed.
What to watch: Some states are reforming their criminal justice systems. For example, California is abolishing juvenile prisons, while Florida passed a law last year amending its parole system in an attempt to keep more people out of the system.
Girvan has also proposed implementing panels that examine potentially biased sentences before they're applied.
"It would reduce the impact of discriminatory decision-making without having to get people not to discriminate," he said, adding that it's a stopgap "while we continue the challenge of getting behavior change."
Subscribe to Axios Latino to get vital news about Latinos and Latin America, delivered to your inbox on Tuesdays and Thursdays.
Go deeper