Flooding may threaten over 120 hazardous sites in California by 2050, study shows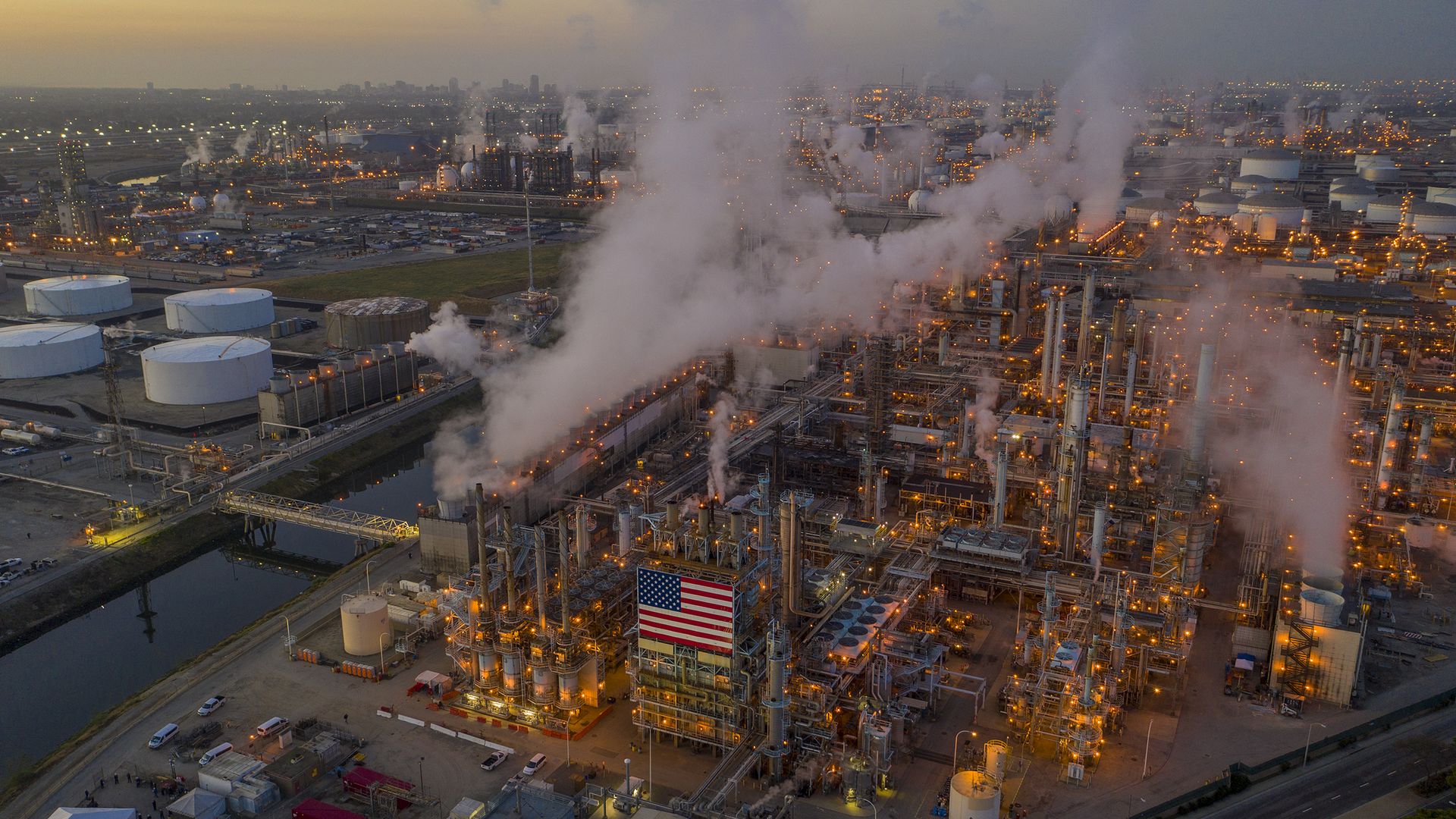 Hundreds of industrial sites along California's coastline may face a heightened risk of coastal flooding by 2050 because of sea level rise from human-caused global warming, a new study published in the journal Environmental Science & Technology on Tuesday estimates.
Why it matters: Flood and storm surge events amplified by sea level rise against such facilities could increase the chances of hazardous chemicals escaping from the sites and contaminating nearby communities.
The potential release of contaminants from future extreme weather events may also more likely affect people of color and low-income communities, which were more likely to live near industrial and hazardous waste facilities sites, according to the study.
By the numbers: If greenhouse gas emissions rise but peak around 2040 and fall, the researchers estimated that at least 125 possibly hazardous industrial sites along California's coast would be at risk of extreme flooding events by 2050.
By the end of the century, under that emissions scenario, at least 372 sites could be at risk.
The sites include fossil fuel refineries and terminals, active oil and gas wells, sewage treatment facilities and hazardous waste treatment and disposal sites.
However, in a worse-case scenario, in which emissions surge unabated throughout the 21st century, as many as 129 sites could be at risk by 2050 and at least 423 by 2100, including roughly a fifth of California's coastal sewage treatment facilities, refineries and fossil fuel ports and terminals.
What they're saying: Lead author Lara Cushing, assistant professor of Environmental Health Sciences at UCLA, said she and her fellow researchers arrived at these estimates — which they believe are the first of their kind for California — by identifying sites that contain or involve the use of hazardous substances and comparing their locations to sea level rise models.
The researchers also analyzed socioeconomic indicators of communities near at-risk sites and found that more vulnerable and socially marginalized people, such as those experiencing poverty, were overly represented within those populations, Cushing said.
They did not attempt to project where people may live in coming decades but instead wanted to highlight the groups of people who may be disproportionately affected by flooding-induced contamination and other effects of climate change in the future.
"It's real, we know its coming," she said. "What we sought to do with this study was to raise the issue so that we can start to plan for how to increase resilience and decrease these health threats from hazardous, at-risk facilities."
The big picture: Highly industrialized coastlines within the San Francisco Bay Area and the Los Angeles/Long Beach region would have the greatest number of at risk sites, according to the study.
Less severe flooding caused by sea level rise would also increase the risk of flood-induced contamination by contributing to the corrosion of pipelines and other infrastructure.
The researchers noted that facilities in other parts of the country — such as those along the Gulf and East Coasts and in Puerto Rico — may face a higher threat from flooding, as California's coastline is at a relatively high elevation and the state does not typically experience extreme tropical storms or hurricanes.
What's next: Cushing said she and her fellow researcher are expanding their efforts to a nationwide analysis and expects to publish preliminary results by the end of the year.
Go deeper: Global ocean temperatures spike to record levels as El Niño nears
Go deeper