Scoop: U.S. security coordinator submits new report on Abu Akleh killing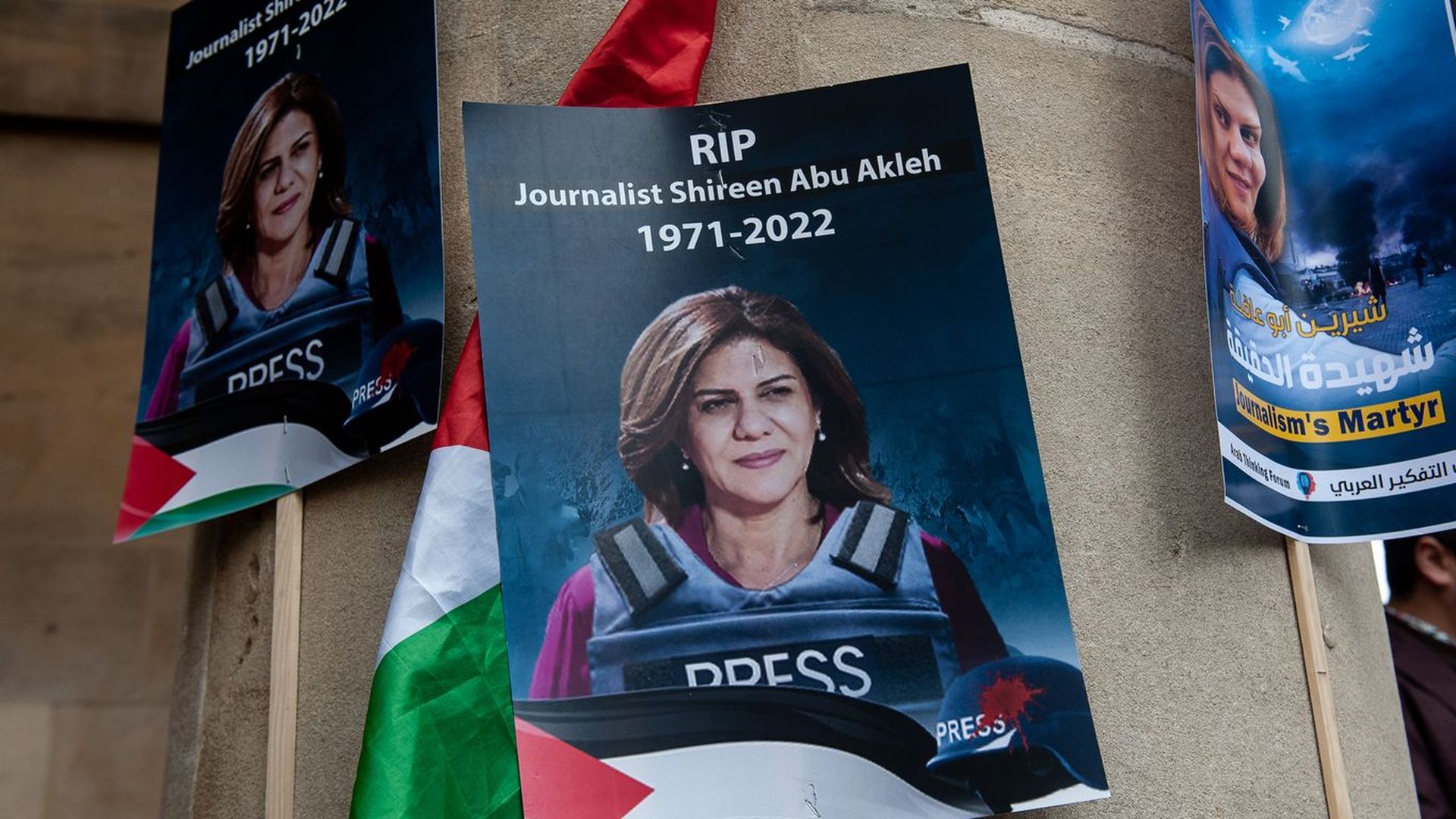 The U.S. security coordinator for Israel and the Palestinian Authority recently sent the State Department a new report about the death of Palestinian-American journalist Shireen Abu Akleh, according to a senior U.S. official and a letter written by Sen. Chris Van Hollen (D-Md.) and sent to Secretary of State Blinken.
Why it matters: Abu Akleh was killed during an Israeli military raid in the occupied West Bank city of Jenin nearly a year ago. The killing has been a point of tension in the U.S.-Israel relationship and a sensitive political issue within the Democratic Party.
The Biden administration has faced pressure from dozens of congressional Democrats and Abu Akleh's family to do more to ensure accountability for her death. The new report could renew and intensify that pressure.
A senior U.S. official confirmed U.S. security coordinator Lt. Gen. Michael Fenzel recently sent a report on the death of Abu Akleh but stressed it didn't include any new findings or conclusions.
The State Department did not immediately respond to questions about the letter or the report.
State of play: Van Hollen in a letter addressed to Blinken called on the State Department to share with lawmakers an unedited version of the report submitted by Fenzel and his team.
Van Hollen's office said the letter, which was shared with Axios, was sent to Blinken Monday evening. In the letter, Van Hollen asks for an immediate congressional review of the "Summation Report on the Death of Shireen Abu Akleh."
Van Hollen wrote in the letter that his office asked State Department officials several times over the last 12 days about the report. He claimed his office was informed that before the State Department releases the report for congressional review, the administration plans to make changes to its contents.
"While the Administration has characterized its proposed changes as 'technical,' any actions to alter the U.S. security coordinator Summation Report in any way would violate the integrity of this process," Van Hollen wrote.
Van Hollen also stressed in the letter that "no one has been held accountable and no independent, official investigation has been completed" nearly a year after Abu Akleh's death.
He added that during this period, Fenzel and his team have had the opportunity to review more analyses and assessments on the incident as they completed their report.
"I ask that you immediately authorize the release of the full and unedited USSC Report under appropriate classification to me and other interested Members of Congress," Van Hollen wrote Blinken.
Background: Abu Akleh, an Al Jazeera correspondent, was wearing a bulletproof vest marked "press" when she was killed on May 11, 2022.
The Palestinian Authority and her family accused the Israeli military of intentionally targeting her.
The Biden administration said last July that Fenzel's investigation found that Abu Akleh was likely killed by unintentional Israeli fire, but a ballistics test of the bullet fragment removed from her body was "inconclusive".
The IDF concluded last September that she was most likely killed in "unintentional fire" from an Israeli soldier who did not realize she was a journalist. No one has faced charges in Israel for her death.
Independent investigations by several news organizations, including the Washington Post, AP, and the New York Times, found that it was likely that an Israeli soldier fired the fatal shot.
What to watch: The U.S. Justice Department informed the Israeli Justice Ministry last November that the FBI has opened an investigation into the death of Abu Akleh. There so far haven't been any public updates about that investigation.
Go deeper