First Republic Bank seized and sold to JPMorgan Chase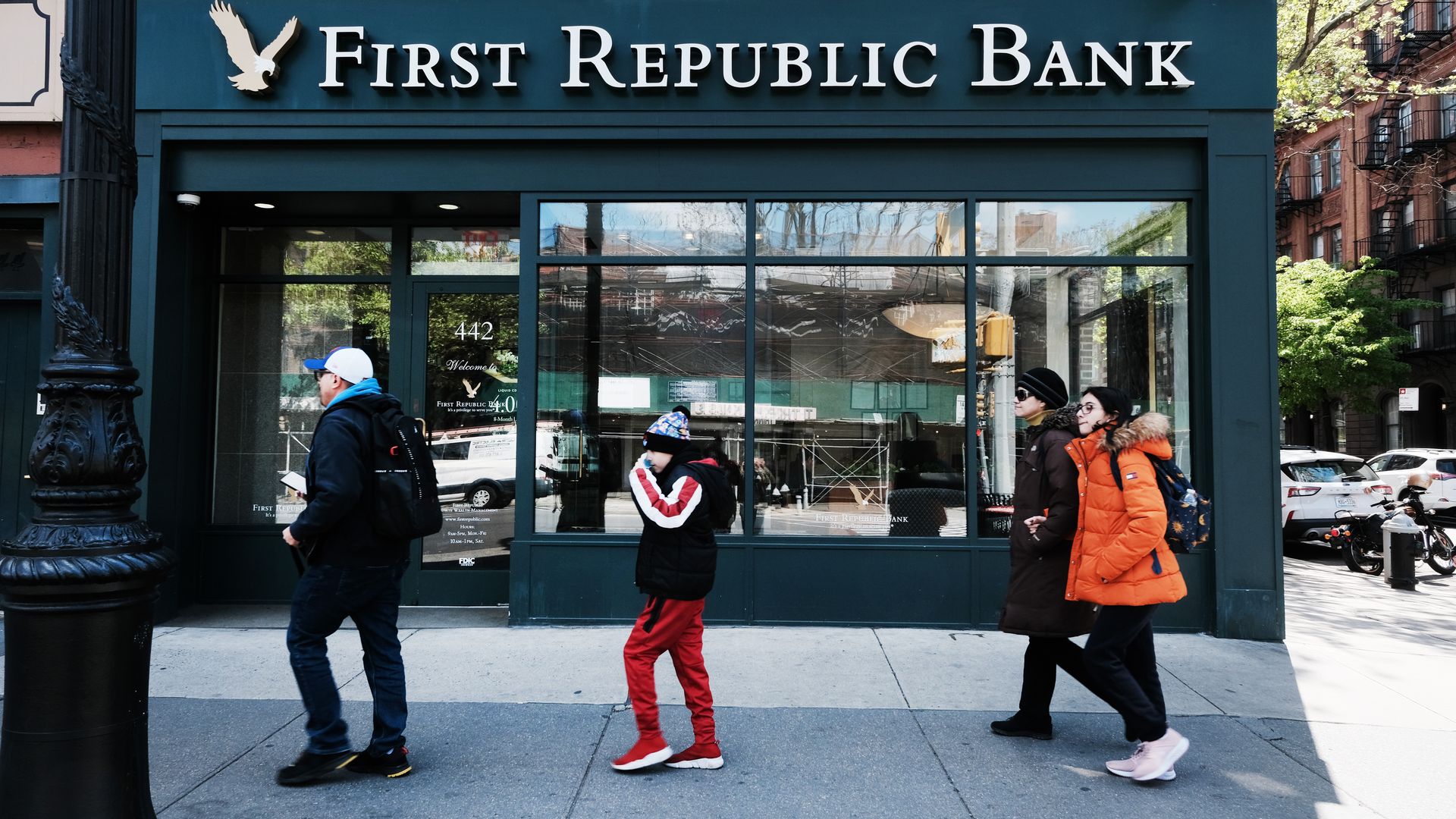 First Republic Bank was seized by regulators and sold to JPMorgan Chase, the Federal Deposit Insurance Corporation announced early Monday morning, making First Republic the third major bank failure in eight weeks.
Why it matters: First Republic is the latest victim of a U.S. banking system that's adjusting to a new normal of client deposits fleeing in search of greater safety and higher rates.
The announcement, made after high-stakes negotiations that dragged out over the weekend, is aimed at calming a banking sector that's been roiled since early March.
First Republic proactively tried to avoid Silicon Valley Bank's fate, putting out statements about its assets, and even getting $30 billion in deposits from a consortium of banks, including the likes of JPMorgan.
By the numbers: In a release this morning, JPMorgan said it was absorbing $173 billion worth of First Republic loans, as well as $30 billion in securities.
The banking giant was also taking on "approximately $92 billion of deposits, including $30 billion of large bank deposits, which will be repaid post-close or eliminated in consolidation."
However, JPMorgan is not assuming any corporate debt or preferred stock, indicating those investors would get wiped out.
Catch up quick: A number of banks, including JPMorgan and PNC, submitted bids on Sunday to the Federal Deposit Insurance Corporation to acquire the embattled bank, Axios earlier reported.
"The resolution of First Republic Bank involved a highly competitive bidding process and resulted in a transaction consistent with the least-cost requirements of the Federal Deposit Insurance Act," the agency said in a statement.
What they're saying: "As part of the transaction, First Republic Bank's 84 offices in eight states will reopen as branches of JPMorgan Chase Bank, National Association, today during normal business hours." 
"All depositors of First Republic Bank will become depositors of JPMorgan Chase Bank, National Association, and will have full access to all of their deposits," regulators said.
Backstory: The San Francisco-based First Republic on Monday reported that over $100 billion of deposits walked out the door in the first quarter, or a net of around $71 billion once accounting for emergency inflows from JPMorgan Chase and other large banks.
Shares fell a whopping 49% on Tuesday, wiping out $1.47 billion in market cap, and kept sinking in early Wednesday trades.
First Republic's rescue will cost the Deposit Insurance Fund about $13 billion, but that may be revised once the receivership ends.
What we're watching: Whether this move ultimately succeeds in containing weeks of uncertainty that's ricocheted across the U.S. financial system, especially with the Federal Reserve expected to raise interest rates yet again this week.
Go deeper