Environmental groups sue FAA after SpaceX Starship explosion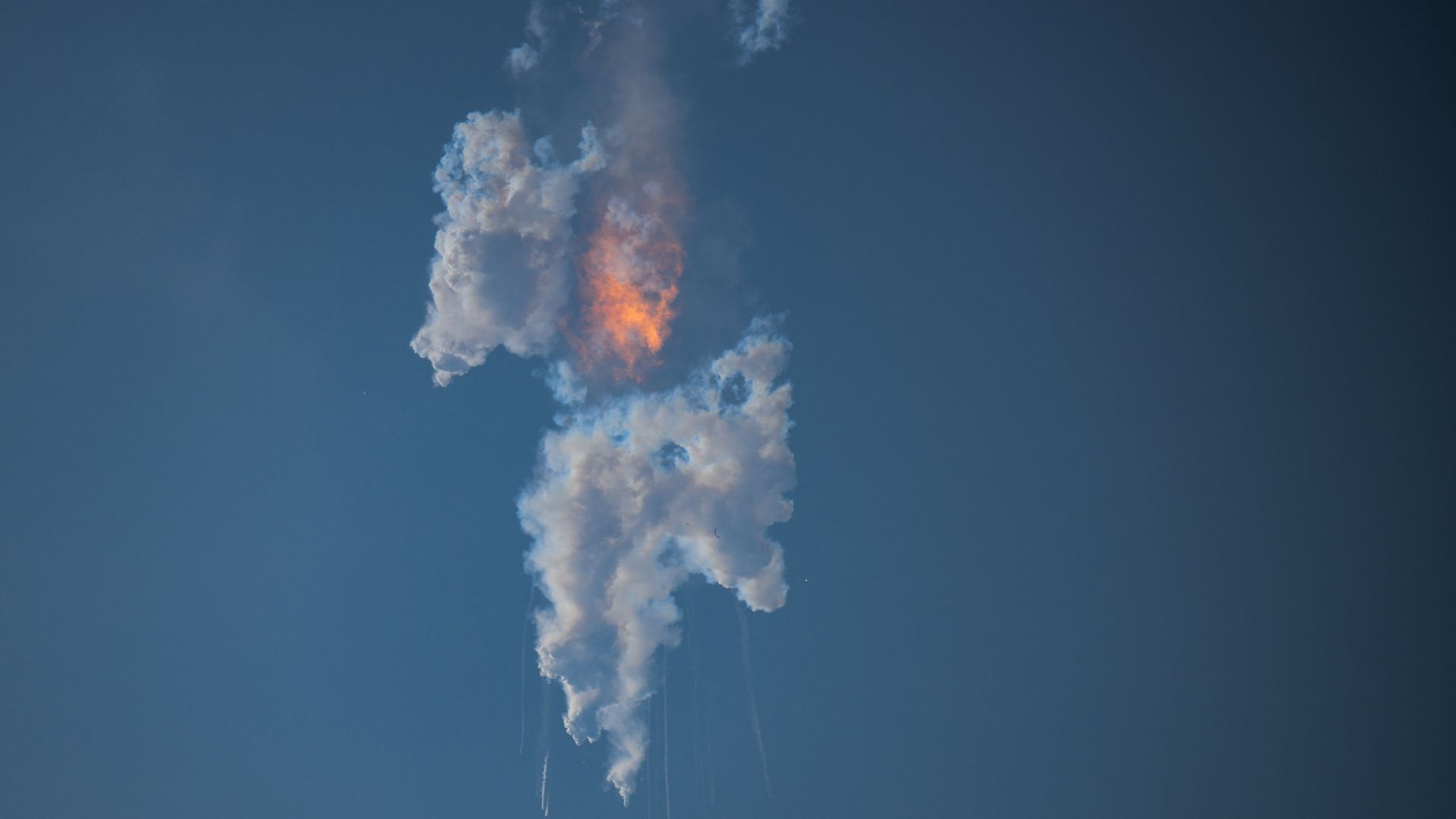 Environmental and cultural heritage groups filed a lawsuit Monday against the Federal Aviation Administration saying the FAA didn't perform a thorough enough environmental review of SpaceX's Starship program.
Why it matters: When Starship took flight on April 20, the ignition of its Super Heavy rocket shattered parts of its launch pad in Boca Chica, Texas, scattering debris for miles around the launch site.
The test sparked a brush fire on state park land and the rocket was forced to self-destruct over the Gulf of Mexico after only a few minutes of flight.
"The area surrounding the SpaceX facility at Boca Chica is a biologically diverse and essential habitat for many species," the lawsuit, brought by the Center for Biological Diversity, American Bird Conservancy, Surfrider Foundation, Save RGV and the Carrizo/Comecrudo Nation of Texas, reads.
Driving the news: The lawsuit contends the FAA should have performed an environmental impact statement (EIS) for the Starship program but instead opted for a less stringent and quicker environmental review.
That review found SpaceX's activities in Boca Chica wouldn't have a significant impact on the environment when paired with mitigating measures.
The other side: The suit alleges, however, that those mitigations aren't enough to prevent significant harm to the area caused by SpaceX's Starship program, which has had at least eight explosions at the site in the last five years, the suit says.
The FAA "failed to take a hard look at the environmental impacts of the SpaceX launch program," the suit reads. Those include "increased light, heat and environmental pollution as well as risk of wildfires, damage to critical habitat and the launch program's contribution to climate change."
The plaintiffs are asking the court to mandate that the FAA perform an EIS. The FAA tells Axios it "does not comment on ongoing litigation matters."
Context: "[T]o the best of our knowledge there has not been any meaningful damage to the environment that we're aware of," SpaceX founder Elon Musk said according to CNBC reporter Michael Sheetz during a Twitter Spaces Starship update this weekend, before the lawsuit was filed.
The FAA grounded the Starship program after the April 20 accident, which is standard procedure after a rocket mishap in order to investigate what went wrong.
Musk added during the Twitter Spaces event that Starship could be ready to fly again in about six to eight weeks.
Go deeper