Lawn wars consume America's neighborhoods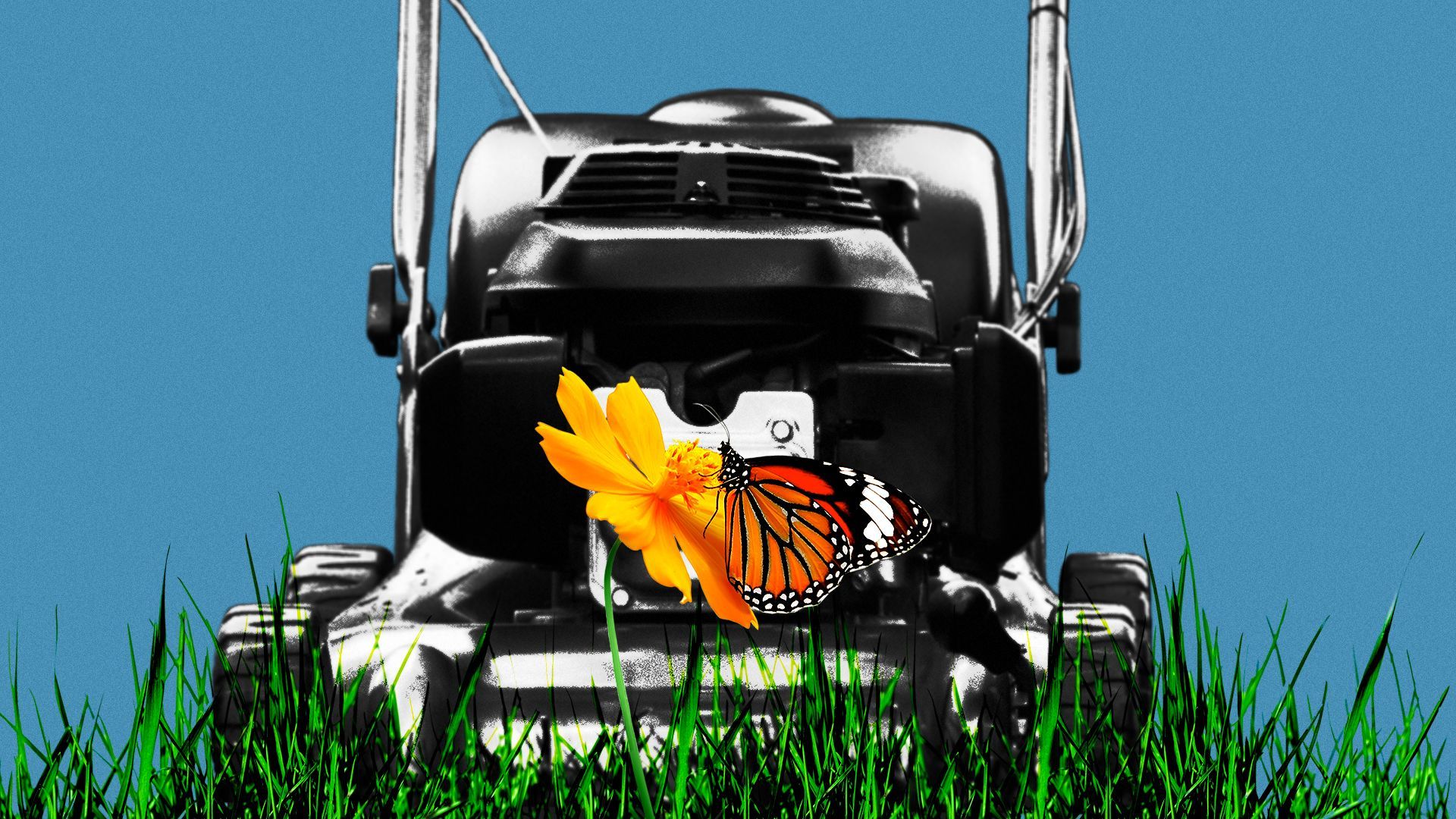 The American lawn has become the latest front-line issue in neighborhoods across the country: Some are shelling out to maintain lush greens while others forgo mowing and chemical treatments.
Why it matters: Environmental campaigns like "No Mow May," the "anti-lawn" movement, "Food Not Lawns" and "Climate Victory Gardens" are gaining steam — but prompting homeowner associations and other traditionalists to dig in their heels.
Driving the news: As spring gardening season begins, homeowners are wrestling with personal decisions about how to tackle lawn care: To mow or not to mow? Irrigate? Fertilize?
The "No Mow" and "Low Mow" campaigns aim to make yards more conducive to bees and butterflies — but you might face blowback from your neighbors if you try it out.
Homeowner associations have been clamping down on residents who let their lawns go brown or wild, even taking people to court over the state of their yards.
At the same time, Democratic lawmakers are taking the lead in passing regulations that prod people toward "green" lawn care.
California's landmark law banning the sale of new gas-powered mowers and leaf blowers takes effect next year. Other states and cities are following suit.
Towns that adopt "No Mow May" agree not to issue citations to homeowners who let their grass grow long.
Between the lines: The grass itself isn't the only battleground. "Yard sign wars" have flared up across the country over people using their turf for flamboyant political displays — which often linger far past the election they target.
State of play: Drip irrigation systems, organic herbicides and electric mowers are helping people of all political stripes shift toward more climate-conscious lawns.
Studies have shown that cutting the grass every two weeks (or less) is great for bees, which thrive on dandelions and clover.
But neighbors may complain about an unkempt or unsightly lawn, prompting some homeowners to put up signs explaining the "no mow" experiment.
What they're saying: "The more conservative someone is, the more staunchly they hold the belief that they need to hold a perfectly manicured green lawn," Emma Kriss of Green America, an environmental nonprofit, tells Axios.
Her organization has signed up 20,000 people to grow "Climate Victory Gardens," modeled after World War I- and II-era vegetable gardens.
"We do encourage people to grow food, or at the very least have a pollinator garden," Kriss said. "We encourage people to grow native plants. The main practices are not using those harmful synthetic pesticides and fertilizers."
The climate-friendly lawn drive has triggered a whole new vocabulary.
Reality check: A Lawrence University research paper that inspired the "No Mow May" movement was retracted, prompting debate this year in Appleton, Wisconsin — the U.S. birthplace of the movement —  over whether to continue letting people forgo mowing this May.
The detractors were outvoted, and the city is continuing the program.
The other side: Experts say that not mowing your lawn for a month or letting it go wild — which is what the anti-lawn movement largely espouses — can backfire.
Removing lawns entirely — which has happened in drought-ridden California — can lead to unstable soil and mudslides, says Cale Bigelow, a professor of turf science, horticulture and landscape architecture at Purdue University.
Neglecting a lawn can cause environmental problems too. "A few years after you stop feeding a lawn, you start to get more phosphorus runoff," Bigelow says.
As for letting your grass grow for a solid month? Good luck wielding the mower on June 1.
A better approach, Bigelow says, is the "turf trade" program in Salt Lake City, where residents can purchase a special mix of grasses — tall fescue and a bit of bluegrass — that are well suited to the region and need 30% less water than is typical.
Some experts also favor the "lazy lawnmower approach" — a happy medium between weekly trims and letting the yard run wild.
"People don't have to let their lawns go so it looks messy, but they can do a bit less," Susannah Lerman, a USDA Forest Service research ecologist, tells Axios.
An article she published concludes that mowing every two to three weeks is optimal.
Zoom in: Spring is also homebuying season, and realtors will insist on immaculate landscaping.
"If it's a beautiful lawn and it's well maintained, that is key to selling your house," says Jeff Herman of LawnStarter.com, which connects people to lawn care professionals.
Go deeper