New Phoenix Suns, Mercury deal sends warning signal for cable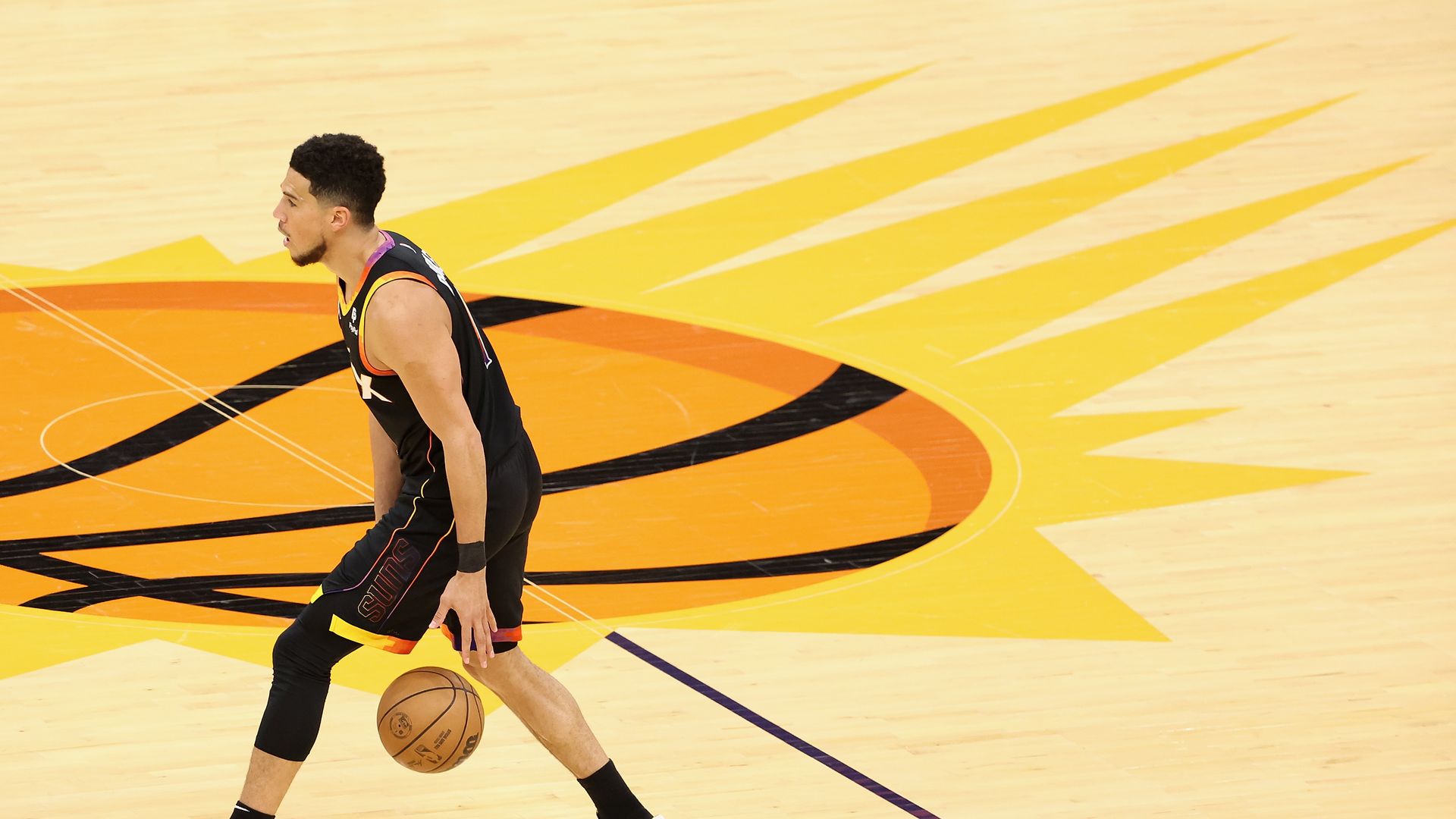 The Phoenix Suns and Phoenix Mercury on Friday said that they have struck a new distribution deal that puts all of their live games on over-the-air broadcast channels, leaving no games left to air on cable.
Why it matters: More U.S. households are leaning into free, over-the-air broadcast networks for their live TV content, as streaming subscriptions continue to eat into their cable budgets.
Details: The new deal gives local broadcast giant Gray Television the rights to deliver 100% of the Suns' and Mercury's local games via its two local, over-the-air broadcast networks, KTVK and KPHE. It also gives video streamer Kiswe the rights to deliver 100% of the games through its streaming platform.
The Suns deal, which spans up to five years, will have a minimum of 70 games broadcast, with at least 40 regular-season games on KTVK and the remaining on KPHE, per a statement. The Mercury's agreement is for two years.
By pivoting to local broadcast, the two teams will reach 2.8 million households in Arizona, more than tripling the current number of homes they currently distribute to, the teams said.
Endeavor and WME Sports advised the Suns.
The big picture: For decades, live local sports events have mostly been broadcast through specialized channels called regional sports networks. Because of the enormous cost of live sports rights, RSNs are typically some of the most expensive networks distributed in cable bundles.
But the rise of cord-cutting and exploding cost of sports rights has put extraordinary pressure on the RSN business model.
Last month, Diamond Sports Group — the largest owner of regional sports networks in the country — filed for Chapter 11 bankruptcy protection.
"In the age of RSNs, this is an unprecedented partnership to return to over-the-air broadcasts and introduce a new direct-to-consumer (DTC) streaming option to reach every family in Arizona, with or without a pay TV subscription," the teams said in a statement.
State of play: The deal is already being challenged by Diamond Sports Group, who alleged that the Sun's new deal is a breach of its contract and a violation of bankruptcy law.
"Diamond Sports Group will pursue all remedies against any parties that attempt to exercise control over our property interests while we reorganize," the company said in a statement. "This is an improper effort by the Suns to change their broadcasting partner without permitting Diamond to exercise our contractual rights."
Per a source with knowledge of the deal, Diamond's Bally Sports Arizona network had the right to match any deal the teams make with a new broadcast partner.
The deal with the Suns expired after the just-finished regular season and first round of the team's playoff series. Going forward, all playoff games are televised nationally. But because Diamond still held those backend rights, the deal was still considered an active deal, and thus under the control of the judge handling Diamond's bankruptcy, the source adds.
The Suns vehemently disagreed: "Diamond's position is totally inaccurate," Suns and Mercury CEO Josh Bartelstein said in a statement, "We are moving forward with this deal and could not be more excited about what it means for our fans and our future."
Between the lines: More over-the-air local broadcast networks are looking to acquire sports rights as their cable rivals flounder.
Last year, Scripps announced the launch of a sports division that will seek to acquire sports rights for its local broadcast stations nationwide as well as the national network Ion, which Scripps acquired in early 2021.
"The RSN business model is dying," Scripps Sports president Brian Lawlor said. "They're not going to be able to pay what they used to — even if they survive."
ION signed its first national TV deal with the WNBA that starts this summer.
What to watch: Understanding their precarious position, more regional sports networks are starting to build their own direct-to-consumer streaming services.
Go deeper