NFL draft: One round down, six to go
In February, two Black quarterbacks started in a Super Bowl for the first time. On Thursday, three Black QBs were selected in the top 10 of the National Football League draft for the first time.
Bryce Young went No. 1 to the Carolina Panthers, becoming Alabama's first No. 1 overall pick in the common draft era (since 1967). From blue-chip recruit to national champ to Heisman winner to top pick, it's been a storybook ride.
C.J. Stroud went No. 2 to the Houston Texans, making him the highest-drafted Ohio State QB in the common draft era. Stroud arguably had better weapons at Ohio State than he does with Houston.
Anthony Richardson went No. 4 to the Indianapolis Colts despite starting just 13 games at Florida. This pick comes with some risk, but Indianapolis landed one of the most physically gifted QBs in NFL history.
Draft notes:
Texans move up: After taking Stroud at No. 2, the Texans traded up to take Alabama pass rusher Will Anderson Jr. at No. 3. The last team to make two picks in the top three was Washington in 2000.
Levis plummets: Most mock drafts had Kentucky QB Will Levis going somewhere in the top 10, and there was even some Reddit-fueled buzz about him going No. 1 overall. Instead, he fell out of the first round.
SEC dominance: Five picks in the top 10 were from SEC schools, giving the conference more top-10 picks over the last four drafts (21) than the Big Ten, Pac-12, ACC and Big 12 combined (16).
Return of the RBs: After four straight drafts without a running back taken in the first 15 picks, we got two this year: Bijan Robinson (Texas) to the Atlanta Falcons at No. 8 and Jahmyr Gibbs (Alabama) to the Detroit Lions at No. 12.
The outlier: Six of the top 10 picks were five-star recruits and three were four-stars. The other was Seattle's No. 5 pick Devon Witherspoon (Illinois), who was zero-star recruit.
Four straight WRs: Ohio State's Jaxon Smith-Njigba (Seahawks), TCU's Quentin Johnson (San Diego Chargers), Boston College's Zay Flowers (Baltimore Ravens) and USC's Jordan Addison (Minnesota Vikings) went with pick Nos. 20-23.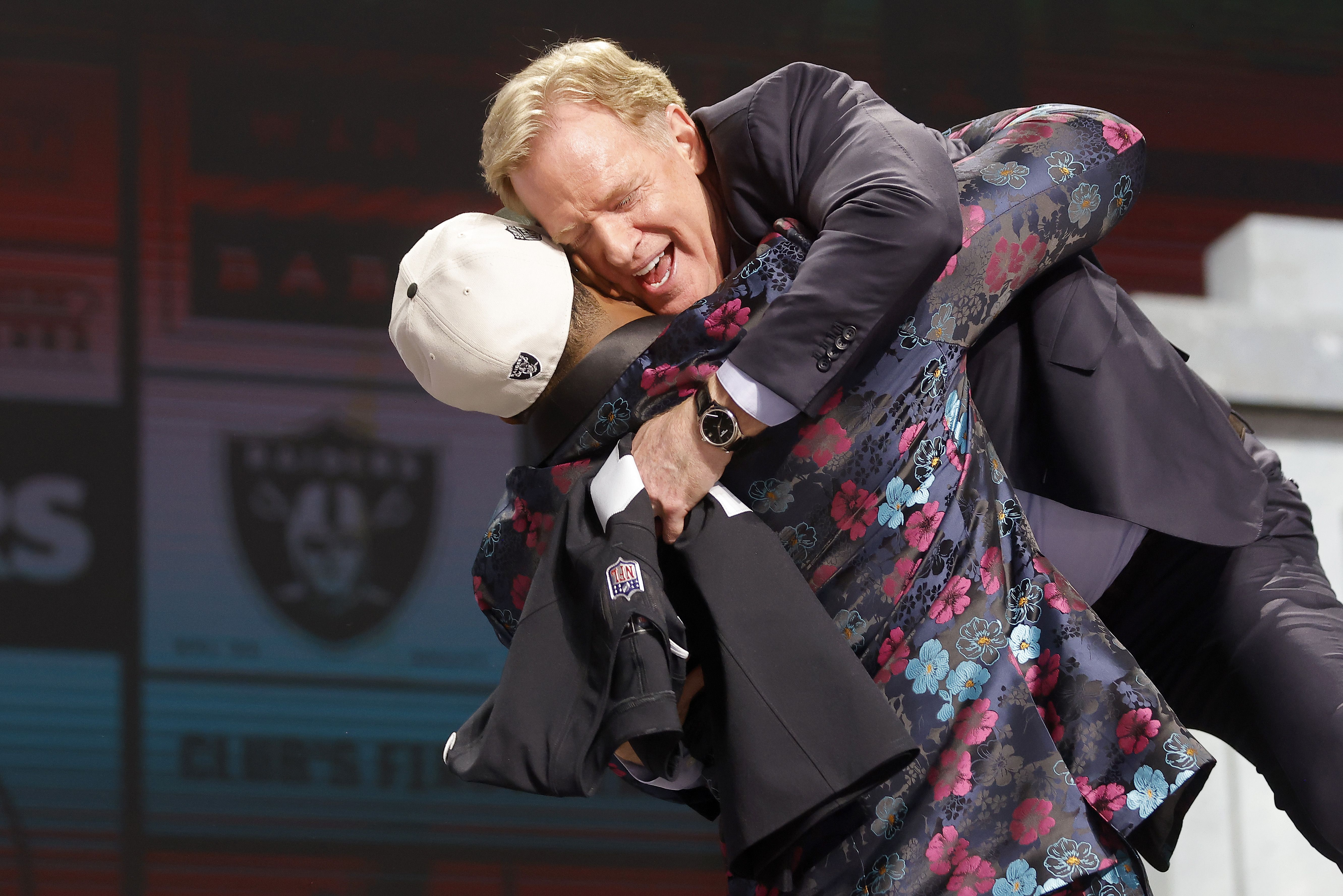 📸 Photo of the night ... Texas Tech defensive end Tyree Wilson hugs Roger Goodell after going No. 7 to the Las Vegas Raiders.
Go deeper