Climate pledge mobilizes $120M to focus on environmental justice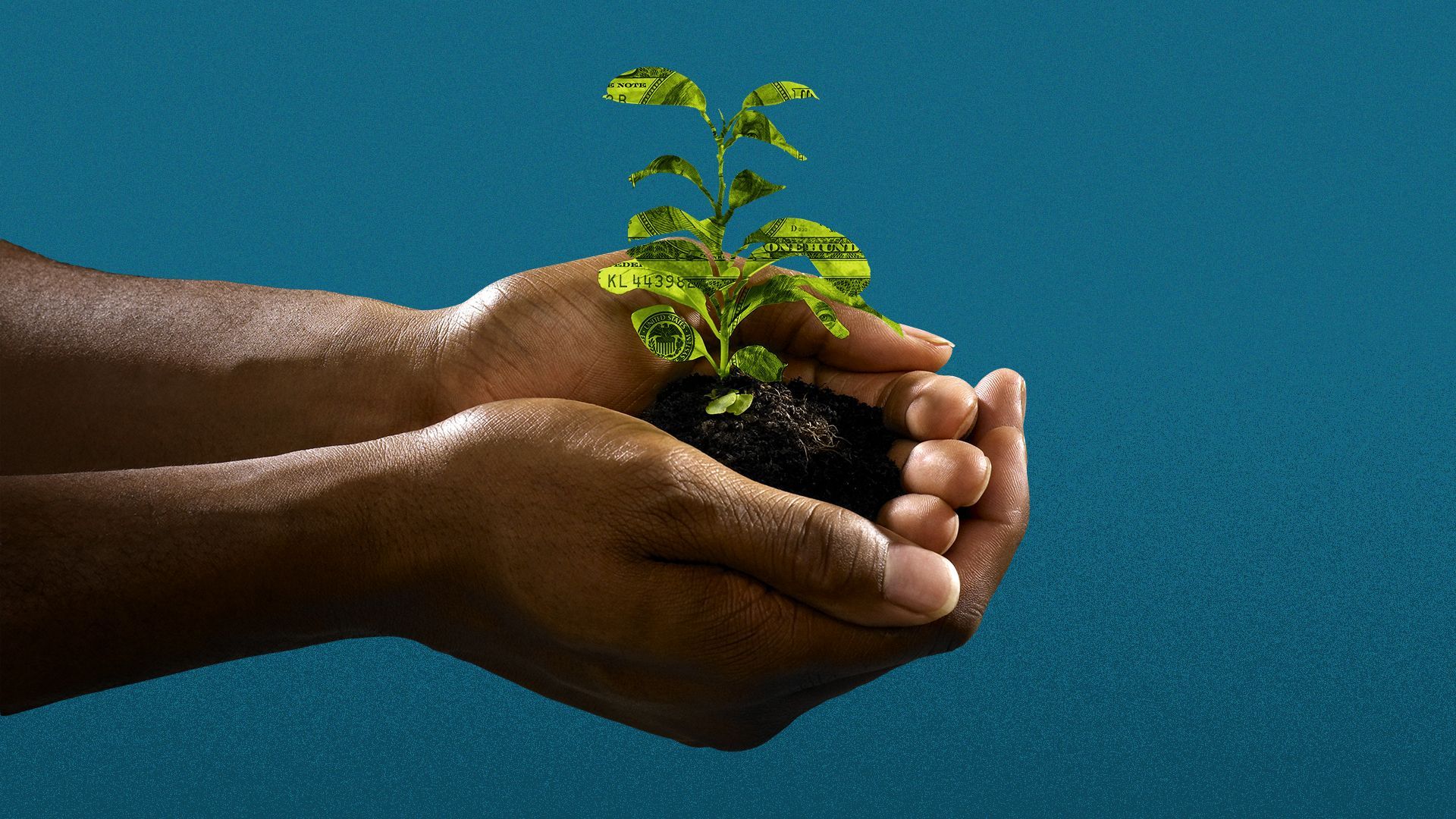 The Climate Funders Justice Pledge (CFJP) has mobilized $120 million in funding from major climate donors, the group tells Axios.
Why it matters: The new milestone demonstrates the growing recognition that minorities and low-income residents tend to suffer the most from climate change, including extreme weather events such as heat waves and flash floods.
It also signals growing momentum behind climate justice as a pillar of work in the climate space among major donors.
Background: The effort was launched by the Donors of Color Network two years ago to help steer more resources toward groups run by, and focused on, communities of color.
In addition to the funding, two major climate philanthropies — the Kresge Foundation and Pisces Foundation — have now exceeded the pledge's target to devote at least 30% of their climate funding to such groups.
Zoom in: The total number of pledge signatories is now up to 33, with the Wallace Global Fund committed to being transparent about how much money it is steering to organizations led by members of communities of color, which is the first stage of the pledge.
Despite the $120 million, most philanthropic dollars are still going toward other climate change work.
According to a CFJP statement, only 1.3% of dollars committed to U.S. climate philanthropy goes to such groups, despite a recent influx of new money into the climate space via organizations like the Bezos Earth Fund.
What they're saying: Abdul Dosunmu, who leads the pledge work for the Donors of Color Network, told Axios the goal of the pledge is aimed at strengthening the climate movement and allowing it to benefit those who are most affected.
"Ultimately, the communities that are closest to the problem, and therefore closest to the solution, are the furthest away from the resources," he said.
Between the lines: "This is not your grandmother's Sierra Club, this is a very different kind of movement that combines on the ground modeling of different kinds of behaviors, that involves advocacy, it involves different tools for engaging in public policy and decision-making," said Rip Rapson, Kresge Foundation president and CEO, in an interview.
"And so it's really putting all your players on the field in a way that I think even five or six years ago, wasn't the case," he added.
He said since Kresge took the pledge in 2021, the organization has pledged $30 million to $35 million toward organizations working on climate change and led by underrepresented groups.
For example, Kresge is working with community groups in East Detroit to address chronic flooding issues.
Rapson noted that climate change is inextricably linked to other complex systems, such as public health, housing and economic development; previous silos between these issues are "eroding," he adds.
The bottom line: Dosunmu told Axios that his group's philanthropic advocacy efforts are making headway, but have a long way to go.
"We are really trying to radically change conditions on the ground for BIPOC-led environmental justice organizations," he said, adding that "$120 million is really just the tip of the iceberg in terms of what is possible."
Kresge, Pisces and the Schmidt Family Foundation now meet or beat the pledge's 30% funding threshold, per the CFJP.
Go deeper