Playoff Jimmy has Bucks on the brink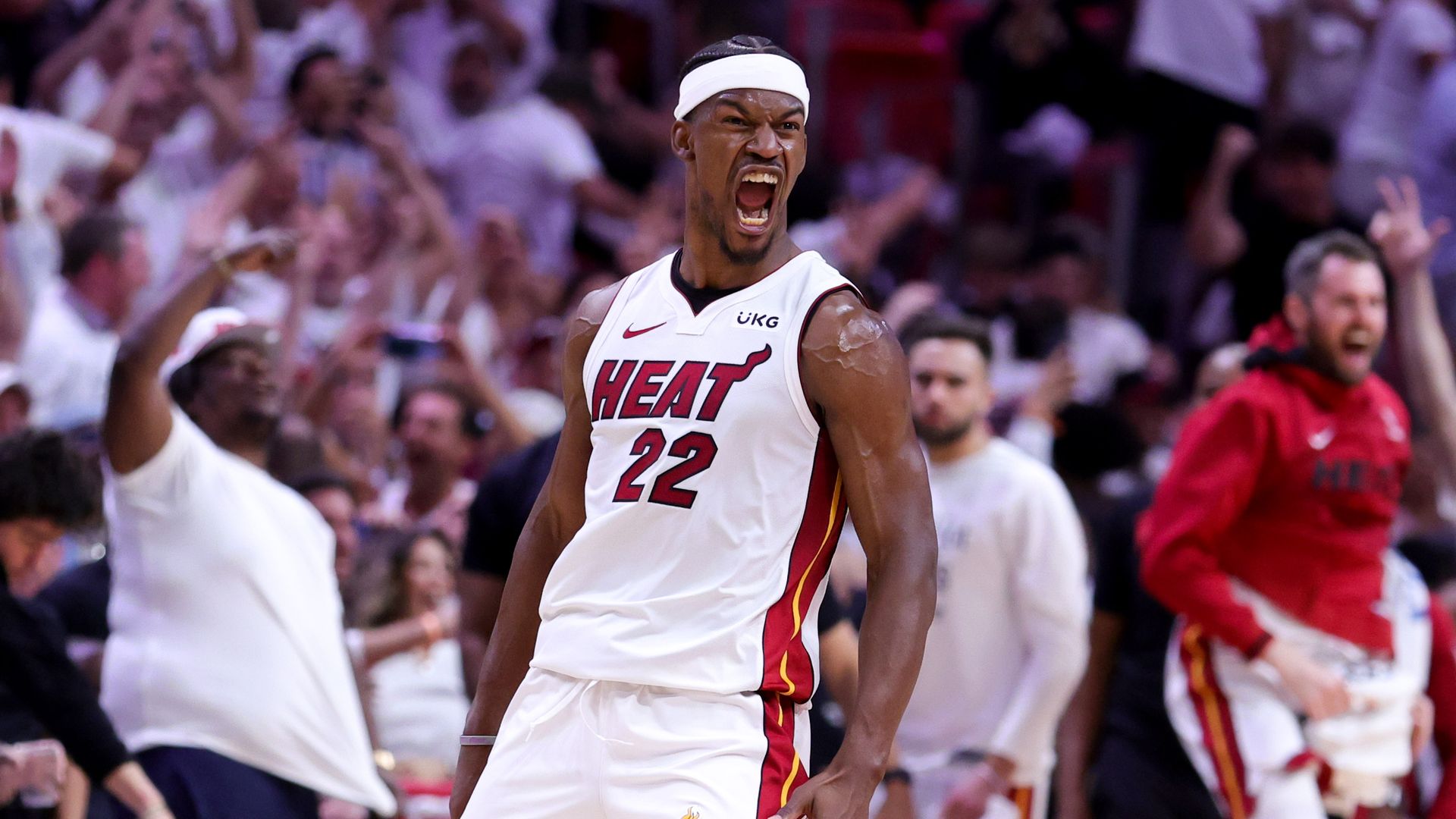 Jimmy Butler played the game of his life on Monday to lead an epic Miami Heat comeback and put the top-seeded Milwaukee Bucks in a 3-1 hole.
Driving the news: Butler scored 56 points — tying the fourth-best playoff scoring mark ever — and helped Miami roar back from 14 down in the fourth quarter to win, 119-114.
The only players to score more in a playoff game are Michael Jordan (63 points in 1986), Elgin Baylor (61 in 1962) and Donovan Mitchell (57 in 2020).
Butler (19-28 field goals, 15-18 free throws) became the fourth player with 56, joining Jordan, Wilt Chamberlain and Charles Barkley.
Between the lines: Butler became the fifth player over the past 25 postseasons to score 20 straight points for his team, joining Tracy McGrady (2001), LeBron James (2007), Kobe Bryant (2010) and Ja Morant (Saturday).
What they're saying: "That was the best [playoff] performance I've seen since I've been on television," Barkley said Monday night. "I mean, it was flat-out incredible. It was an honor and privilege to watch it."
State of play: Miami is now one win away from becoming just the sixth No. 8 seed to eliminate a No. 1 seed.
1994: Denver Nuggets defeat Seattle SuperSonics, 3-2
1999: New York Knicks defeat Miami Heat, 3-2
2007: Golden State Warriors defeat Dallas Mavericks, 4-2
2011: Memphis Grizzlies defeat San Antonio Spurs, 4-2
2012: Philadelphia 76ers defeat Chicago Bulls, 4-2
The late game … The Los Angeles Lakers beat the Grizzlies, 117-111 (OT), to take a 3-1 lead. LeBron James (22-20-7) had the first 20-20 game of his career and was the best player on the court at age 38. It's remarkable.
Go deeper