McCaul demands State Department release internal report on Afghanistan exit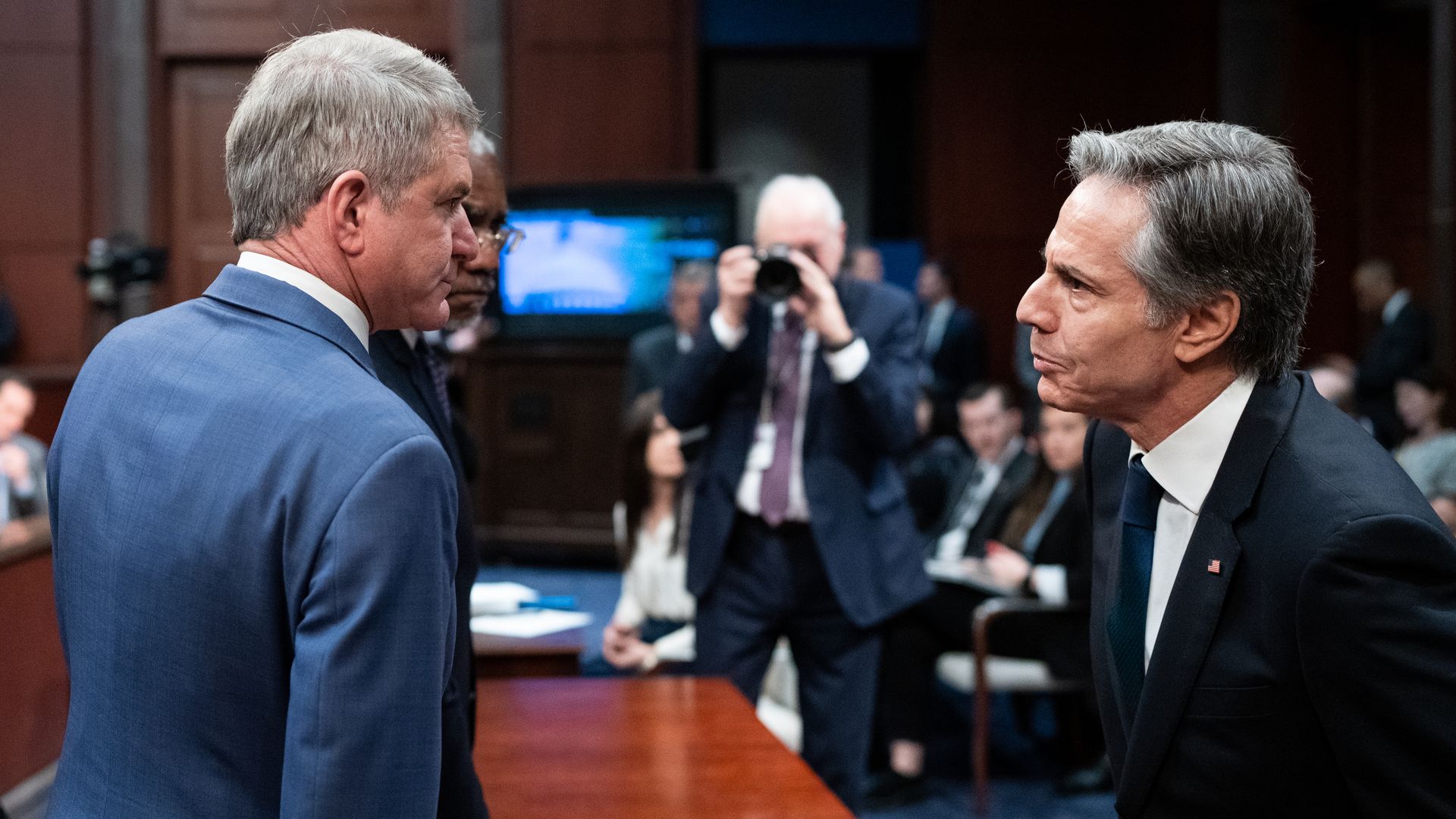 House Foreign Affairs Committee Chair Michael McCaul (R-Texas) is demanding that Secretary of State Antony Blinken make public a sensitive, 87-page review of the U.S. withdrawal from Afghanistan.
Why it matters: The rapid fall of Kabul to the Taliban was one of the toughest moments of Biden's presidency. Republicans are turning up the heat — demanding an internal review be made public and reviewing next steps to obtain a subpoenaed dissent cable.
Catch up quick: The White House released a summary of the internal reviews earlier this month.
"Information within the After-Action Review directly contradicts the White House's recent written and oral public statements," McCaul wrote in a letter sent Tuesday.
McCaul specifically criticizes National Security Council spokesperson John Kirby for recently saying at a press briefing that he "just won't buy the whole argument of chaos."
What they're saying: McCaul claims the majority of the report's contents are already marked sensitive or unclassified, and that when documents are marked classified it was often unclear "whether they even genuinely merit classification or are merely politically sensitive or embarrassing."
"Upon review of the document, there does not appear to be any reason an appropriate version could not be made available for public release," the letter continues.
McCaul also demands a fully unredacted version be provided to the committee, as well as a trove of documents used to create the report, no later than May 5.
One Republican member given access to the report told Axios their impression was that it was "weak" and "written by attorneys for attorneys, expecting an eventual leak."
The details: The letter includes several "notable takeaways" from unclassified portions of the State Department's after action report, viewed by select congressional members:
The documents outline how the decision to hand over Bagram Air Base to the Afghan government left Hamid Karzai International Airport as the only place to carry out "noncombatant evacuation operations."
Findings include that under both former President Trump and Biden "there was insufficient senior-level consideration of worst case scenarios" and that the State Department did not have clear leaders for the evacuation planning or to coordinate the crisis response as a whole.
What to watch: McCaul already subpoenaed Blinken for a dissent memo issued by U.S. diplomats in Afghanistan warning against withdrawal.
Go deeper