Reverse ATMs take bills, dispense cards as stores go cashless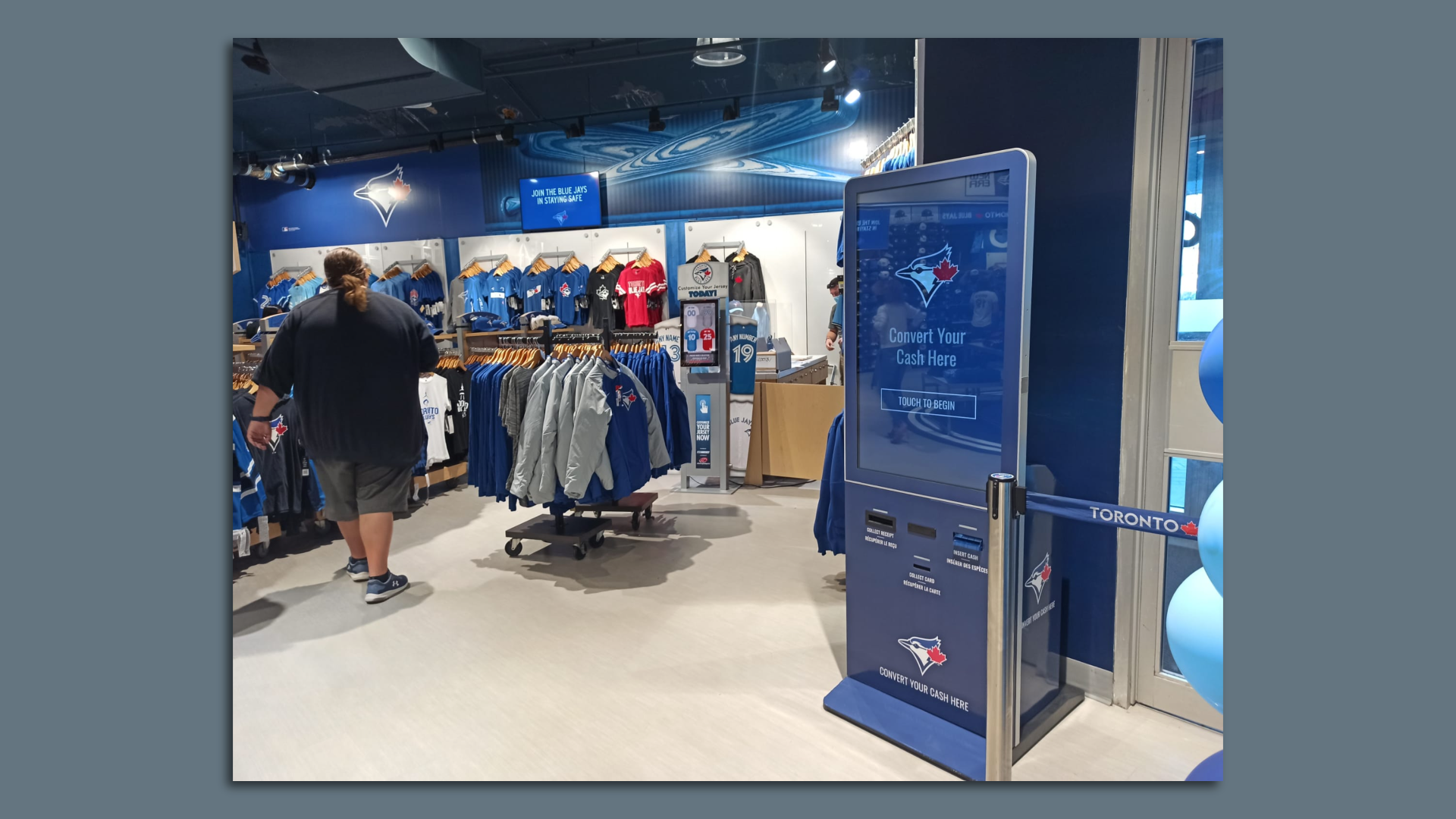 As stores and restaurants attempt to go cashless, they're installing "reverse ATMs" that dispense stored-value cards in exchange for greenbacks.
Why it matters: More businesses are eschewing cash — a trend accelerated by the pandemic — but states and cities are passing laws banning them from doing so, in deference to people who don't have bank accounts or credit cards.
Handling cash is also a hassle for retailers, with problems including theft and constant runs to the bank.
Driving the news: Reverse ATMs — also known as cash-to-card kiosks — are quickly being installed in all manner of venues that want to go cashless without flouting the law or turning away the "unbanked," who represent 4.5% of Americans, per the FDIC.
Amusement parks, casinos and sports stadiums are taking the lead.
Reverse ATMs have been installed at most Major League Baseball and National Football League ballparks, plus cashless attractions like Hersheypark, Six Flags and many waterparks.
"Cash digitization" is the term that's catching on for converting cash to electronic currency — which is increasingly necessary as transit systems and other public accommodations also go cashless.
What they're saying: "This is a competitive business," says Naushervan Beg, a partner and business development executive at Wavetec, a Toronto-based company that sells reverse ATMs under the brand name Azimut.
"Cash carries a lot of friction, right?" he tells Axios. "Many venues are willing to pay for the machines because for them, the bigger pain point is taking the cash."
How it works: To use a reverse ATM, a customer feeds cash into a machine and gets a prepaid plastic card in return. (Here's a video.)
Most of the machines don't charge fees to buy the card, though some do (typically $5).
While some cards are venue-specific, generally you get a Visa or Mastercard that may or may not be reloadable.
When a customer uses the card, the merchant bears the interchange fee charged by Visa and Mastercard — just as they would with any other card under those brands.
Yes, but: Some of the cards carry "dormancy fees," such as a $3.95 charge if the card isn't used for more than three months — and it may be hard to use up the card balance if only a small amount is left.
The big picture: Cities including New York, Washington, D.C., San Francisco and Philadelphia require merchants to accept cash — as do states such as New Jersey and Colorado — largely because of the potential harm to consumers who don't carry plastic.
The rate of "unbanked" households is highest among communities of color, lower-income earners and those with disabilities, according to the FDIC.
But the pandemic — which initially got people scared to handle bills and coins — accelerated the migration to electronic payments.
Between the lines: Airports, hotels, college campuses, cinemas, zoos, restaurants and retail shops are installing (or considering) reverse ATMs.
The machines have to be fast and easy to use, particularly at movie theaters, ballgames and other places where people go for a defined period of time.
"If I tell you your cash is no longer good and you have to go to the machine and convert it to cards, the experience has to be good," Beg tells Axios. "In the two-hour window you have to watch a game, you have added a few minutes."
By the numbers: A reverse ATM from Wavetec starts at $6,000 — plus extra for servicing the machine, which includes removing the cash and replenishing the cards.
Merchants can defray costs by running advertisements on the screens.
Zoom in: In New York City, restaurants like Slutty Vegan and Brooklyn Dumpling Shop are installing reverse ATMs to avoid the "dirtiness" of cash — and the potential for robbery, per the New York Post.
When Slutty Vegan's owner, Pinky Cole, ran a food truck, "we were making $15,000 to $20,000 a day, with five- to six-hour lines," she told the Post.
"Sometimes we had to have security because we were dealing with so much cash."
What's next: People without bank accounts have been adapting to mobile payment apps, which could mean that reverse ATMs are a bridge technology — or one that will soon be used to load a digital wallet.
As things progress, "it might not be a physical card" that you receive at a reverse ATM, Beg says. "You can have a virtual card on your smartphone."
Go deeper