Democratic group files ethics complaint against GOP committee chairs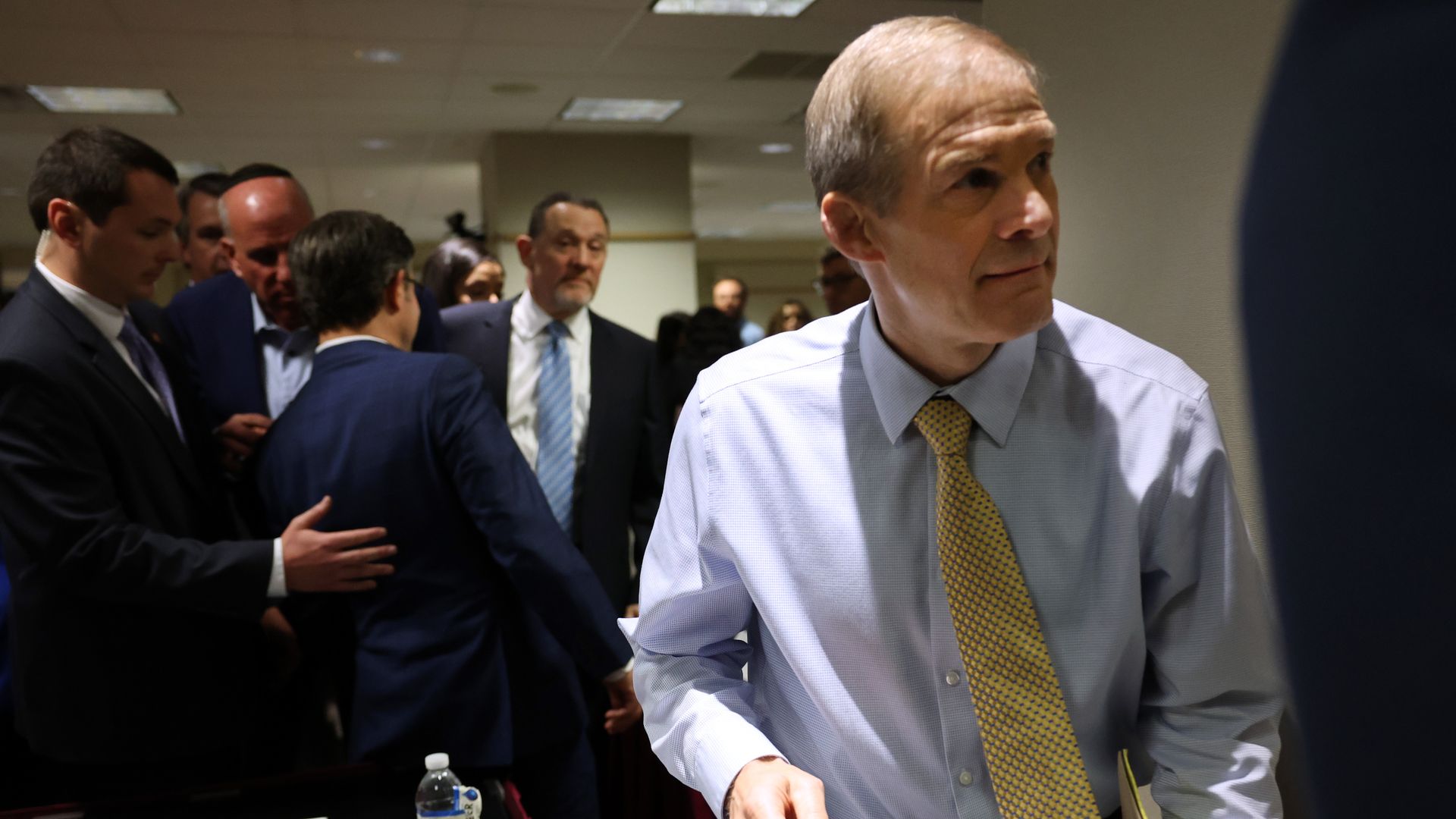 The Democratic-aligned Congressional Integrity Project filed an ethics complaint Wednesday against two Republican House chairmen, claiming they are wrongfully linking fundraising efforts with official actions.
Why it matters: The letter comes after reporting by the New York Times that Judiciary Chairman Jim Jordan (R-Ohio) touted at a fundraising event his efforts to probe Manhattan District Attorney Alvin Bragg, whose investigation into former President Trump resulted in a 34-count indictment.
Homeland Chair Mark Green (R-Tenn.) also discussed with donors his pursuit of impeachment against Homeland Security Secretary Alejandro Mayorkas, the New York Times reported.
What they're saying: The Project's executive director Kyle Herrig sent a letter to the Office of Congressional Ethics (OCE) on Wednesday asking for a preliminary review into the members' actions.
Herrig writes that Green and Jordan "both allegedly promised politically motivated investigations and linked such investigations to their solicitation of campaign contributions."
A Jordan campaign spokesperson criticized the Congressional Integrity Project as a "clearly biased liberal dark money group" and said the story would "actually be laughable if this type of thing weren't done so often to baselessly smear Republicans." 
Green's office said it was a "completely frivolous complaint from the far-left Democratic machine meant to distract from the very serious and intentional crisis Secretary Mayorkas has created at our southern border."
The backdrop: There's been a rise in recent years of partisan watchdogs seeking ethics probes against members of Congress.
Congressional Integrity Project was launched by Democratic strategists as an answer to Republicans slew of investigations targeting President Biden, as Politico reported.
Earlier in 2023, Rep. Adam Schiff (D-Calif.) received similar treatment from a conservative watchdog called the Foundation for Accountability and Civic Trust, which asked for an ethics probe alleging Schiff "abused official resources for political purposes." Schiff's campaign said at the time that they hadn't violated any ethics rules.
Read the filing:
Editor's note: This article was updated after publishing to add comment from a spokesperson for Rep. Green.
Go deeper