Postcard from an AI-centric TED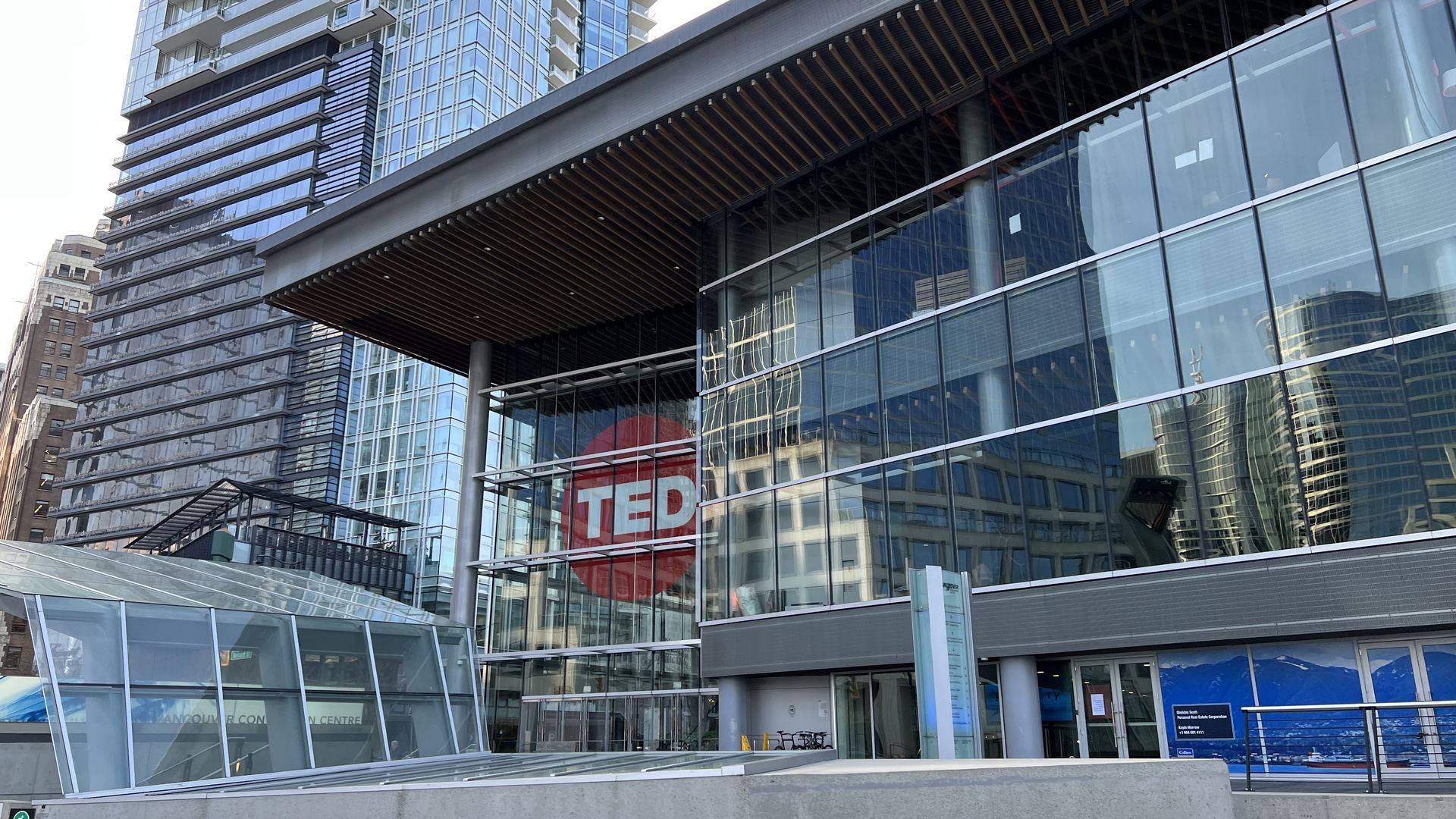 AI was everywhere Monday as the annual TED conference kicked off in Vancouver.
What's happening: An AI-infused opera kicked off the conference and the first talks included a mix of deepfakes and using AI to hear animals whose sounds are too low or high for humans to hear. And that was just Monday, with artificial intelligence topics dominating this week's program and surrounding exhibits.
Why it matters: There's always a fair bit of tech talk at TED, but it's been a while since tech dominated the conversation the way it clearly is this year.
In a prelude to what the rest of the week has in store, Metaphysic CEO Tom Graham showed how AI can be used to create videos of one person speaking in another person's voice, with or without the other person's face overlaid on theirs.
In one recorded example, a female singer did a cover of Aloe Blacc's hit "Wake Me Up" in Spanish — then the singer's face transformed into Blacc's, still producing the cover singer's voice. Ultimately it became an AI-generated video with the singing in Blacc's voice as well, even though he had never sung the number in Spanish.
In a live demo, Graham spoke onstage with TED curator Chris Anderson, and on the video monitors, Graham's voice came out sounding like Anderson's — eventually, his face morphed into Anderson's, too.
Between the lines: The demos illustrated the incredible power of AI image transformations — which can depict people seeming to speak languages they don't know.
They also displayed the very real problems such technology will inevitably create for a society already having a tough time distinguishing reality from fiction.
"We build this stuff and I'm worried," Graham said. "Worried is the right instinct for everybody to have."
What's next: Tomorrow's morning session is devoted to AI topics and includes a number of the industry's leaders, including OpenAI co-founder Greg Brockman — as well as some prominent critics.
Yes, but: It wasn't all AI talk in Vancouver. Nobel Prize Winner Jennifer Doudna detailed her effort to expand the use of the CRISPR gene editing tool she co-invented.
Doudna now wants to use the technology to edit the genes of whole microbiomes, both to reduce disease and turn the tide on climate change.
Ted's Audacious Prize has helped her arrange $70 million in funding over seven years to kickstart the effort, which is being coordinated with labs at three University of California campuses.
The idea has a staggering range of potential uses, but Doudna and her collaborators are focused first on exploring if CRISPR can be used to reduce methane emissions in cows and if gene editing can help prevent inflammatory diseases in infants, such as asthma.
"I hope people start to think about microbiomes as something that can be harnessed for good," Doudna told Axios.
Go deeper