SpaceX's Starship could transform the space industry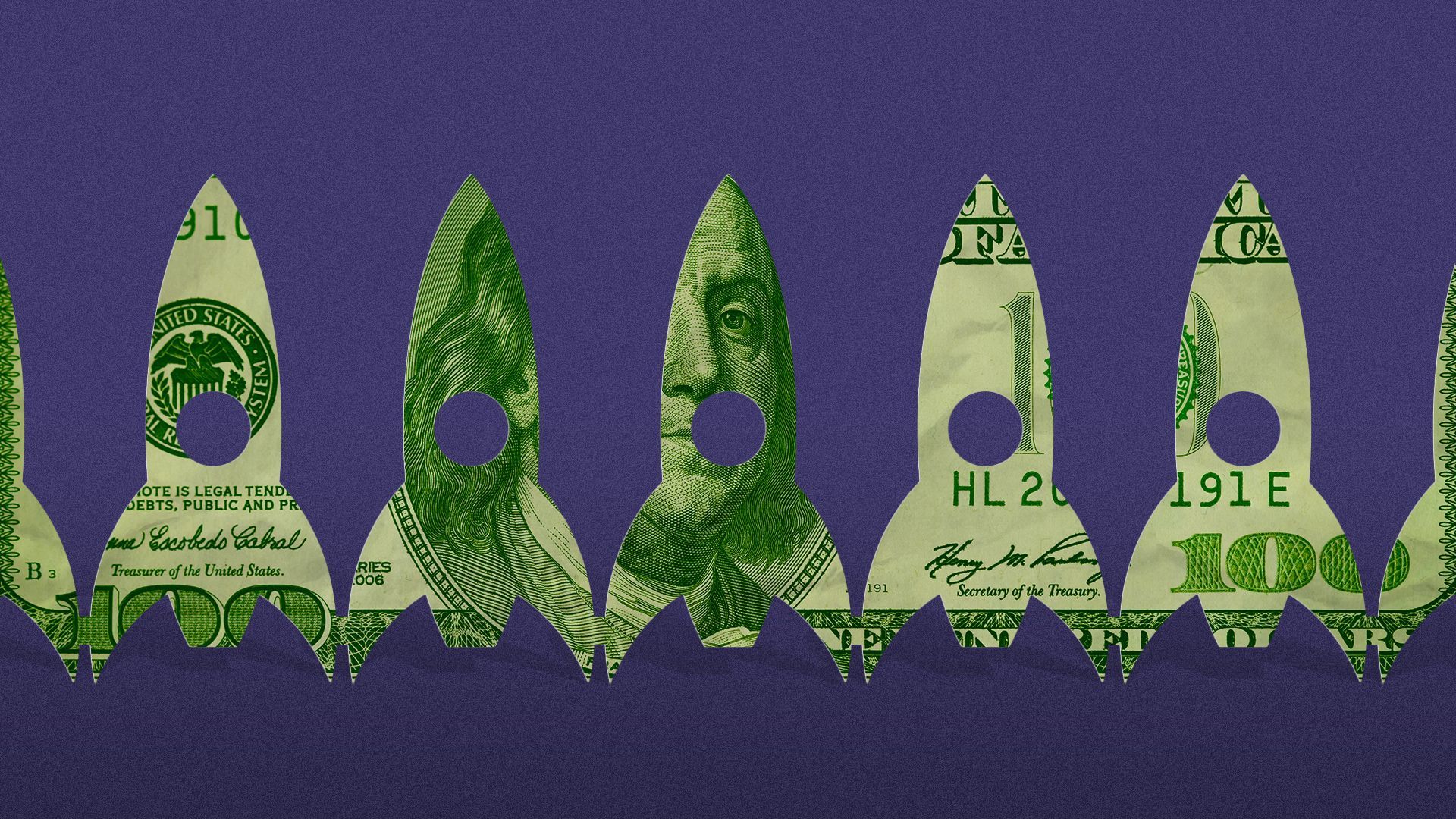 If SpaceX's Starship program succeeds, it could revolutionize the space industry by dramatically lowering the cost of launching people and payloads to orbit and beyond.
Why it matters: SpaceX and other companies want to make space travel more akin to air travel, with launches every day.
But in order to make that future a reality, launch costs need to get cheaper. That's where Starship comes in.
SpaceX founder Elon Musk has said a Starship launch could eventually cost just $10 million or less. By comparison, the company's Falcon 9 costs about $62 million today and has far less carrying capacity than Starship.
Driving the news: SpaceX was planning its first launch of the Starship with its Super Heavy booster on Monday, but liftoff was scuttled after a technical issue popped up deep into the countdown.
Musk has said that the company will reset and try to launch again in the next few days.
The big picture: If Starship works and SpaceX builds up a fleet that can launch often and be reused, it could "potentially enable new businesses and even new markets," BryceTech's Carissa Christensen tells Axios.
That dramatic reduction in price could lead to viable business plans for companies that want to manufacture sensitive material in orbit like pharmaceuticals.
Starship could also be a major factor in making human spaceflight accessible to a wider range of people. Instead of only being available to the ultra-rich, the vehicle could open up spaceflight opportunities to more would-be customers, Christensen says, though those flights will likely remain inaccessible to most, at least in the near term.
The vehicle's huge carrying capacity to orbit could also allow constellations of satellites to be built far more quickly, saving time and money.
Between the lines: Starship could also open up new scientific opportunities.
Today, large telescopes — like the James Webb Space Telescope — need to be folded up to fit inside a rocket fairing and then deployed in space. But with Starship, that may not be necessary.
Instead, the rocket's huge carrying capacity might allow for new designs and capabilities for space telescopes.
Yes, but: No satellites today — with perhaps the exception of SpaceX's Starlink spacecraft — are designed to fly to space aboard Starship.
"So it's gonna take a while for space agencies and companies to figure out how [Starship's] capacity can be used," Christensen says.
What to watch: It's not yet clear how quickly SpaceX will be able to scale up its Starship operations, and in order to reduce prices, the company will need a large fleet of Starships flying at a rapid clip.
It typically takes years for rockets to achieve expected operations after their first test flights.
But SpaceX already has at least one customer for Starship: NASA. The U.S. space agency is relying on a modified version of the vehicle to act as a lunar lander that is expected to bring people to the surface of the Moon as soon as 2025.
Go deeper