Budget politics heat up as McCarthy visits Wall Street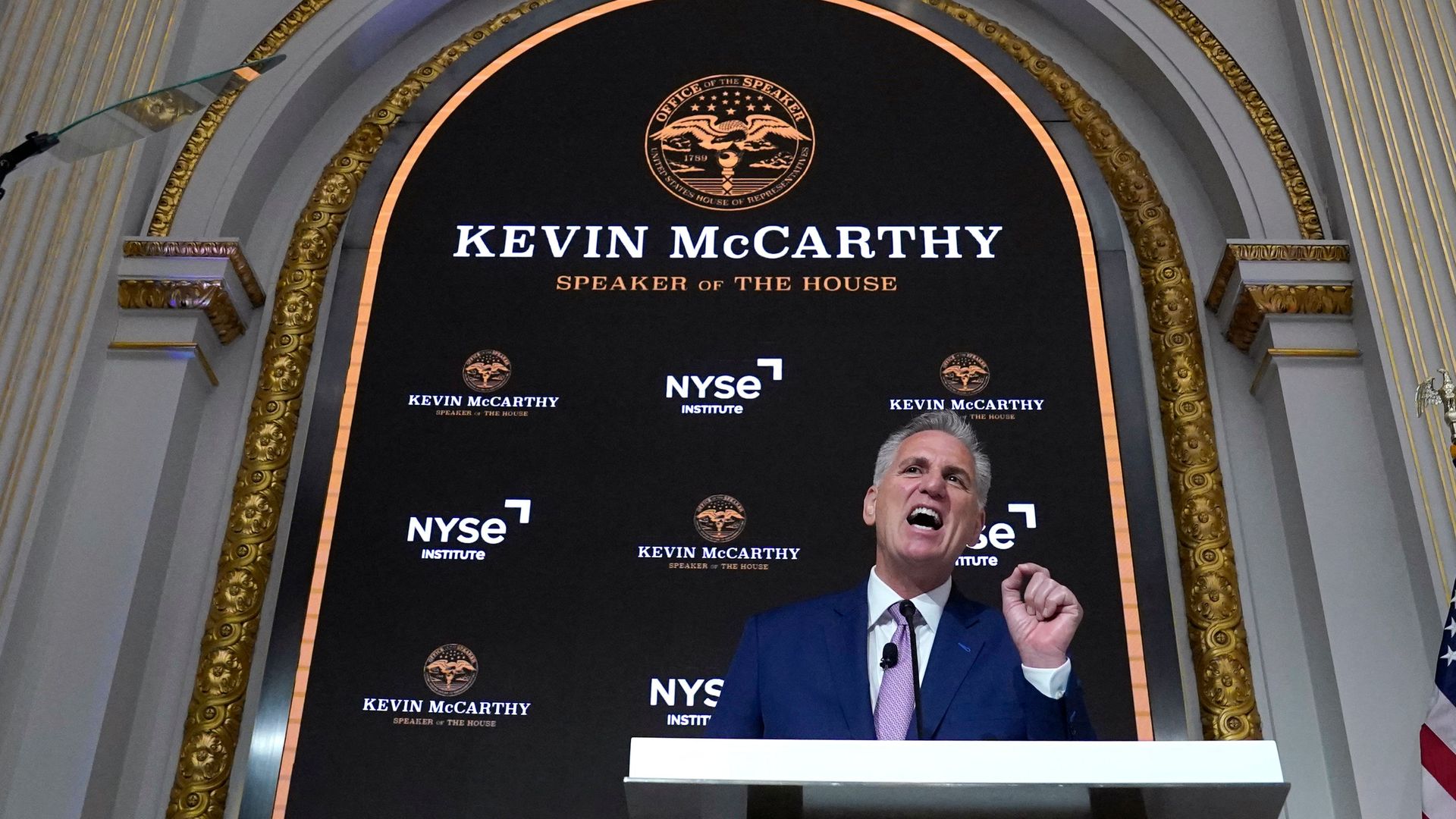 Republicans and Democrats are staking out their positions, ahead of what's expected to be a big fight over raising the debt ceiling.
Why it matters: Congress must raise the debt ceiling in the coming months or risk pushing the Federal government into default, a gamble that could have serious and tough-to-predict economic consequences.
Driving the news: House Speaker Kevin McCarthy (R-Calif.) made the rounds on Wall Street on Monday, starting with a speech at the New York Stock Exchange that established the GOP's opening position.
McCarthy pledged to pass legislation to raise the debt ceiling — and listed his demands: Cut spending back to last year's levels, and cap future spending growth at 1% a year over the next decade.
"It's time that government got off its present spending spree before it squanders our future prosperity," McCarthy said in his speech.
The other side: Democrats stressed that despite the speech, House Republicans still haven't proposed an actual budget plan — but that they're open to negotiations once McCarthy does present one.
In a news conference on Monday, Democratic Senate Majority Leader Chuck Schumer said Democrats "first need to see his plan so we can start there and work to avoid catastrophic default."
State of play: The government breached the statutory debt limit in January.
Since then the Treasury Department has been using "extraordinary measures" — moves like delaying payments to some government pension plans and running down cash balances — to continue paying Uncle Sam's bills.
But Secretary Janet Yellen has said the Treasury Department will likely run out of financial resources by some time in early June.
Private economists say the Treasury likely has a bit of wiggle room after that, estimating that the date of a possible default — sometimes called the "X-date" on Wall Street — could come in August.
The bottom line: As we approach the X-date, the politics surrounding the debt fight are going to get much louder.
Go deeper: Listen to the Axios Today podcast, where host Niala Boodhoo and Matt Phillips discuss what's at stake if the debt ceiling is not raised.
Go deeper