NYT editor says paper won't "lead the boycott of Twitter"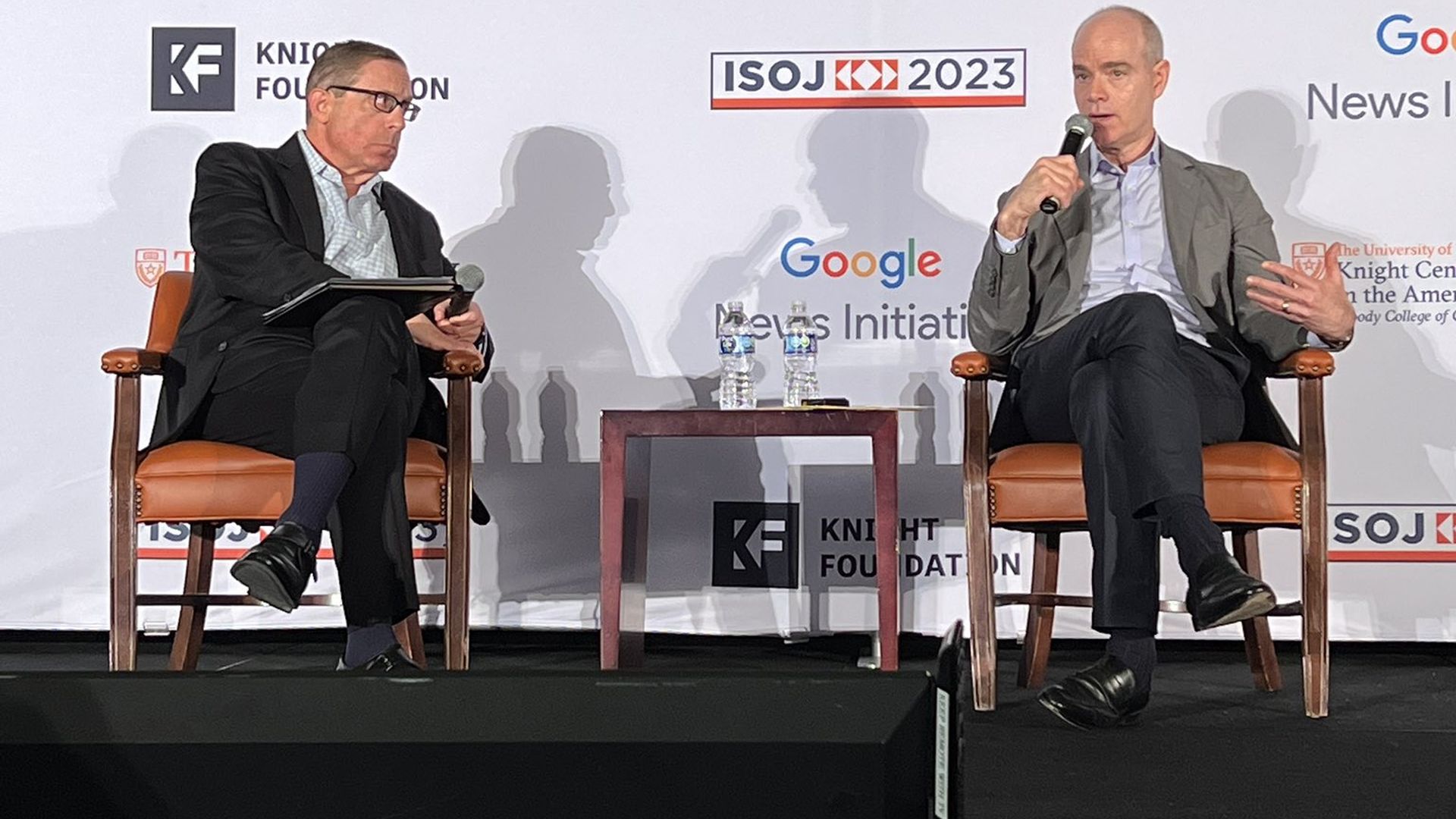 The New York Times does not plan to stop using Twitter, its top editor said Saturday, despite the fact that Elon Musk, the company's owner, has taken seemingly targeted actions against the Times, and has called the outlet's work "propaganda."
Why it matters: Musk's recent actions targeting certain outlets have forced media companies to reckon with whether it's worth remaining on Twitter.
PBS and NPR both said they would stop using Twitter last week after Musk put "government-funded" labels on their accounts without explanation.
Details: "I don't know how much benefit would be in trying to kind of get in front of a battle with Elon Musk," New York Times executive editor Joe Kahn said at the annual International Symposium on Online Journalism conference in Austin, Texas.
"We're also not looking to kind of lead the boycott of Twitter or something like that," he added.
Be smart: While the Times still uses Twitter to amplify its journalism and buy ads promoting its subscription offerings, Kahn and his predecessor Dean Baquet have encouraged journalists to become less reliant on the platform.
"Even before Elon Musk became engaged with it, journalists spend too much time on Twitter. I think they're too attuned to what the Twitter audience thinks about them and their journalism," Kahn said.
"I don't know what's gonna happen to the platform," Kahn added. "I hope Musk could manage to improve it. It doesn't look like that at the moment, but I hope that he can."
Between the lines: Kahn was also asked to address recent criticism that the Times' coverage has not been supportive of the transgender community.
Calling it a "difficult" issue for the paper, Kahn defended the Times' coverage, arguing that the "vast majority" of coverage "are important articles that I think are embracing of this (the trans community) struggle."
"By far, the overwhelming — you know, quantity-wise — of our coverage has been in that nature," he said.
What to watch: Asked about ongoing contract talks with the Times' union, Kahn said he thinks the issue, which has been ongoing for two years, would be resolved in the next three months.
"That's way too long," Kahn said about not having a contract for guild-represented staff at the Times, acknowledging that it's been "very, very slow to get to an agreement on a wide range of issues."
"The negotiations are really getting down to brass tacks at the moment, we're gonna get there," he said.
Go deeper