Signs that DeSantis is building support in Congress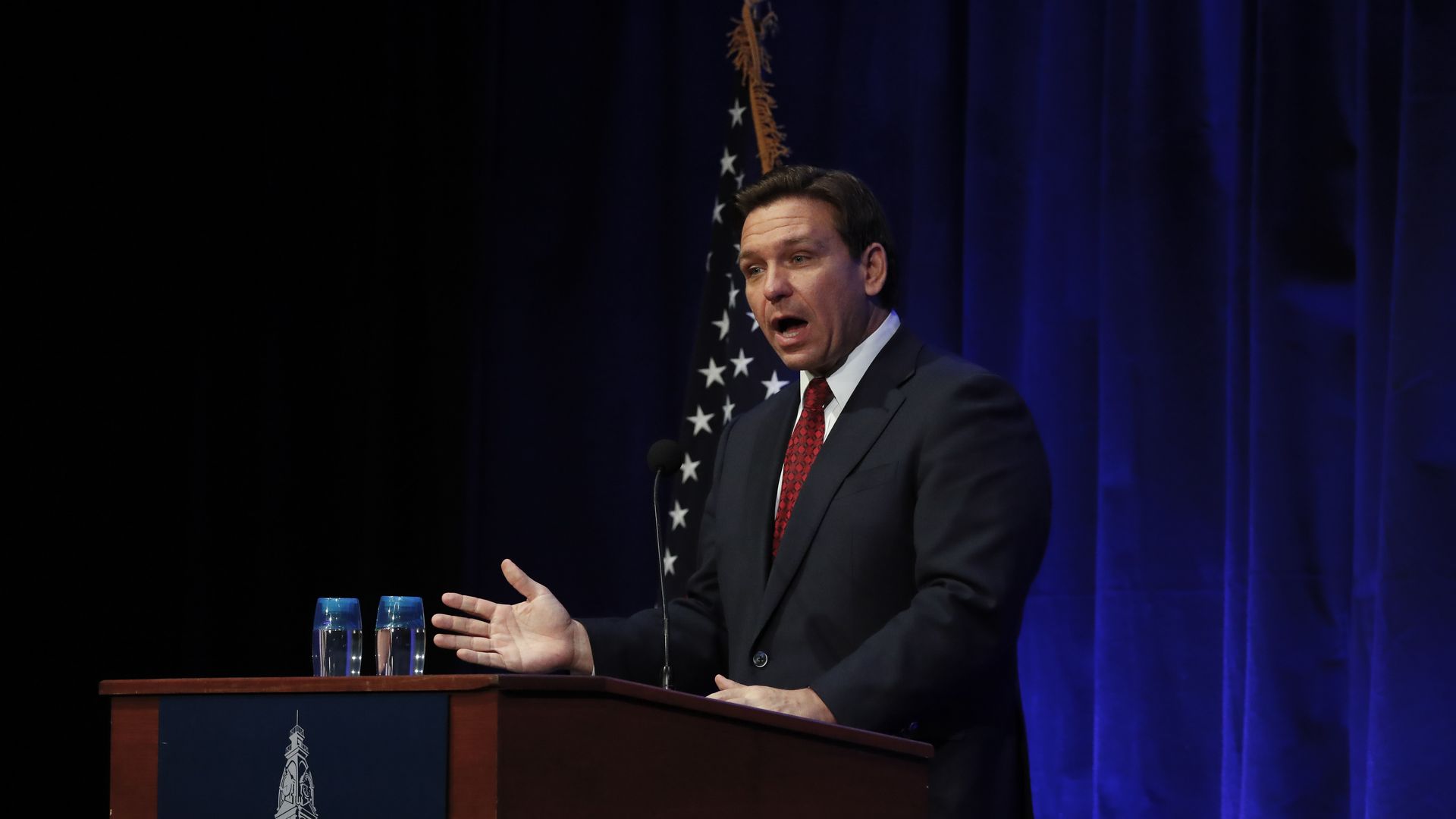 Florida Gov. Ron DeSantis (R) heads to Washington on Tuesday for an event with at least nine conservative Republicans in Congress — a sign he's gaining support on Capitol Hill as an alternative to former President Trump in 2024.
Why it matters: It's the latest indication that a growing number of GOP lawmakers aren't afraid of a Trump backlash if they don't fall in line with him — and suggests DeSantis could get a wave of endorsements once he officially enters the race.
Trump — with his grievances, attacks on rivals and legal problems — has dominated the GOP campaign so far.
He has a big lead in the polls and more than three dozen endorsements in the House alone — even as many Republicans hope to move on from him.
Driving the news: Only two House Republicans, Chip Roy of Texas and Thomas Massie of Kentucky, have endorsed DeSantis. But they and six more— plus Sen. Mike Lee (R-Utah) — have attached their names to the DeSantis event.
Sources close to DeSantis said they see the additional lawmakers' participation as "soft endorsements" that will help DeSantis build momentum toward a campaign announcement, likely in the next few months.
Other House Republicans announced as taking part in the event are Bob Good (Virginia), Randy Feenstra (Iowa), Mike Gallagher (Wisconsin), Darin LaHood (Illinois), Laurel Lee (Florida), and Ken Buck (Colorado).
What they're saying: "Some people I know will be endorsing DeSantis," Massie told Axios, adding that he believes there will be "too many of us who endorse DeSantis for there to be backlash" from Trump.
"The people who have endorsed Ron so far, like Chip and I, we're not somebody who you would say has 'Trump derangement syndrome,' " he said.
"We'd be happy with Trump as president as well. We just think that Ron would be a better candidate to be president."
What we're watching: Trump's recent indictment on criminal charges in New York had Republicans rallying around him. But it's early in the race, and if three other criminal probes of Trump in Washington and Georgia yield more serious charges, things could change.
"I know what the national polls look like right now. I believe they're accurate, but I have an accurate poll from December where DeSantis was beating Trump in Kentucky," Massie said, adding that he believes there will be a steady stream of donations once DeSantis is officially in the race.
Massie said his decision to endorse DeSantis early was an effort to push him to throw his hat in the ring.
Trump sees DeSantis as his chief competition for the GOP nomination, and the Trump super PAC has been attacking him relentlessly in ads.
"Because (DeSantis is) not campaigning, he can't run ads. He can't ... defend himself on issues having to do with the presidential race." Massie said.
"If it were up to me he'd be in the race now, but I don't control that. So I went ahead and got in the race for him."
Go deeper