Latin and Tex-Mex overtake Italian as America's go-to food order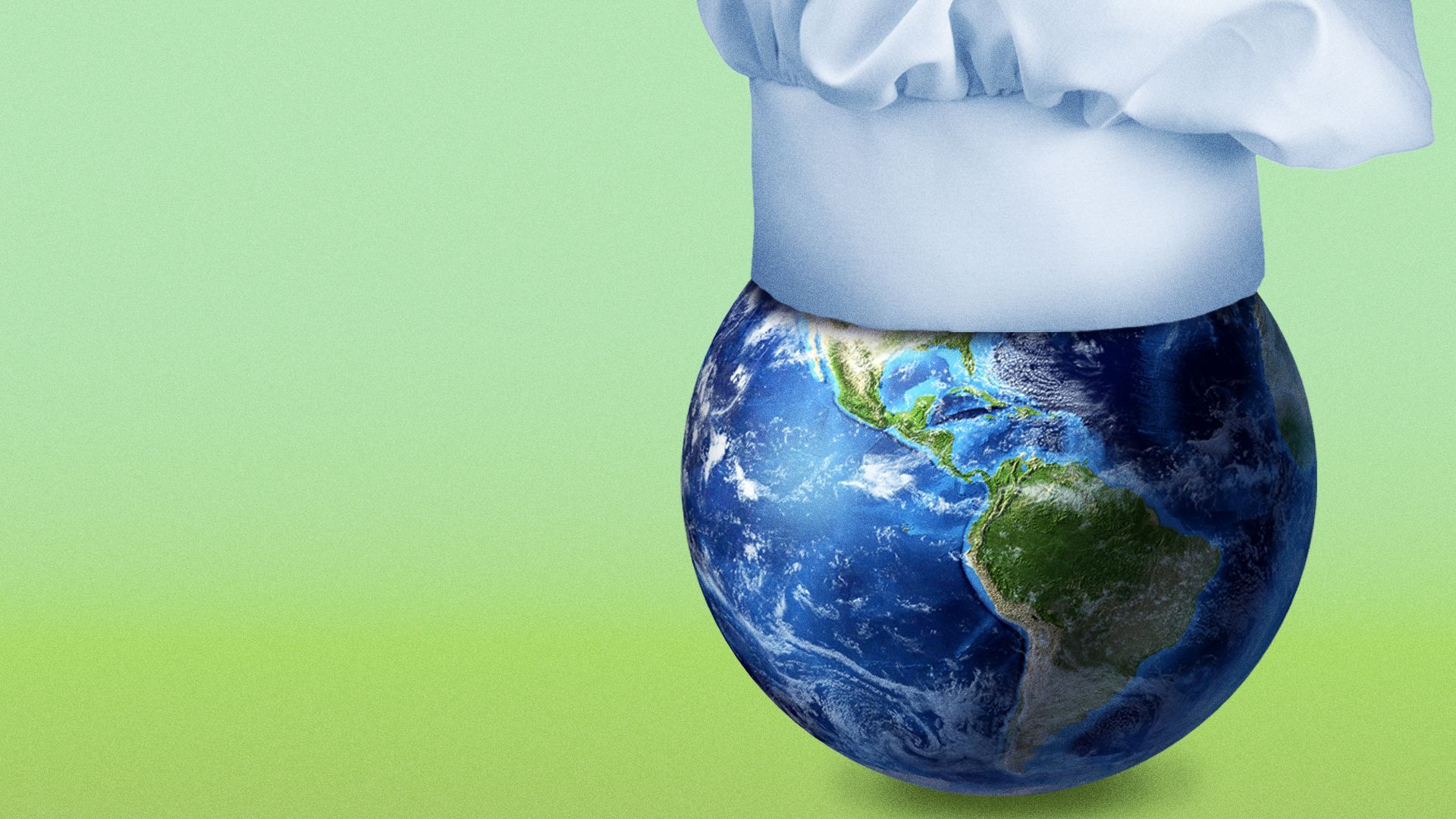 The go-to favorite cuisine of Americans used to be Italian, but increasingly it's Latin American and Tex-Mex food like tacos, quesadillas and birrias — with Asian food next on the horizon, per Datassential, a restaurant-menu consultancy.
Why it matters: The dramatic rise in the U.S. Latino population is reshaping the national palate — and sending restaurant operators south of the border (or thereabouts) to freshen up their menus.
Driving the news: An analysis of the 4,500 new menu items released at major restaurant chains last year found that Americans are craving cheesy, spicy foods with Latin-inspired ingredients and preparations.
The 10 fastest-growing items on U.S. menus include birria (a Mexican meat stew), chicken taco salad, and dishes made with Tajín, a seasoning of chile peppers, lime and sea salt.
The #1 menu addition? Ranch Water, a summery cocktail of tequila, lime and Topo Chico sparkling water, per Datassential.
Tequila is poised to overtake vodka as the country's top-selling spirit, while margaritas have become the most popular cocktail.
What they're saying: "When we work with [restaurant] clients, if they're going to ask about what flavors to put on the menu, it's probably going to be Latin," says Mike Kostyo, the "trendologist" at Datassential who analyzed 2022's menus.
"And if it's not that, it's probably going to be Asian."
The big picture: For the longest time, Italian food was America's favorite — bring on the pizza and pasta!
Then came the millennials, "the first generation to actually prefer Mexican cuisine over Italian cuisine," Kostyo says.
Now comes Gen Z, "the first generation to prefer both Mexican and Chinese cuisine over Italian cuisine."
"Previously, you had spaghetti or pizza on the menu as go-to comfort food. Now you're probably going to put a taco on the menu," Kostyo tells Axios.
Where it stands: Demographic changes — which translate to shifts in childhood favorites and adult preferences — are reflected in our evolving appetites.
"Look at college campuses today," Kostyo says. In the food court, "there's going to be an Asian bowl; there's probably going to be a taco and a burrito."
"The things that young people are growing up with as the norm are so different from 20-30 years ago."
How it works: Datassential maintains a database of 40,000 food and drink items at big restaurant chains, and asks consumers to rate the new additions based on the menu description, picture and price.
Consumers score the dishes in categories like "uniqueness" and whether they would order them.
Restaurateurs use the scores to "concept test" new dishes or revamp tired offerings.
🌮 What we like: The dishes ranking highest in consumer appeal in 2022 included a number of "limited time offers" (LTOs, in industry parlance), such as the Barbacoa Quesadilla Benedict from breakfast/lunch chain First Watch and the Orange Chicken Sandwich Bao from Panda Express. (Read Datassential's report.)
Cheese was the #1 ingredient added to new menu items last year.
"Fresh" was the most popular menu descriptor, ahead of "delicious," "real," "rich" and "housemade."
Weirdness works: There's heightened demand for oddball flavor combinations and sweet-and-salty mashups, driven in part by younger consumers seeking novelty.
Ghost peppers are all the rage — jalapeños are now considered a bit of a yawn.
The apotheosis of the trends? Baskin-Robbins' "Spicy 'n Spooky" ice cream — a limited-time flavor made with ghost pepper, white and dark chocolate, and blood orange flakes, and released before Halloween.
📈 On the rise: The top-growing term on menus in the past four years: "keto."
📉 On the decline: The word "calorie" dropped 37% on menus in the past year — as did "free refills." 😢
Of note: 17 Latino chefs are finalists for the James Beard Chef and Restaurant awards this year, a sign of increasing openness to diverse cuisines among culinary gatekeepers, as Axios Latino reports.
The bottom line: The Latin and Tex-Mex food boom is everywhere you look — and, given that such dishes produce high profit margins for restaurants, very likely to stick around.
Editor's note: This story was originally published on April 14.
Go deeper