World economy's "tricky" phase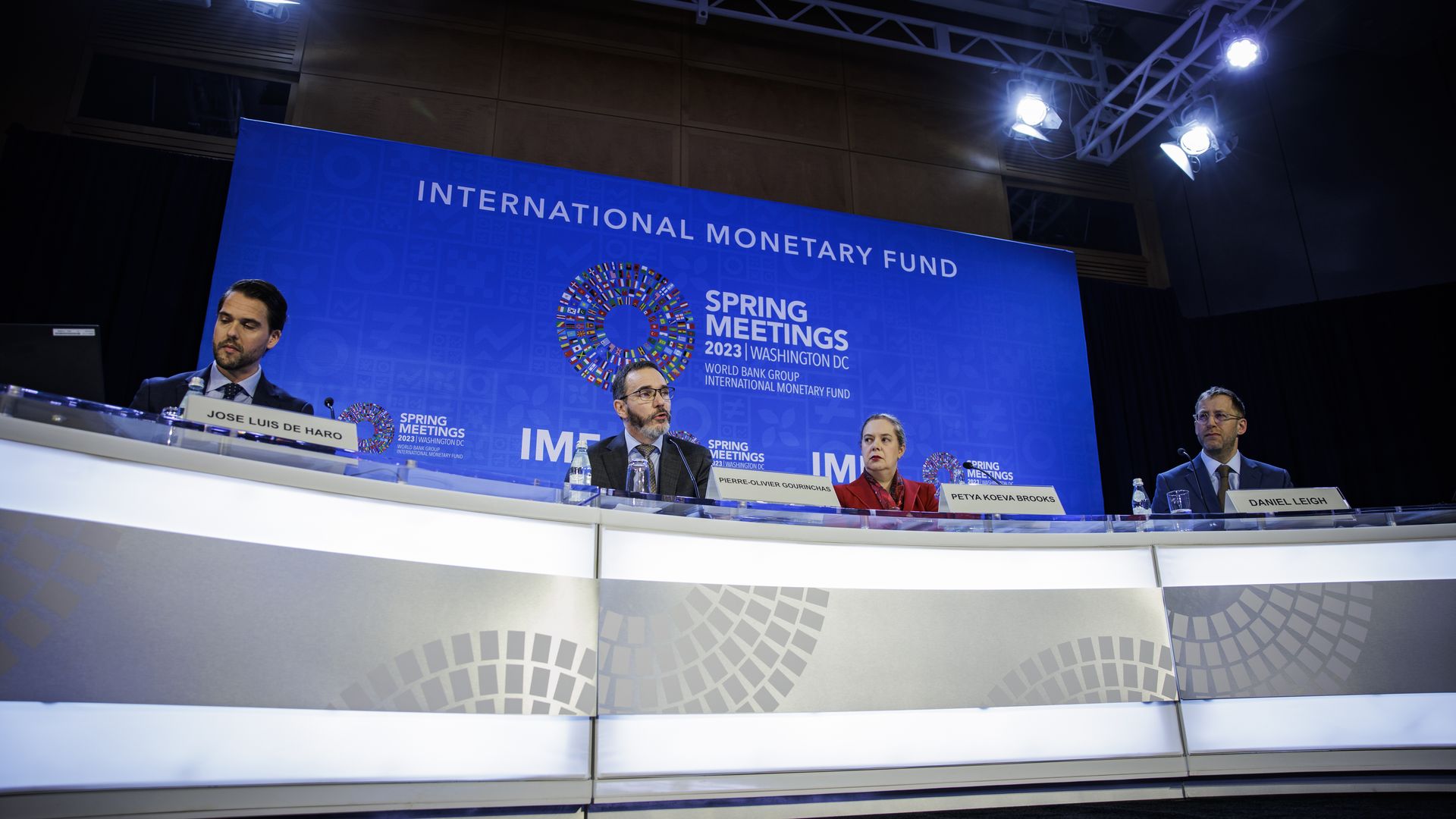 Many of the economic developments that shaped global policymakers' discussions when they last gathered in the U.S. capitol have started to fade, though they have not disappeared entirely.
Zoom out: Supply chain disruptions have further eased, and commodity prices that surged in the wake of Russia's invasion of Ukraine have since fallen back.
Why it matters: This is the backdrop for this year's IMF/World Bank spring meetings, in full force Tuesday, with a flurry of press briefings and bilateral gatherings.
Side effects of aggressive interest rate increases in recent months may be starting to take hold, with the banking system wobbling and global growth expected to stall.
But inflation — the primary objective central bankers set out to defeat — is still far too high all around the world.
What they're saying: The result is a "tricky" phase for the world economy, the IMF's Pierre-Olivier Gourinchas said at a press conference.
In the fund's latest update to its World Economic Outlook, officials say that "major forces that shaped the world economy in 2022 seem set to continue into this year, but with changed intensities."
"Despite the fillips from lower food and energy prices and improved supply-chain functioning, risks are firmly to the downside with the increased uncertainty from the recent financial sector turmoil."
By the numbers: In new estimates, the IMF sees global growth falling from 3.4% in 2022 to 2.8% this year — a slight downgrade from last fall's predictions.
Speaking to reporters, Gourinchas said that recent banking stress appeared to be under control, thanks to policymakers' interventions. If turmoil persisted, however, growth could drop more — to roughly 2.5% this year.
Adding to the bleak outlook, the group expects global inflation to be 7% this year and nearly 5% in 2024, both roughly 0.5 percentage points higher than estimated in January.
The IMF noted that core inflation, which strips out food and energy costs, "had not yet peaked" in many nations — reflecting stubborn underlying price pressures.
The bottom line: The message from U.S. officials, including Treasury Secretary Janet Yellen, is expected to be sunnier than that of the World Bank and IMF, as our colleague Hans Nichols wrote ahead of the spring meetings kickoff.
Go deeper