Yellen to take on financial risks beyond banks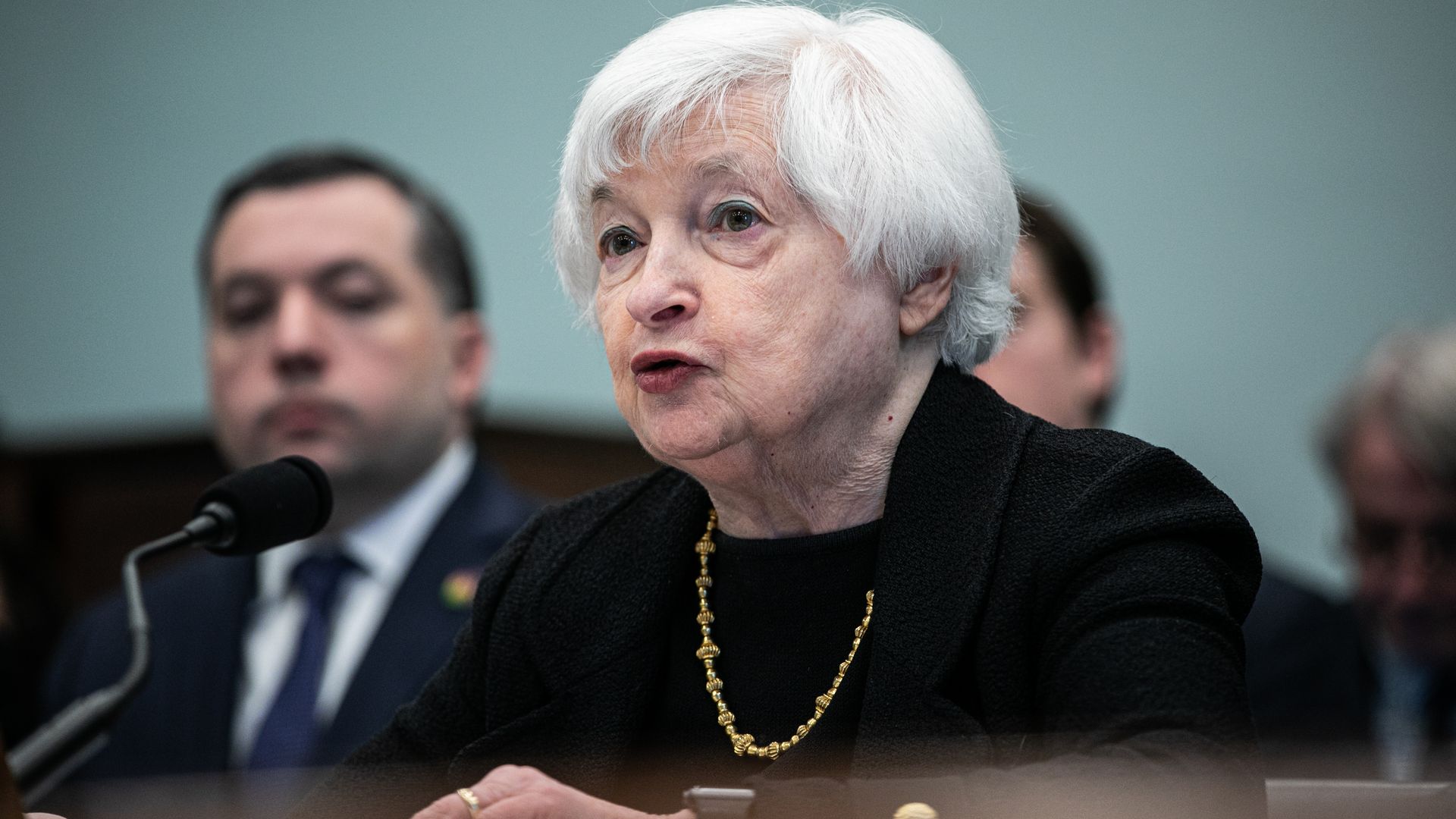 Treasury Secretary Janet Yellen plans to deliver a wide-ranging speech on financial stability Thursday, offering warnings about the risks in the banking system and beyond.
Driving the news: Yellen's speech, as she accepts an award at the National Association of Business Economics named for her fellow one-time Fed chair Paul Volcker, will particularly focus on the risks posed by money market mutual funds, hedge funds and stablecoins, according to a prepared text released by the Treasury department.
The big picture: Yellen argues that "when the financial system works, it can be a powerful engine for economic growth," but that "a fragile financial system can generate deep pain for American households when it fails."
She discusses the risks to the banking system in the aftermath of the Silicon Valley bank Failure, and said it is "important that we reexamine whether our current supervisory and regulatory regimes are adequate for the risks that banks face today."
However, much of her focus was on risks outside the highly regulated banking sector.
State of play: Money market funds act as a close substitute for bank accounts. They accept investors' money and use it to buy Treasury bills and other short-term debt instruments. But they have also proven susceptible to runs in moments of crisis, specifically in September 2008 and March 2020.
"If there is any place where the vulnerabilities of the system to runs and fire sales have been clear-cut, it is money market funds," Yellen will say.
She noted that at banks, there are measures in place — capital and liquidity requirements, federal deposit insurance and the Fed's lender of last resort powers — meant to arrest these runs.
However, "the financial stability risks posed by money market and open-end funds have not been sufficiently addressed," she said, a sign more federal scrutiny is on the way.
Of note: This comes at a particularly significant time, as vast sums of money have been flowing into money market funds as investors seek higher returns than bank deposits.
Go deeper