Crypto winter shows hint of thaw, bitcoin tops $30,000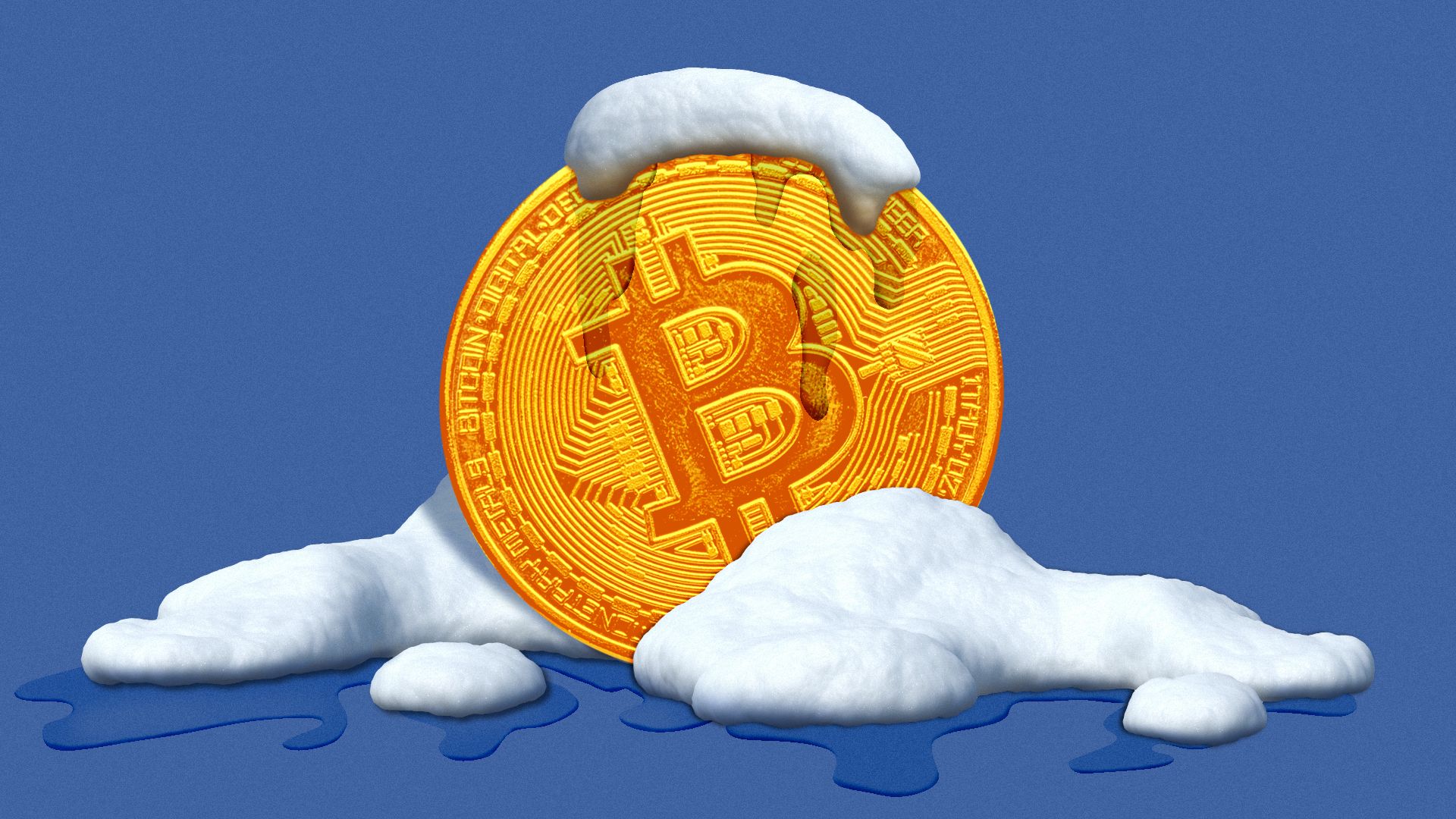 The crypto winter might not be over, but there could be signs of spring.
Why it matters: Crypto was in freefall in late 2022 as faith in digital assets suffered amid the FTX scandal and the collapse of other notable crypto companies.
The bounce back: Bitcoin on Tuesday topped $30,000 for the first time since June.
It's about doubled since its low point in November.
By the numbers: Through April 4, the top 100 digital assets were up 48% in 2023, beating gold (up 11%), stocks (up 8%), high-yield bonds (up 4%) and oil (up 1%), according to Bank of America analysts Alkesh Shah and Andrew Moss.
"Over the past month, investors were focused on recent banking turmoil and economic implications," the analysts wrote, and "digital assets were likely a beneficiary of uncertainty ... as investors chased price momentum and added risk assets for diversification and as terminal target rate expectations shifted lower than previously anticipated."
Meanwhile, investors appear to be anticipating that Wednesday's inflation report could help support the case for the Fed to pause rate increases, a boost for assets like bitcoin, Bitcoin Opportunity Fund managing partner James Lavish told CNBC.
Be smart: When banks go down, bitcoin goes up, Axios Crypto co-author Crystal Kim wrote recently.
Market experts told them that the multitude of possible catastrophes awaiting the U.S., coupled with investors' lack of faith in policymakers, is putting the sparkle back in bitcoin.
The other side: The total market cap of cryptocurrencies — of which bitcoin accounts for over 45% — is still down over 56% from its high in November 2021, currently at $1.29 trillion, according to CoinGecko.
And crypto investing by venture capital in dollar terms has fallen significantly since peaks reached only last year, with a pronounced shift to investments earlier in the company life cycle.
The big question: Will the recent rebound last?
Crypto is preternaturally volatile: There's always lingering uncertainty over whether it could go to zero amid a collapse in confidence or at least face a concerted regulatory crackdown.
The Bank of America analysts offered this: "Despite the potentially restrictive regulatory frameworks ahead, we expect clear rules of the road for digital assets to provide a path to mainstream adoption."
The bottom line: No matter how many times crypto is left for dead, it seems to keep on breathing.
Go deeper