Bitcoin prices go up when banks go down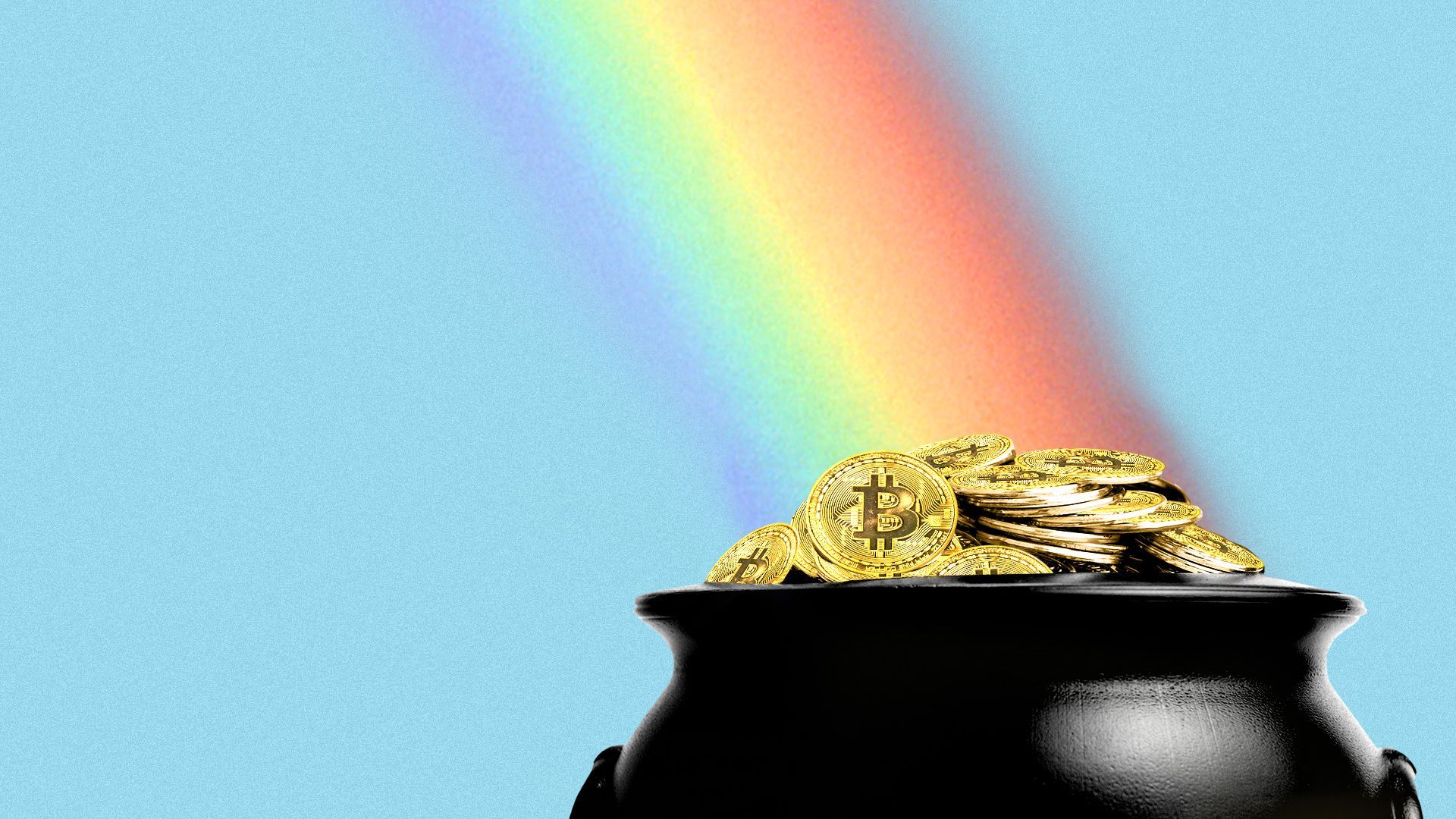 Banking crises put a shine on bitcoin.
Driving the news: As one bank failed and another closed, bitcoin and other crypto got a boost, market experts tell Axios — all linking the weekend banking crisis to changing expectations.
By the numbers: The price of the world's largest digital asset jumped 30% since the evening of March 10, to around $26,000 as of this afternoon.
The big picture: The mini banking crisis changed the market's expectations for what the Federal Reserve Board will do, Matt Hougan, chief investment officer at Bitwise Asset Management, said.
"Events like this will strengthen the correlation between crypto and other risk assets," Hougan said.
State of play: Before Silicon Valley Bank's (SVB) collapse, the market was betting on a 50-basis point hike in interest rates by the end of the year. Now it is betting rates fall by that much.
Between the lines: "It's purely mathematical," Hougan said. "Nasdaq went up, crypto did too because the market was pricing in a rate reversal."
Of note: A study published recently by New York economists questions the connection, saying bitcoin doesn't always react to macro events in a "systematic manner."
The other side: "None of this should matter to crypto," says Stefan Rust, CEO of inflation data aggregator Truflation. "If you think about what bitcoin was meant to be — Satoshi Nakamoto was talking about a peer-to-peer electronic cash system."
"What drove early adoption was remittances and purchases, so much so that people spent 10,000 BTC to buy a pizza," he said.
Reality check: Those only now waking up to the value of bitcoin have to contend with long-term investors, who now hold roughly three-quarters of the total supply.
Is the world going to end? "Bitcoin plays into the narrative of the place to store your money in a crisis," Kurt Wuckert Jr., historian at CoinGeek, said.
"Instability in stablecoins such as USDC and DAI have also pushed up bitcoin's price, as investors seek a safe-haven asset among cryptocurrencies," Ruadhan O, developer and founder of Seasonal Tokens, said, echoing Wuckert's theory.
Flashback: Bitcoin saw its biggest single-month gain in history in the wake of the Cypriot Financial Crisis in early 2013, during which the second-largest bank in the country issued a levy on bank deposits and took a portion of uninsured depositors' assets.
The intrigue: Tether (USDT) has been absorbing what others have been losing, Wuckert said, like Paxos-issued Binance namesake BUSD and more recently, Circle's USDC.
It's a bizarre trend that would run counter to the idea of seeking safety. Per Wuckert: "It's like taking money out of the bank in the nice part of the city and taking it to a known gangster bank."
Our thought bubble: Sounds like an unintended consequence of a wayward crackdown.
Go deeper