Schumer, McConnell condemn Russia's "wrongful detention" of WSJ reporter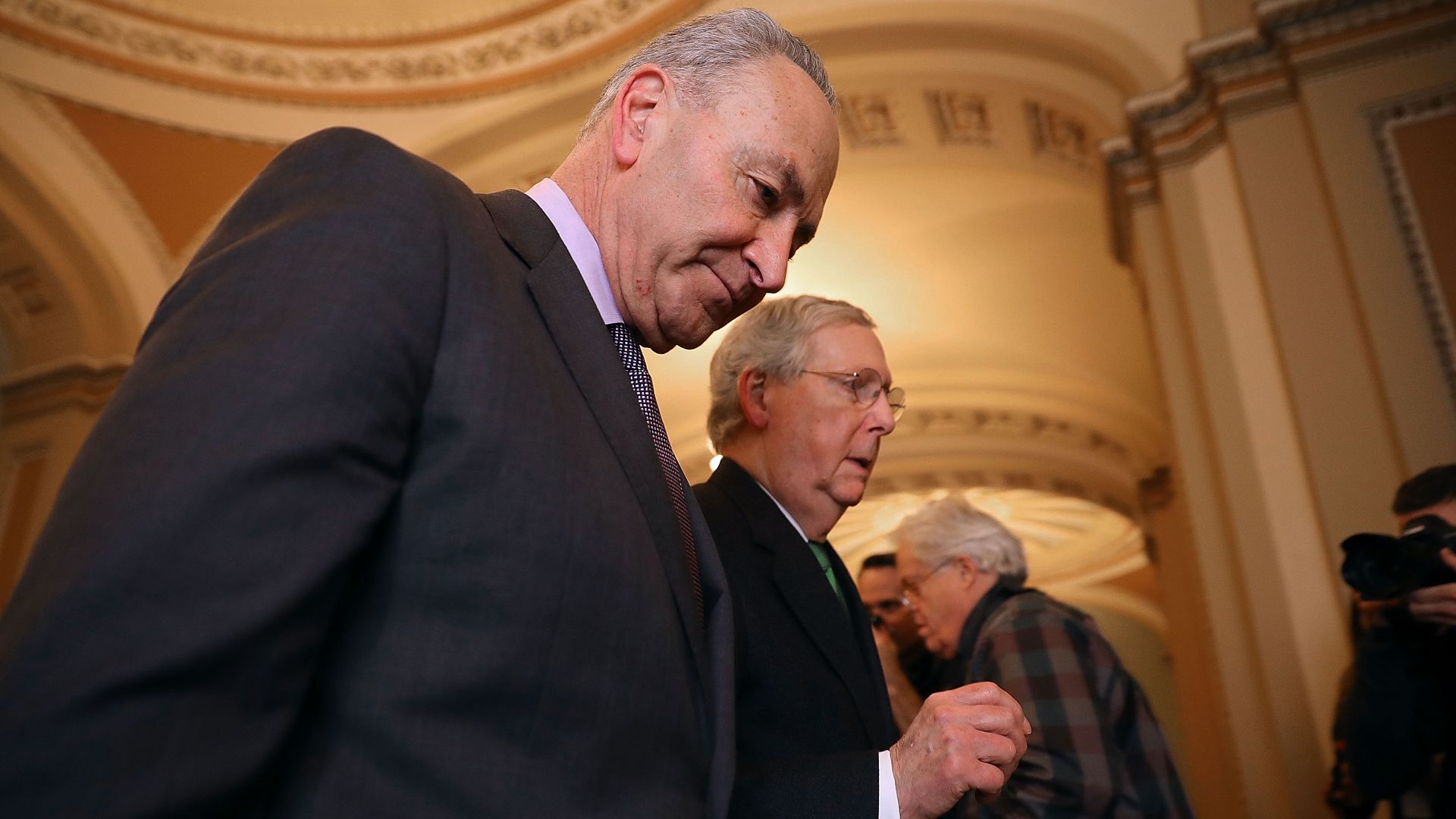 Senate Majority Leader Chuck Schumer (D-N.Y.) and Senate Minority Leader Mitch McConnell (R-Ky.) issued a rare bipartisan statement Friday condemning the Russian government's "wrongful detention" of Wall Street Journal reporter Evan Gershkovich.
The big picture: His arrest last week marked the first time Russia has detained an American journalist on spying charges since the Cold War.
Gershkovich, who worked in the Journal's Moscow bureau and helped cover the war in Ukraine, could face up to 20 years in prison if convicted, per AP.
"Since his arrest, Russian authorities have failed to present any credible evidence to justify their fabricated charges," Schumer and McConnell said in the statement, which noted that Gershkovich was accredited by the Russian Ministry of Foreign Affairs to work as a journalist.
The two leaders added that the U.S. embassy has been denied consular access to Gershkovich, a move that is "against standard diplomatic practice and likely in violation of international law"
"Let there be no mistake: journalism is not a crime," the statement read, reiterating that the charges are "baseless" and calling for his "immediate" release.
What to watch: A formal determination by the U.S. of wrongful detainment would transfer supervision over Gershkovich's case to a specialized State Department section that works on negotiating releases, Axios' Ivana Saric writes.
Worth noting: Gershkovich's detention escalates Russia's longstanding crackdown on freedom of the press, which has intensified since Russian forces invaded Ukraine.
Secretary of State Antony Blinken said Wednesday that he insisted on Gershkovich's immediate release in a meeting with his counterpart, Russian Foreign Minister Sergei Lavrov.
Russia's Federal Security Service formally charged Gershkovich with espionage on Friday, Russian state news agency Tass reports. He denied all the charges.
Go deeper