SCOTUS won't ban 12-year-old transgender athlete from track team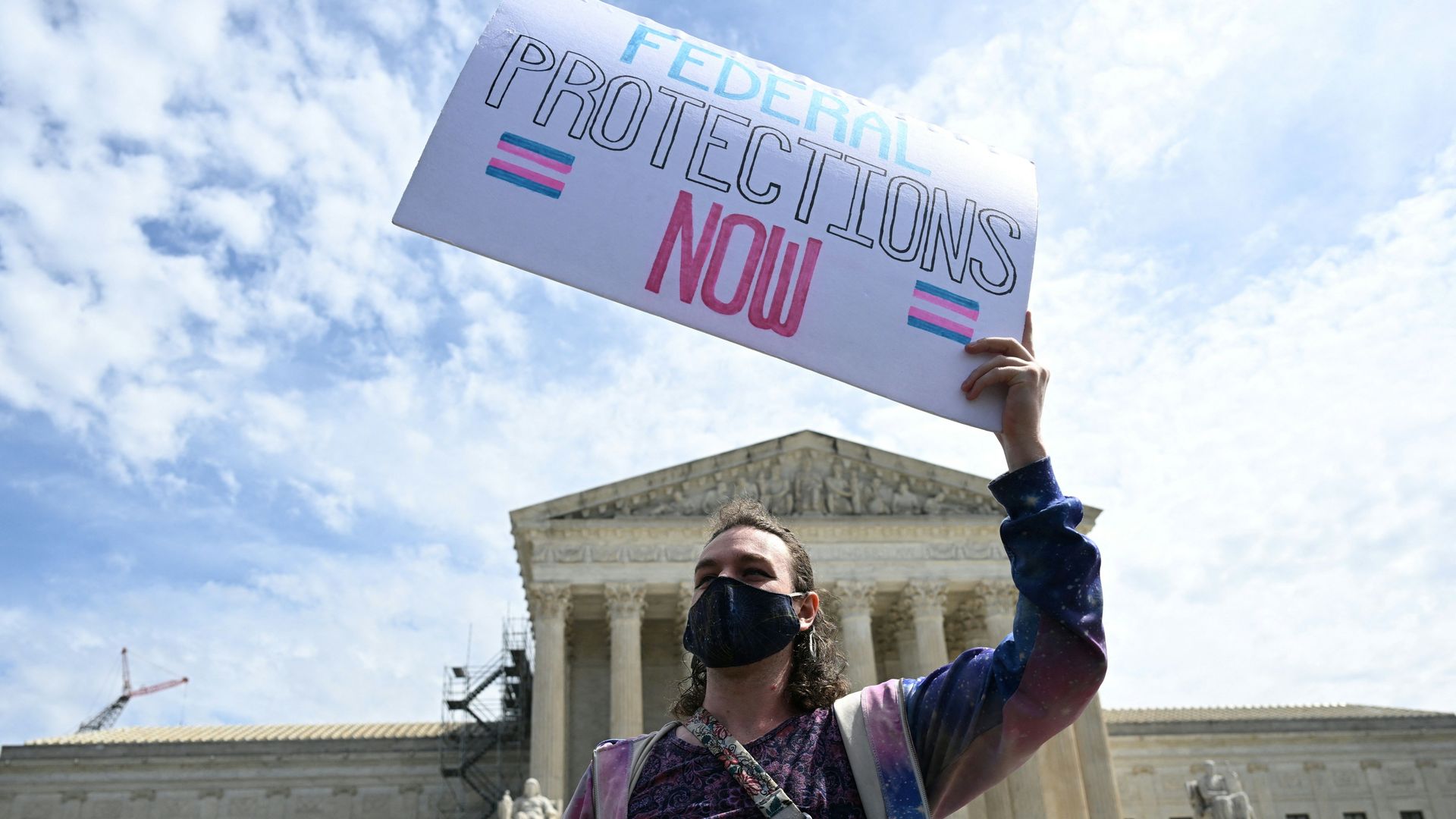 The Supreme Court has rejected West Virginia's bid to enforce a transgender athlete ban against a 12-year-old girl.
Driving the news: The court issued the rejection on Thursday in an unsigned order that did not provide details behind the decision.
Justice Samuel Alito, joined by Clarence Thomas, dissented from the rest, saying they would have granted West Virginia's petition to enforce the law against the transgender athlete.
However, Alito signaled the growing likelihood that the Supreme Court could soon hear a case involving transgender athletes and their right to compete.
The case "concerns an important issue that this Court is likely to be required to address in the near future" surrounding Title IX and participation in women's and girls' sports "based on genes or physiological or anatomical characteristics," he wrote.
The big picture: West Virginia is part of a slew of GOP-led states with laws barring trans girls from participating in school sports that align with their gender identity.
Context: Becky Pepper-Jackson, the 12-year-old at the center of the West Virginia case, is a middle school student and a trans girl who is receiving "puberty-delaying treatment and estrogen hormone therapy," according to court documents.
That means she "has not experienced and will not experience endogenous puberty" and will instead develop "physiological characteristics consistent with hormonal puberty of typical girls," per her lawyers.
She has been a member of the girls' track and field team at her school for the last three sports seasons and "has not 'dominated' anything," instead tending to finish at the "back of the pack," her legal team said.
Her lawyers have made the case that she is "harming no one," noting that she "has not had any problems with children on other schools' teams" and maintains warm relationships with her teammates and coaches.
How we got here: Pepper-Jackson and her family sued the state in 2021 requesting that the courts temporarily block the law from applying to her. That was granted until earlier this year, when the same court reversed course and allowed the law to take effect.
After her legal team appealed the ruling, the Fourth Circuit Court of Appeals also temporarily blocked the ban from applying to her as it considers her case. But West Virginia Attorney General Patrick Morrisey (R) asked the Supreme Court to intervene.
Without a separation "by sex" in school sports, "there is a substantial risk that boys would dominate the girls programs and deny them an equal opportunity to compete in interscholastic events," the state said in its emergency application.
The ACLU and Lambda Legal, representing Pepper-Jackson, countered that there is no "emergency requiring this Court's immediate intervention ... and the only harm at stake is the harm to B.P.J. that would result from barring her from her team."
Worth noting: The Biden administration unveiled a proposed rule Thursday that would prevent a categorical ban on trans athletes at any school or college that receives federal funding.
It would allow schools to impose more narrow eligibility rules but only if it serves specific "educational objectives" like prevention of injuries or "fairness in competition," the latter of which has been debated on a global scale.
The administration has maintained that blanket bans like West Virginia's violate the 14th Amendment's Equal Protection Clause as well as Title IX.
Go deeper