Layoffs via Zoom are here to stay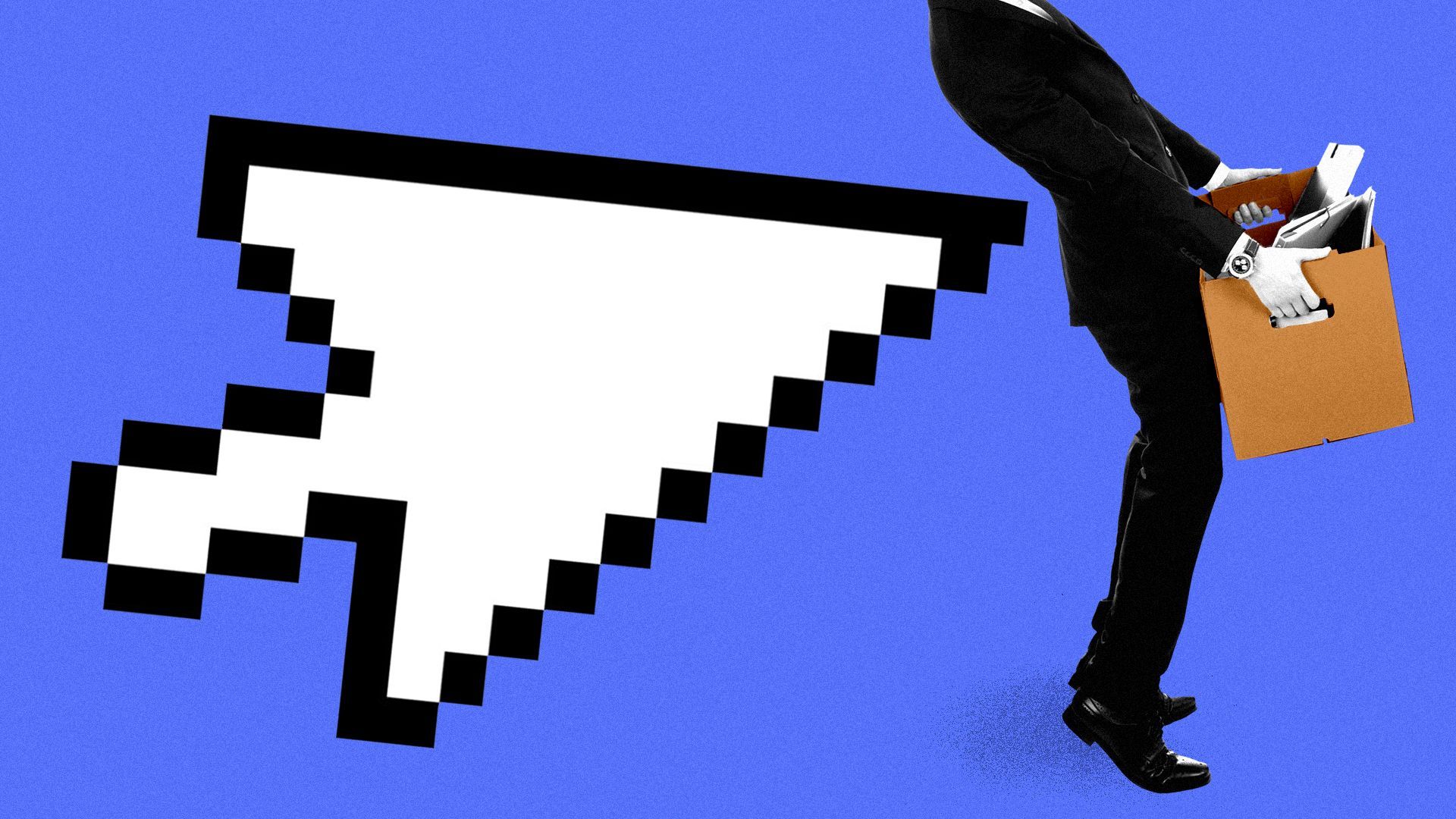 Born out of necessity in the pandemic, the once-reviled virtual layoff seems here to stay.
Why it matters: The practice of firing people via Zoom or email is picking up steam alongside an uptick in layoffs — particularly among the professional classes where many folks are still working either fully or partly remotely.
"Asking somebody to commute into an office they rarely go to anyway, just to let them know they lost their job in a public setting feels cruel in a way that it never did before," says Andy Challenger, senior vice president at outplacement firm Challenger, Gray & Christmas Inc.
State of play: During the COVID era, employers had no choice but to deliver layoff news virtually because offices were closed. Now companies are actually closing offices to do layoffs, a strategic decision to have everyone stay home as the news goes out.
This week McDonald's told corporate employees not to come to the office, so that the fast-food giant could "communicate key decisions related to roles and staffing decisions" — or, in plain English, do layoffs remotely.
PepsiCo reportedly told workers to stay home while it conducted job cuts in December 2022.
Twitter closed its offices in San Francisco to conduct layoffs last year.
Zoom in: You typically wind up hearing about virtual layoffs when they go wrong. Google was criticized for the way it handled layoffs in January, notifying employees by email — with some receiving the notice in the middle of the night.
Most notoriously, in the heat of the pandemic, Vishal Garg, the CEO of mortgage company Better.com, abruptly fired 900 employees on a mass video call after telling them how hard this was for him.
(Remote or not, HR experts agree that managers should not talk about how layoffs affect them personally. They still have jobs, after all.)
What they're saying: Inside the HR community there's debate over whether layoffs should be done in-person or remotely, Challenger says.
"There are lots of old-school HR folks who are saying we could never let somebody go without doing it face-to-face."
And it's impersonal to deliver such life-changing news in an email, a text message or a mass webinar. Challenger says the ideal move is to handle the messaging through one-on-one Zoom meetings.
Big employers argue that's not always possible and that it would take too long to deliver personalized notifications.
Meanwhile, company leaders also perceive fewer security issues when folks are at home.
"If people aren't all on-site there's not the same concern in terms of people potentially stealing company information right from the company servers," said Rina Bersohn assistant general counsel at Engage PEO, an HR company.
And there's less concern about "disruptions" at the office.
But workers lose out on something special — each other. "At home, employees are separate from one another. In the office, obviously, they're together, they will commiserate together."
The bottom line: Layoffs are horrible, with repercussions that last years if not a lifetime for some. There's never going to be a perfect way to do a traumatic thing.
Go deeper