Macron tries to convince Xi not to go all-in with Putin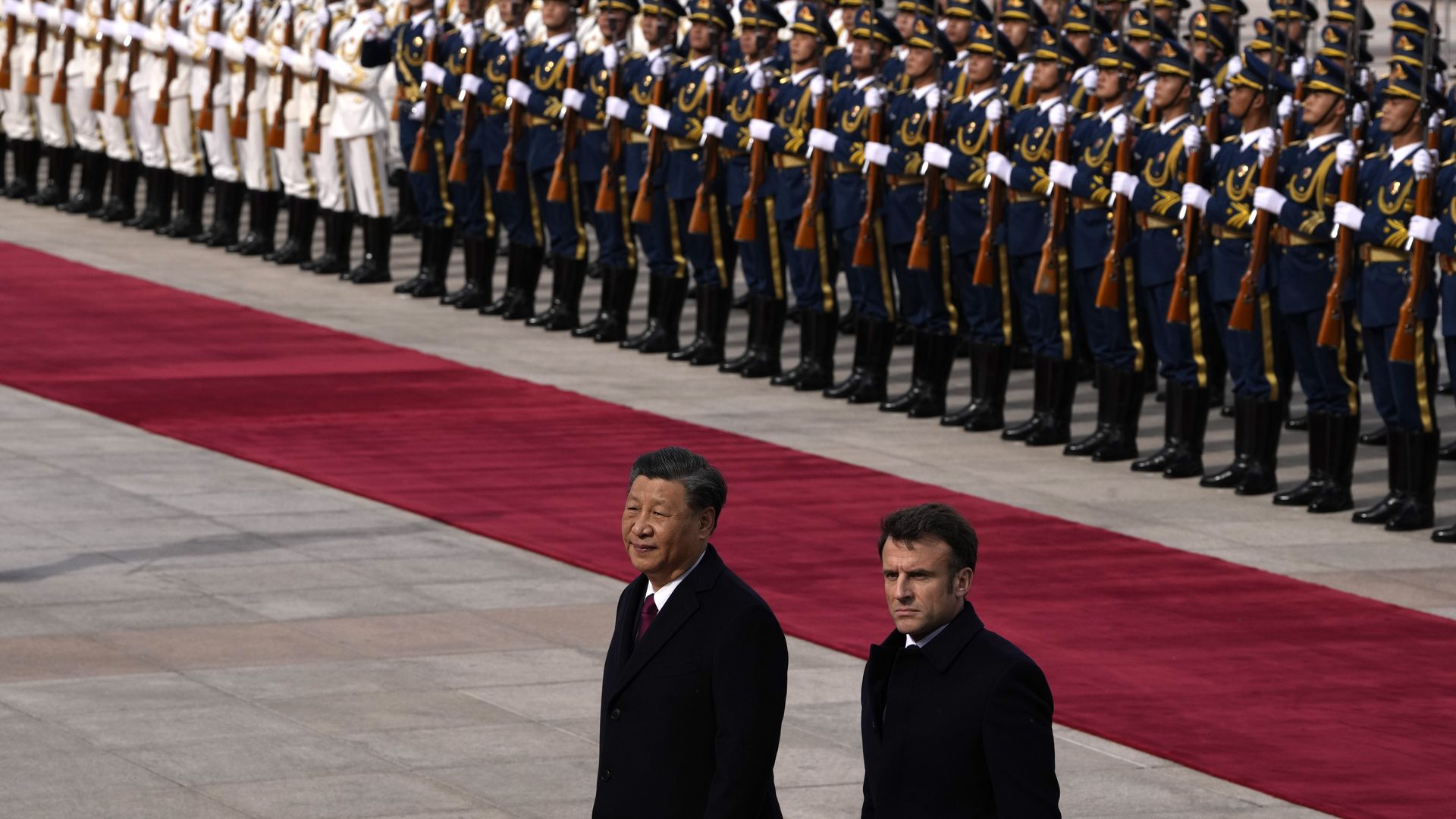 French President Emmanuel Macron on Thursday told Chinese President Xi Jinping he was counting on him to "bring Russia to its senses." For now, Macron's top priority is convincing Xi not to send Russia arms, a French official tells Axios.
Why it matters: Macron and European Commission President Ursula von der Leyen met Xi in Beijing in what the BBC dubbed a "good cop, bad cop" act. The more hawkish von der Leyen arrived fresh off a major speech on "de-risking" Europe's relations with China, while Macron brought 53 deal-seeking business leaders along on his three-day visit.
Top of Thursday's agenda, though, was Ukraine. The European leaders urged Xi to finally make a long-anticipated call to Ukrainian President Volodymyr Zelensky, and stressed that there will be consequences if Xi arms his "dear friend" Vladimir Putin.
Between the lines: The French official contends it makes strategic sense for Macron to express support for China's attempts to mediate between Russia and Ukraine because it's better to have Beijing talking about peace than moving to arm Russia.
The White House and many Western analysts have dismissed Beijing's "peace plan" as a fig leaf from a government that's providing "diplomatic cover" for Russia's aggression.
By contrast, Macron said in Beijing that Xi's proposals, while imperfect, show "a will to play a responsible role and try to build a pathway to peace." He also appealed to Xi to recognize Russia's responsibility for starting the war.
Not unlike his decision to hold regular calls with Putin after the invasion, Macron seems to be betting that persuasion is more likely to influence Beijing's behavior than attempts at isolation. "We, Europeans, would be mistaken to let Russia be the only European nation speaking to China," he said after arriving in Beijing.
The other side: Appearing alongside Macron, Xi didn't budge from any of his previous positions on Ukraine beyond saying he was willing to issue a joint appeal with France for "the international community to remain rational and calm."
Xi also appeared to grow impatient as Macron expounded at length about the shared responsibility to deliver peace, Politico reports.
Macron tends to take a more moderate public line toward China on a range of issues than his counterparts in the U.S. and some other Western countries in part because he doesn't face much domestic political pressure to show he's tough on China, the French official says.
Still, his and von der Leyen's visit comes at a sensitive moment in the debate among EU leaders over China, which is both a major trade partner and a "systemic rival."
Von der Leyen has been raising concerns about alleged Chinese intellectual property theft, the bloc's growing trade imbalance with China, and over-reliance on China for certain goods. She's also warned about exports of certain sensitive technologies to China, a top priority for the U.S.
Chinese officials and state media have cast von der Leyen as too close to Washington, and China's ambassador to the EU retorted after her speech that European leaders should "see where their interests lie and then resist the unwanted pressure from the U.S."
What to watch: The debate over how to proceed on EU-China trade could become intertwined with the war in Ukraine.
Noah Barkin of the German Marshall Fund reports that Macron's advisers have discussed offering Xi a bargain whereby "France will resist U.S. pressure to decouple from China if Beijing invests diplomatic capital in bringing about peace in Ukraine."
The flip side: If China starts arming Russia — which the government denies any intention of doing — the next EU debate will be over sanctions on Bejing.
Go deeper