New York regulator could set world standard for crypto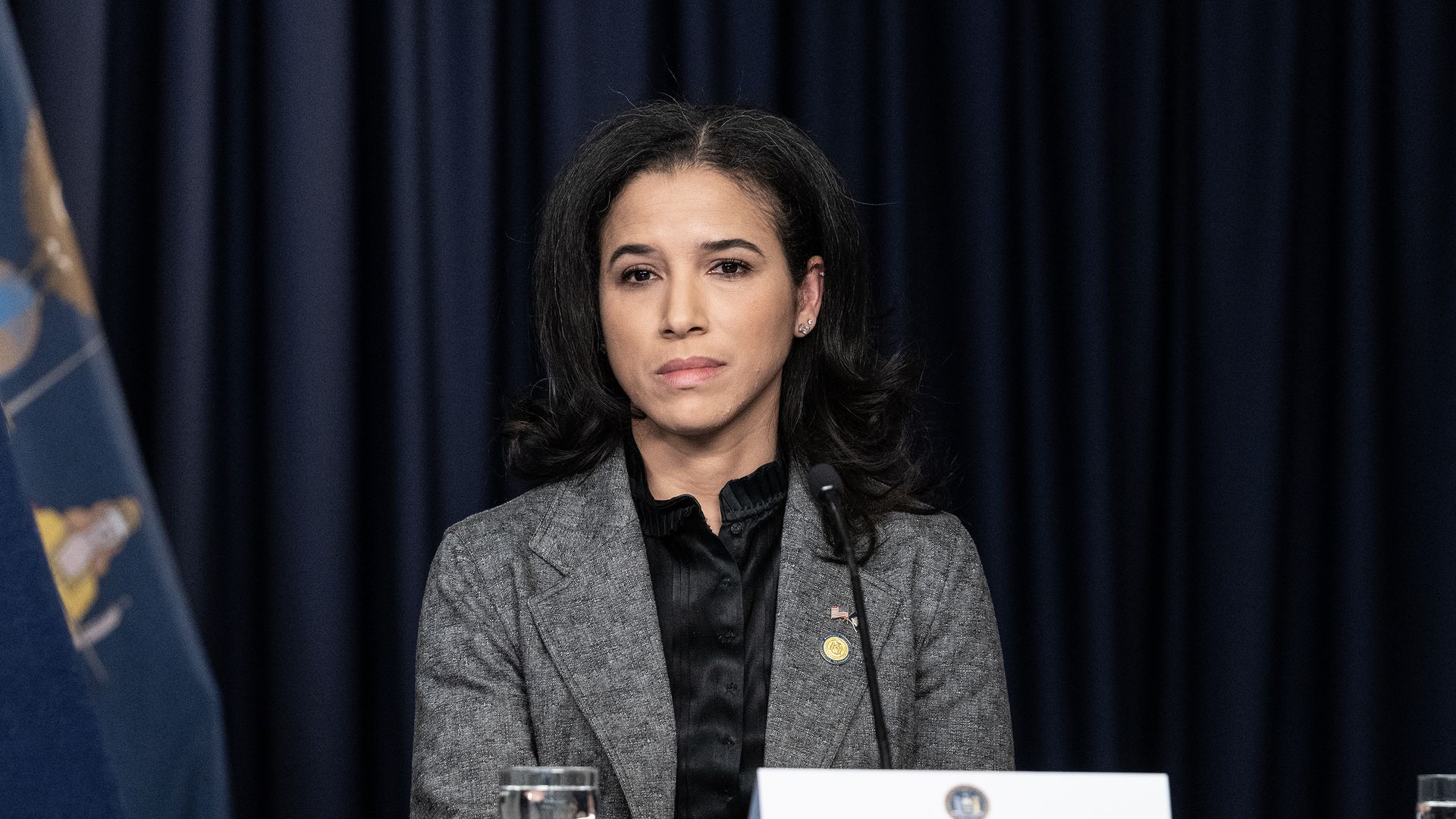 New York regulators are poised to set the benchmark for crypto firms in the U.S. and worldwide with its licensing regime that the crypto industry covets and loathes for its attainability.
State of play: Superintendent Adrienne Harris took the helm of the state's Department of Financial Services in January 2022, and has since expanded on the regulator's unique oversight over digital assets.
It also oversees banks and insurance companies.
NYDFS is effectively "the only prudential regulator [with] virtual asset specific-authority in the country," Harris said yesterday at the Chainalysis Links conference in New York.
The regulator handed out its first crypto enforcement actions this year to Coinbase and Robinhood Crypto, but it was its recent action in the banking sector that crypto supporters have called into question.
Driving the news: "The idea that taking possession of Signature [Bank] was about crypto, or that this is Choke Point 2.0 is really ludicrous," Harris told attendees, rolling her eyes.
The issue at Signature was a "new-fashioned bank run."
In that situation, "the regulators working together have no choice but to make sure depositors are protected," she said.
"If you look at our rules and our guidance ... they necessitate strong banking partnerships with well-regulated banks. The idea that we don't want these banks to exist just doesn't make any logical sense."
Yes, but: The FDIC blocked prospective buyers of Signature from carrying on its crypto business.
Quick take: When New York's BitLicense was put into action in 2015, it was hailed as among the more onerous, industry-chilling regimes in town.
Now in the wake of major crypto catastrophes, it's being cast as a saving grace.
Be smart: With it, Harris doesn't necessarily have to prove whether certain crypto is commodity or security, an arguably lower hurdle to regulate the industry compared to say, the CFTC or the SEC.
What they're saying: "When you think about the ills that have traversed the market — the crypto market in particular — the rules that we have, I think, were pretty prophetic, making sure that most of that fate did not befall our licensees," Harris said.
Context: FTX.US in May 2022 applied for a state trust charter, months before the international FTX.com collapsed.
The other side: It's no secret that the BitLicense process has been slow, something that Harris is not denying.
"Speed is not the right metric," she said. "That's evidenced by the fact of who we didn't license, right? FTX, and now many other infamous names."
The big picture: Illinois and California aren't the only ones looking to New York as an example.
Harris has been sharing best practices for crypto regulation with folks outside of the U.S. and plans to visit the United Arab Emirates as well as Western Europe in the coming weeks.
Folks tell her, "We know if a company meets New York standards, they'll meet ours," she said.
What we're watching: Harris appears to want to tighten the screws on crypto regulation, with what she's calling: "real-time supervision."
The bottom line: "This idea that regulators should just come in once a year, go through books and interview staff .. .was fitting maybe for the 20th-century financial system, but certainly not for 21st century," she said.
Go deeper