Israeli police raid Jerusalem's Al-Aqsa Mosque compound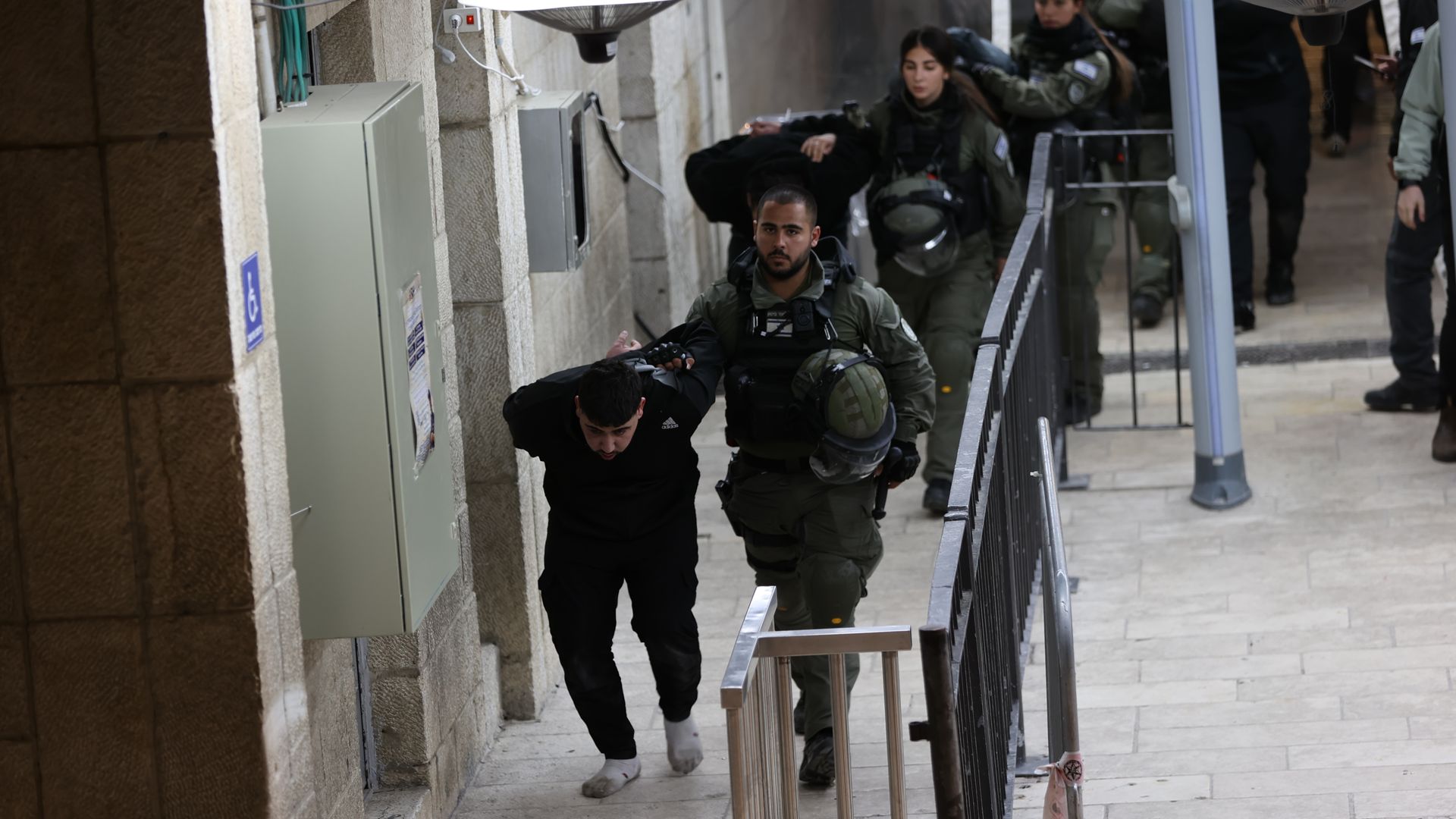 Tensions at Jerusalem's Haram al-Sharif compound, also known as the Temple Mount, exploded Tuesday night when Israeli police raided the area to remove Palestinians who had barricaded themselves inside the Al-Aqsa Mosque.
The big picture: The violent confrontation, which took place in the middle of the holy month of Ramadan and on Passover eve, was reminiscent of the events that led to the last war in Gaza in May 2011. It also comes despite massive efforts to lessen tensions in the region.
Driving the news: Israeli far-right activists recently announced they would try to conduct a sacrifice offering during a ritual at the compound on Wednesday.
Similar efforts have been stopped by police in past years, but the far-right activists have been emboldened by the governing coalition, which includes extreme-right parties. National Security Minister Itamar Ben-Gvir, who is the leader of the ultranationalist Jewish Power Party, is also in charge of the police.
Hundreds of Palestinians gathered Tuesday night to spend the night inside the Al-Aqsa Mosque, saying they were protecting it from the far-right Israeli activists.
Under the "status quo" rules around the site, worshippers are not allowed to spend the night in the mosque. Non-Muslims are allowed to visit the compound, but not worship there.
State of play: Israeli police entered the site to remove the more than 300 worshipers who had barricaded themselves in the mosque.
Police used stun grenades and beat some worshipers, including some who threw stones and firecrackers. Hundreds were arrested.
After videos of the Israeli police raid inside the mosque circulated on social media, Palestinian militants fired several rockets from Gaza. The Israeli air force retaliated with air strikes.
As of Wednesday morning, the situation in Jerusalem and Gaza was calm.
What they're saying: Saudi Arabia, Jordan, Egypt and Qatar swiftly condemned the Israeli raid.
White House National Security Council spokesperson John Kirby said the Biden administration remains "extremely concerned by the continuing violence and we urge all sides to avoid further escalation."
"It's imperative now more than ever, that both Israelis and Palestinians work together to de-escalate those tensions and to restore a sense of calm," Kirby added.
Editor's note: This story has been updated with Kirby's comments.
Go deeper