New tornado outbreak threatens the Midwest, South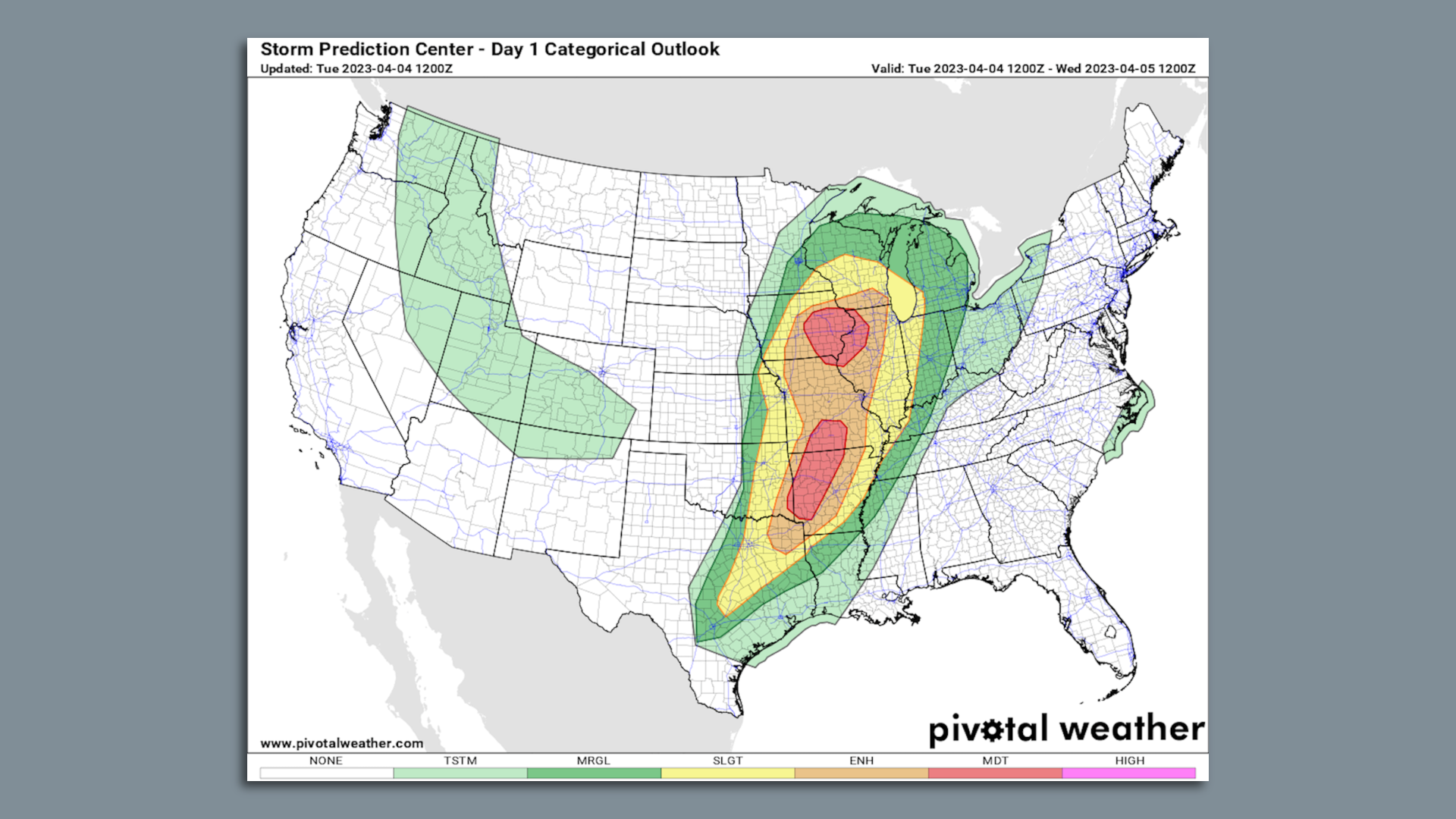 The third tornado outbreak in as many weeks is predicted Tuesday across much of the same region that has seen extensive damage and more than 50 fatalities.
Threat level: The Storm Prediction Center (SPC) has issued a "moderate risk" severe weather outlook, which is a level 4 out of 5 on its threat scale. Two areas of moderate risk exist within a larger area of "enhanced risk," which is a level 3 out of 5.
Moderate risk includes eastern Iowa, northwestern Missouri and northwestern Illinois. The second extends from southern Missouri into much of Arkansas, parts of Louisiana and far eastern Texas.
"Strong, potentially long track tornadoes are possible, in addition to large hail and damaging winds," the SPC stated in a forecast discussion Tuesday morning.
"Afternoon and overnight potential is expected across various regions, including the risk of dangerous nighttime tornadoes."
Nighttime tornadoes are more than twice as likely to cause deaths, in part because people may not be as attuned to severe weather warnings.
Yes, but: Forecasters highlighted uncertainties over storm timing and the overall extent of the threat Tuesday into Tuesday night.
Computer models are vacillating over how storm development will take place in the northern moderate risk area in particular, whereas the southern parts of the highlighted regions are more likely to have all the ingredients needed to produce tornadoes, per SPC guidance.
Context: Climate change is altering the environment in which tornado-producing storms occur, increasing the amount of instability available and potentially shifting seasonal timing and the regions at greatest risk, experts tell Axios.
Go deeper