"High risk" weather outbreak with violent tornadoes hammers central U.S.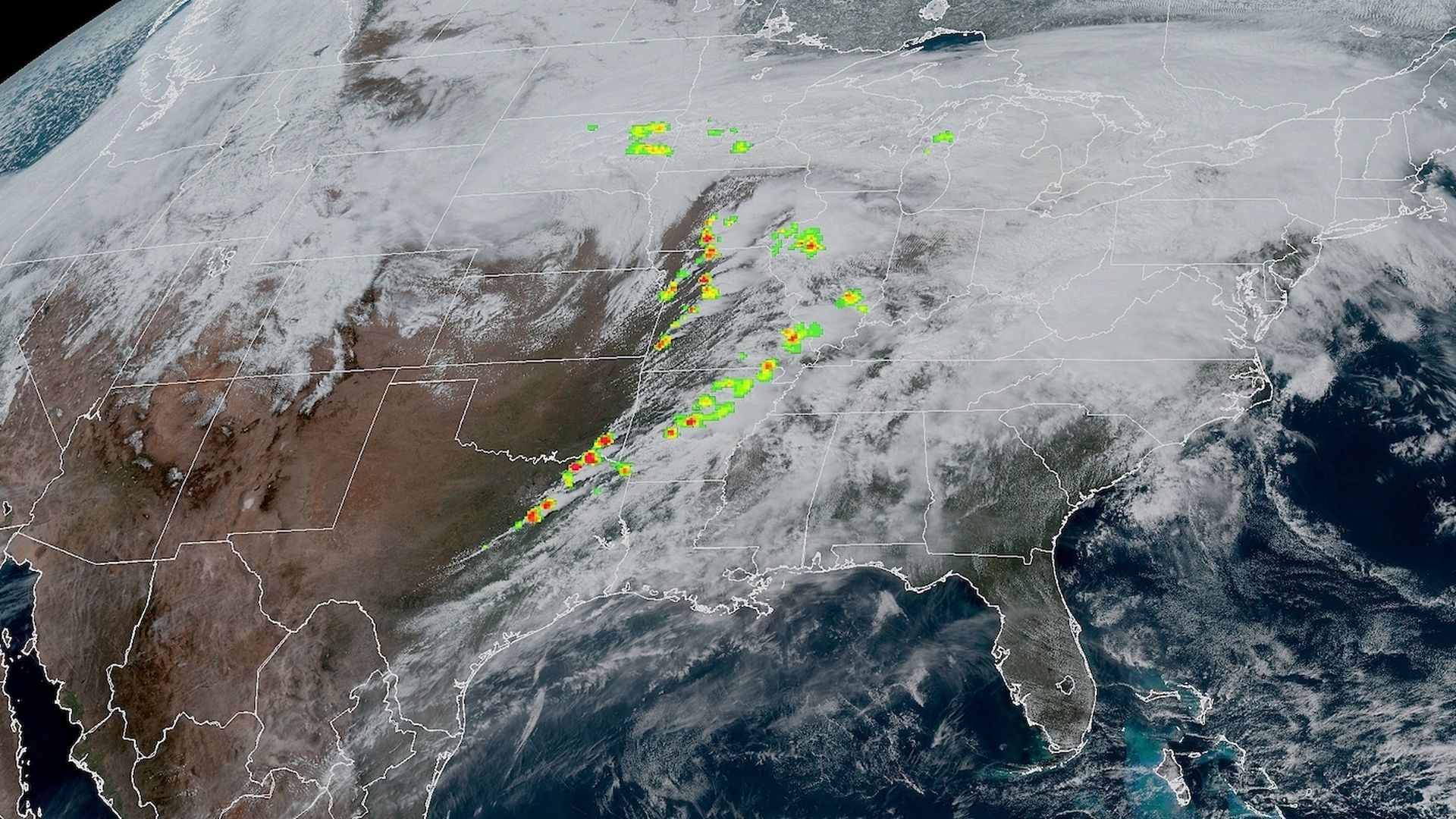 An expansive severe thunderstorm outbreak brought the threat of "strong to violent" tornadoes and straight-line wind damage to 42 million people across at least 12 states on Friday.
The big picture: The severe weather is associated with a sharp cold front and intense storm system bringing heavy snow to the Plains and parts of the Midwest.
The latest: A large tornado struck near Little Rock, Ark., and injured at least 24 people, Mayor Frank Scott Jr. said Friday evening.
Meanwhile, a "Particularly Dangerous Situation" tornado watch was also issued for parts of Central and eastern Iowa, western Illinois, northern and central Missouri and southwest Wisconsin until 8 p.m. local time.
A second such watch was in effect until 8 p.m. local time for much of Arkansas, southern Illinois, western Kentucky, southern Missouri, northwest Mississippi, west Tennessee and northeast Texas.
Social media reports and video showed severe damage, with roofs torn off houses and trees snapped.
By 5:30 ET, multiple tornadoes had been confirmed in Iowa, including a large and violent tornado near the community of Keota.
Threat level: The Storm Prediction Center issued a rare "high risk" storm threat outlook for two areas Friday: parts of Iowa, Illinois, and Missouri, and portions of Arkansas, Tennessee, and Mississippi.
A "high risk" is the highest level, a 5 out of 5, on the center's storm threat scale. This is the first high risk outlook since March of 2021.
The areas under high risk encompassed 2.8 million people, including the communities of Memphis and Bartlett, Tenn.; and Davenport and Iowa City, Iowa.
Outside the areas of high risk, there was an expansive area at "moderate risk" of severe weather that stretches from Iowa to Indiana and south to Mississippi.
This is a level 4 out of 5 on the center's storm risk scale. Cities under a moderate risk included Indianapolis, St. Louis, Mo., Des Moines, Little Rock and Aurora, Illinois.
An "enhanced risk" or level 3 out of 5 covered a broader area, including the cities of Chicago, Nashville, Cincinnati, Louisville and Lexington, Kentucky.
Zoom in: Some tornadoes were expected to be at the high-end of the Enhanced Fujita Scale, of EF-3 or above, per SPC guidance.
"At least a few long-track, strong to potentially violent tornadoes are probable, particularly over portions of the Mid-Mississippi Valley to the Mid-South," the SPC stated in a forecast discussion.
Details: Thunderstorms came in multiple waves and tapped into strong mid-to-upper-level winds blowing out of the southwest.
That enhanced the amount of wind shear, which occurs when winds move at different speeds or direction with height, present in the Mississippi River Valley in particular.
Wind shear is a key ingredient for tornado formation.
In addition to the high winds in thunderstorms, high wind warnings were up for several states as damaging gusts were expected due to the intensity of the low pressure area moving into the Upper Midwest.
Context: This is the same piece of atmospheric energy that earlier this week struck California as a bomb cyclone, pushing mountain snowpack to record levels.
The intrigue: Tornado outbreaks are an area of active investigation for climate scientists.
Editor's note: This story has been updated with information about the situation in Arkansas.
Go deeper