Bestselling author challenges Audible over "poor" deal terms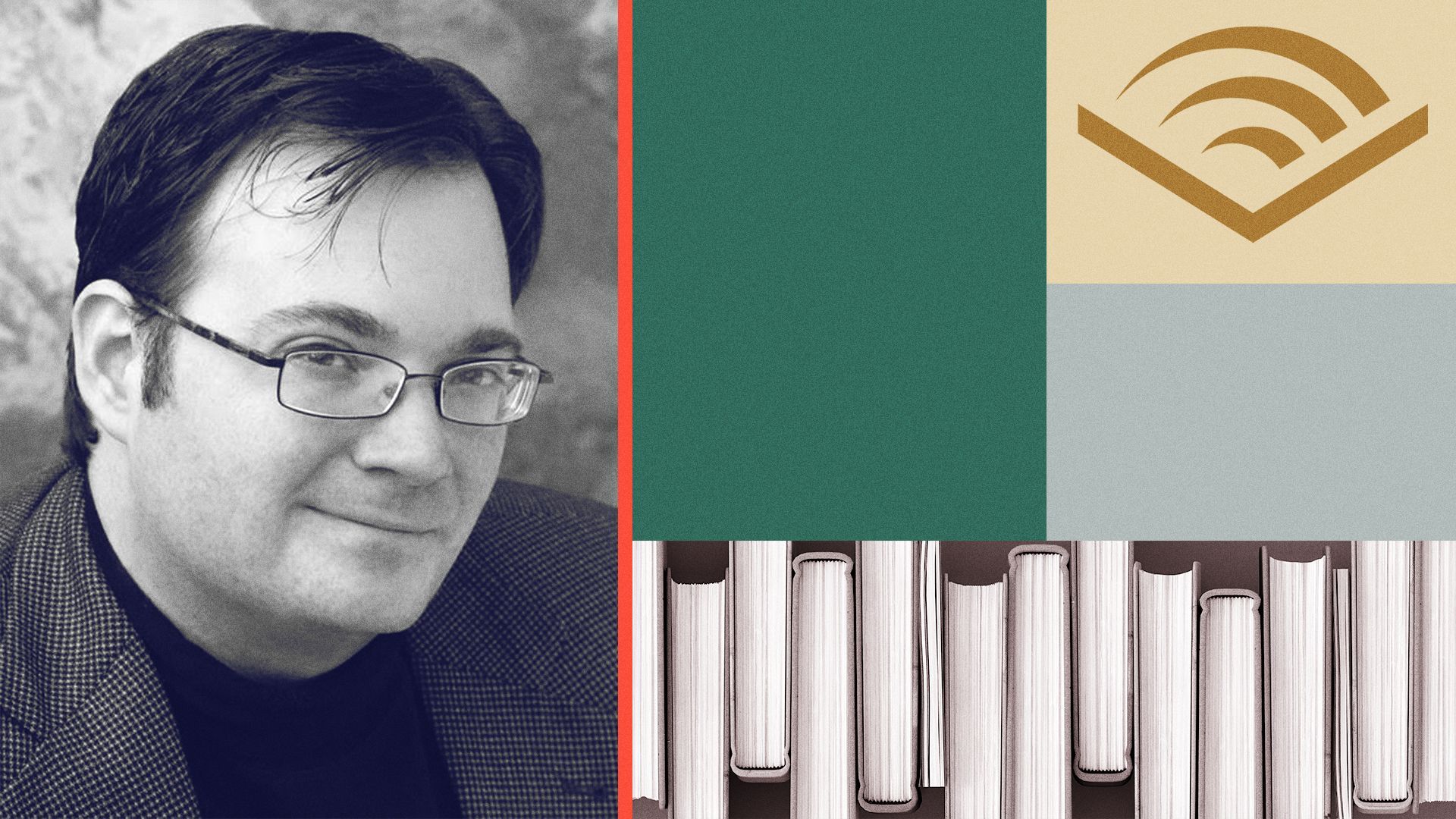 A bestselling fantasy author has moved some of his recent projects off Audible, Amazon's industry-dominating audiobook platform, because, he charges, "they treat authors very poorly."
What's happening: Brandon Sanderson — an industry heavyweight with 15 New York Times bestsellers, including multiple #1 spots — is the first author of his stature to publicly challenge Audible. His book "Oathbringer" was the most pre-ordered book of all time on that service.
Driving the news: Sanderson recently ran the most successful Kickstarter campaign ever, raising $42 million to self-publish four novels that he wrote in secret during the pandemic. Then he announced that he would distribute the audiobooks through Spotify and Speechify rather than Audible.
Why it matters: Audiobooks are the fastest-growing format in publishing, projected to be worth $35 billion by 2030.
Audible controls 63% of the U.S. audiobook market, according to one estimate, but Sanderson claims their influence is far greater, estimating they control 90%.
"There are no true competitors to Audible. Sure, there are other companies that can buy your book — but they all just list on Audible, and then take a percentage on top of what Audible is taking… Audible runs this town, and they set the rates. For everyone. Everywhere." Sanderson wrote in his annual "State of the Sanderson" post at the end of 2022.
Details: Audible pays authors 25% royalties on audiobooks, or 40% for those who agree to an exclusivity contract. That's well below the industry standard of 70% for other digital products like games or apps.
As with audiobooks, those products involve a wider production crew or organization than just the author, so the revenue splits get complex fast.
Between the lines: Sanderson is particularly critical of the way Audible's terms affect self-published and indie authors, who aren't splitting their cut with a publishing house.
"For a frame of reference, most brick-and-mortar stores take around 50% on a retail product. Audible pays indie authors less than a bookstore does, when a bookstore has storefronts, sales staff, and warehousing to deal with." Sanderson wrote in his post announcing his decision.
He told Axios industry insiders are well aware of the disconnect: "Everyone knows the margins on audiobooks are just ludicrously high."
By the numbers: Speechify offered Sanderson 70% royalties. His deal with Spotify is behind an NDA, but Sanderson said they treated him well.
Sanderson says he went with Spotify because he sees them as the only big company willing to take on Audible.
"I don't personally think that Audible sees Google or Apple as serious competitors in their business right now. I believe that they see Spotify as one. And it comes down to the fact that Spotify's main business is distributing audio products." he told Axios.
Spotify CEO Daniel Ek recently told Axios that Spotify was committed to its push into audiobooks and would not stop investing in the venture.
The other side: A spokesperson told Axios Audible remains committed to investing in authors: "We maintain open communication with our authors and creators to innovate and evolve, and we continue to explore new projects with Brandon. We look forward to ongoing dialogue with him on how we can further improve the experience for him and other creators, while bringing his work and others' to our listeners."
Reality check: Sanderson knows this will be an uphill battle. "How does anyone take on Amazon? Right? And as I've said before, I don't want to go to war with Amazon, they would win…" he told Axios.
Large publishers are getting the same deal from Audible, but Sanderson says they're "enormously gun-shy" to take on Amazon after being charged with collusion and price fixing in US v. Apple, when they challenged Amazon's price-setting power in the e-book market.
Sanderson told Axios his move has received support from other authors and industry groups.
At a panel during the 2023 HotPod summit, Dan Zitt, senior vice president of audio content production for Penguin Random House, said that many audiobook deals are beneficial only to the platforms, not to the artists.
What's next: Sanderson says he's not outright boycotting Audible or Amazon and will still distribute future projects with them.
The author added that he is not asking readers to cancel their Audible subscriptions, but seeks more discussion about the issues he's raised.
Go deeper