SS Twitter takes on more water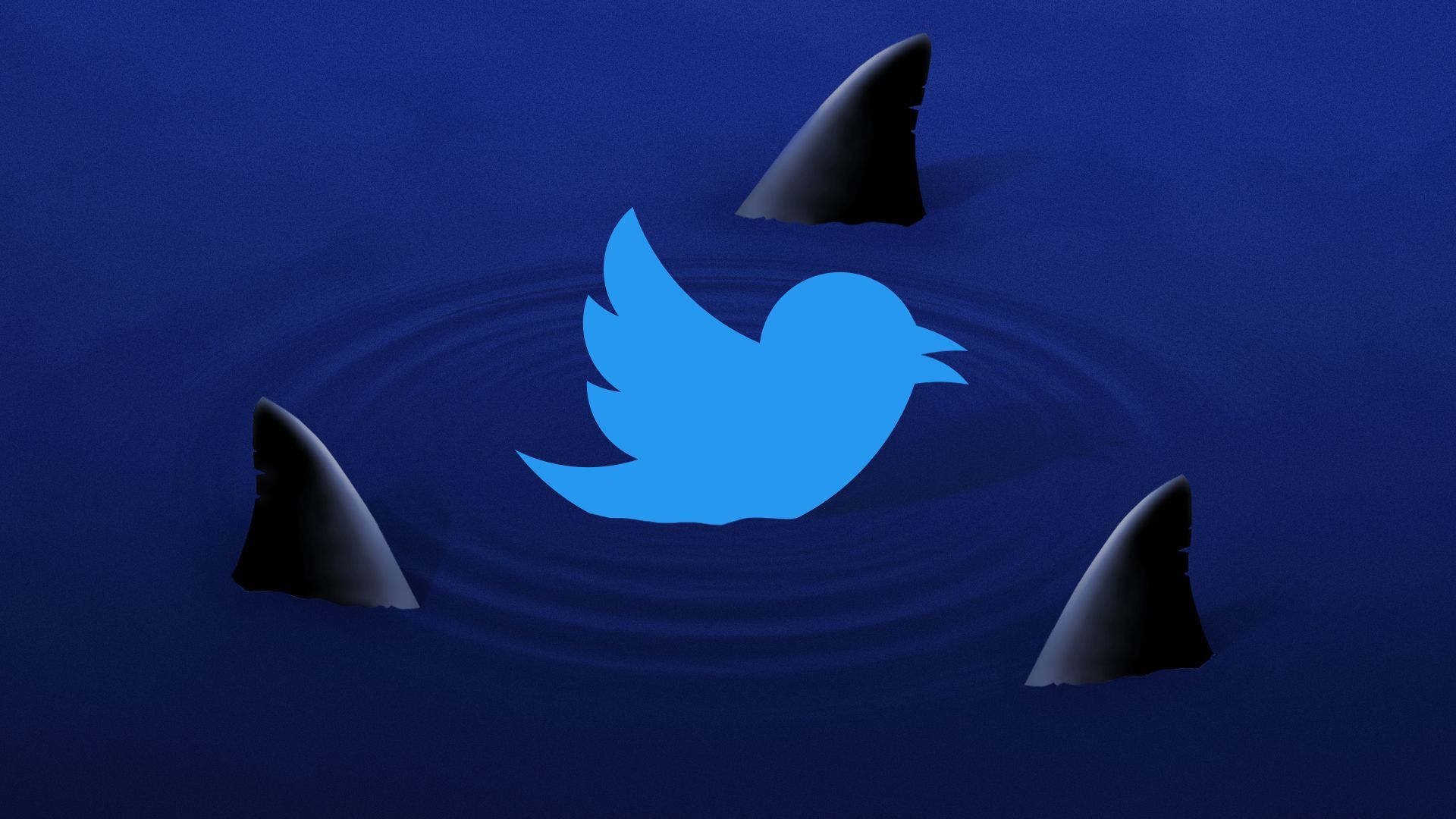 Twitter's ship has not capsized as many feared it might when Elon Musk took its helm five months ago. Instead, it has wandered off course, sprung leaks, and cast much of its crew adrift — driving many passengers to the life rafts.
Driving the news: In a recent stock-option offering to employees, Musk reportedly valued the company at $20 billion — less than half the full $44 billion price tag for his acquisition.
Musk announced Monday evening that starting April 15, the service would only highlight tweets from paying subscribers in its default "For You" stream. He framed the move as an effort to "address advanced AI bot swarms taking over."
Subscription revenue has not yet made a big contribution to Twitter's coffers, and the company is likely to keep seeking new ways to attract more payments from users.
Earlier this month, Twitter said that verified status would only be available to subscribers starting April 1, when users who'd been verified under the old regime would lose their blue checkmarks.
Why it matters: The more Twitter erects subscription barriers, the less it will serve as the "global town square" Musk has envisioned.
When "verified" just means someone paid a small fee, the door is open that much wider to misinformation, hoaxes and frauds.
Of note: In response to a complaint by William Shatner about the changes to the verification system, Musk said his goal is "treating everyone equally."
But Musk made headlines in February when Platformer reported that Twitter engineers had rigged the service to give his own tweets a ton of extra exposure.
Twitter also has a list of roughly three dozen VIP accounts — including President Biden, a conservative Musk fan who posts as "catturd2," Lebron James, Rep. Alexandria Ocasio-Cortez, Ben Shapiro and other journalists — whose tweets get special amplification, Platformer further reported Monday.
The big picture: Twitter still faces an uphill fight to attract advertisers.
A general ad market downturn is partly to blame. But major advertisers are also unhappy with some of Musk's changes, including a rise in extremist postings under his more permissive content rules.
Between the lines: During Musk's Twitter tenure, the new owner has unleashed a stream of impulsive policy-shifts-via-tweet.
Many of these initiatives never materialized, and those that did rarely kept to the announced schedule.
That has left some observers skeptical of announcements like Musk's plan for the "For You" feed, with many taking a "we'll believe it when we see it" stance.
The other side: Good journalistic practice compels us to seek comment from a company in a story like this one, but Twitter's communications team is long gone — part of the mass layoffs and resignations that have left the firm with less than a third of the 7500 employees Musk started with.
Today, emails to Twitter's old press inquiries inbox receive an auto-reply of "💩."
Go deeper