Launching rockets isn't enough for space companies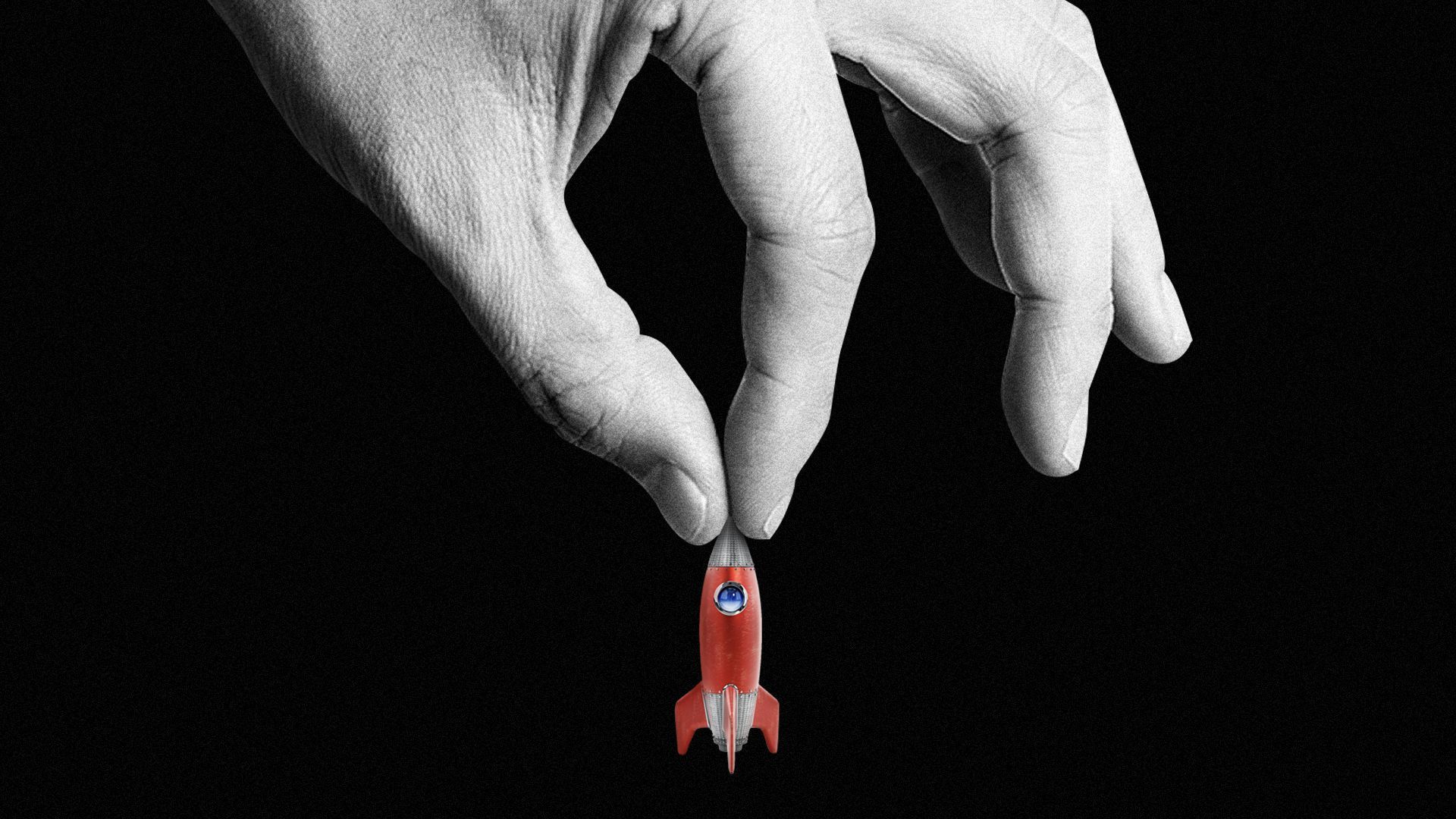 Companies focused on sending small payloads to orbit may need to do more than just build and launch rockets in order to stay afloat in a competitive market, analysts tell Axios.
Why it matters: The small-rocket launch industry has seen massive growth in recent years, with dozens of companies working to get their rockets designed to bring small satellites to orbit for governments and other entities off the ground.
But analysts have cautioned that a bubble in the space industry has formed with a surplus of companies aiming to build and launch small rockets.
Some warn that the bubble is just about ready to burst.
Driving the news: Over the past couple of weeks, Virgin Orbit furloughed employees and paused work on its launchers while searching for funding to keep the company solvent.
These financial troubles came after one of the company's rockets failed in January and the nine satellites aboard were destroyed.
Astra, another company focused on launching small payloads to orbit, is at risk of being delisted by the Nasdaq.
The intrigue: Some analysts say that simply being able to launch rockets to orbit may not be enough to keep a company afloat.
"All the companies that have successfully reached orbit in the last 20 years — they'll all tell you that launch alone isn't enough," Space Capital's Chad Anderson tells Axios. "They're all moving down the value chain from everything from building spacecraft to satellite services and lunar landers."
For its part, SpaceX is building out its Starlink satellite constellation as an additional source of revenue, and Firefly Aerospace is developing its Blue Ghost lunar lander to fly payloads to the Moon. Rocket Lab also has its Photon satellite bus that can be used in a variety of orbits.
Yes, but: It may be possible to support a rocket company only through launching payloads to space, but it would likely take major backing from government customers.
"What I see companies doing — particularly small launch companies — to close their business case is to build relationships with government customers," BryceTech's Carissa Christensen tells Axios.
Governments could be particularly interested in small launchers and their ability to place small satellites in a specific orbit and to quickly launch as needed for military purposes.
Between the lines: Small-rocket launch companies are also facing major competition from SpaceX.
The company isn't focused specifically on building a small launch vehicle, but it offers the Falcon 9 as a rideshare that many different satellites can fly to orbit for a relatively cheap price.
"You have a very strong muting function that SpaceX is providing to the small launch market, which I think ultimately will force survival of the fittest," Adam Spice, Rocket Lab CFO, said during a panel at the SmallSat Symposium, according to Jeff Foust.
"I think there will be a lot fewer players out there in a few years than there are today."
The big picture: Economic headwinds are making it harder for capital-intensive companies — like those building rockets — to raise funds.
Space companies tend to require a fair bit of upfront capital to prove a model before generating revenue.
"As the waters start to recede, we'll find out who's got swim shorts on here," space analyst Chris Quilty tells Axios. "The survivors at this point may be the ones most successful at raising capital, rather than those that are necessarily furthest along or arguably have the best design for their launch vehicle."
Go deeper