Houston, we have a rocket bubble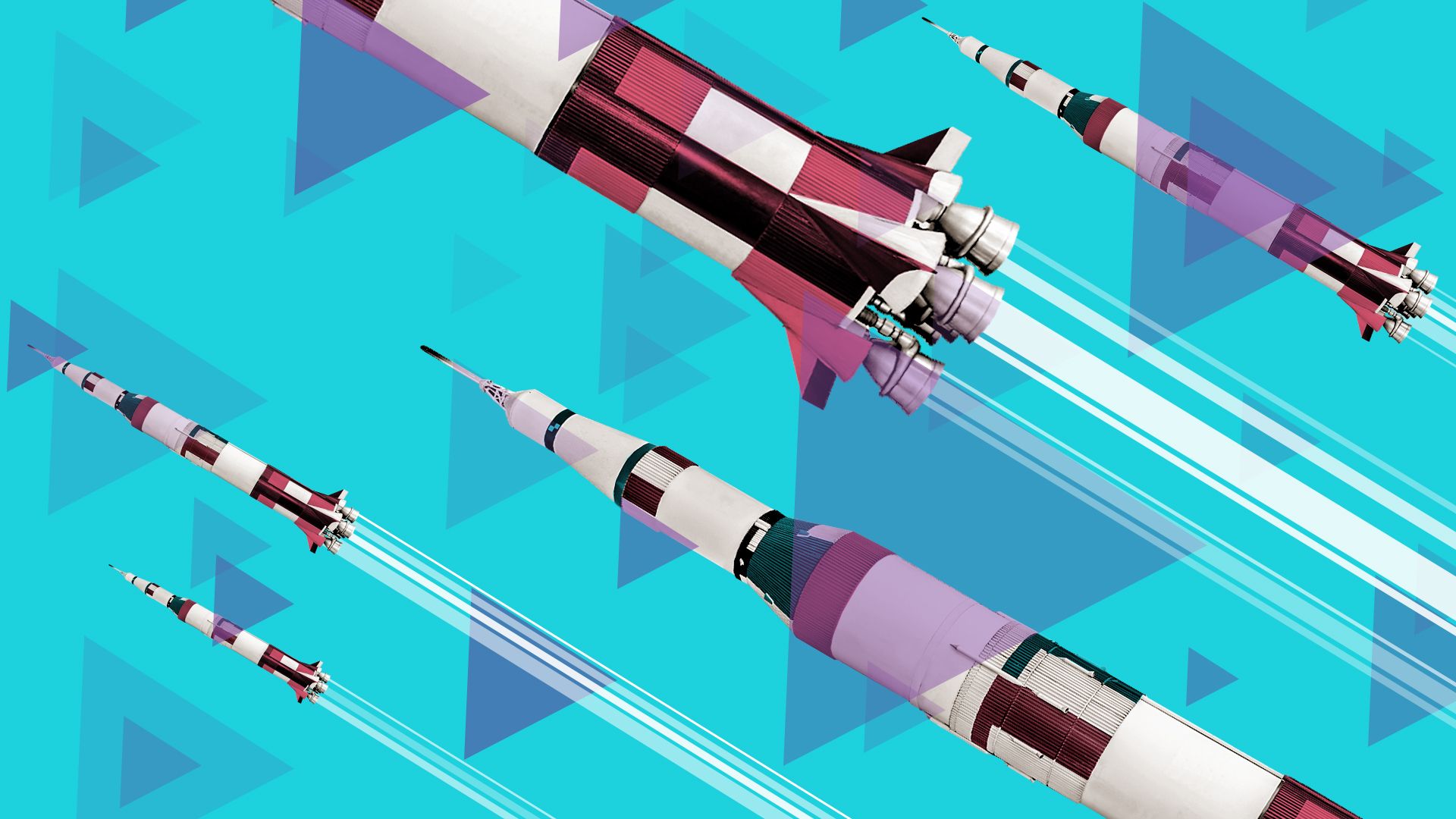 Some experts are skeptical that space will become a trillion-dollar industry, and a bubble may already be forming in the current space economy.
The billionaires tend to steal the space show. But behind them are about 40 other rocket companies looking to capture — and build more demand for —the market to launch small satellites and other payloads.
The big picture: People love rockets. They've inspired billionaires to enter the space industry and are obviously necessary for launching satellites and any vision of humans living and working off the Earth. But launching rockets isn't how people currently make money in space — that's largely satellites for national security and people watching TV.
Between the lines: Today, small satellites piggyback on rockets whose primary mission is putting larger payloads into orbit. An argument for small launchers — those that can carry up to 500 kg into low-Earth orbit — is that they can provide on-demand service to customers.
But the price per kilogram to launch with a small rocket is 5-10X greater, says Carissa Christensen, founder of aerospace consultancy Bryce Space and Technology. "That is a big premium to pay for schedule control."
Details:
Rocket Lab, Vector and Virgin Orbit are the current frontrunners in the race.
Other companies are in earlier stages of design and development and are trying to breakthrough and distinguish themselves.
Stofiel Aerospace, for example, is developing 3D-printed rockets to match customers' payload needs — and then return them to Earth, which they say is attractive for companies looking to experiment with manufacturing in space.
The U.S. military is also interested in on-demand launches — DARPA is holding a challenge to develop the capability to launch satellites on short notice.
What to watch: Industry experts tell Axios there is a bubble in the small-launch market and they expect consolidation among the companies in the next few years.
"There will be about three small launch vehicles to bring a product to market," says Peter Beck, the CEO of Rocket Lab which has conducted two launches and aims to put 16 more satellites up next year. "The reality is the barriers to creating the service are extreme."
So far, just a handful of small vehicle companies are licensed by the FAA to launch for profit.
"There are certainly niche opportunities for those vehicles. But the number of vehicles in development compared to demand is wildly out of sync," says Christensen.
Bryce estimates $536 million have been invested in small launchers but that is based on published data from just a handful of the contenders.
On the demand side, the FAA forecasts the launch of 1,753 satellites — about 75% of which will be small —in the next 5 years. But each won't go on its own rocket and experts say it's unclear the demand will be sustained.
"It is incumbent on everyone — operators and investors — that we aren't overfunding and over hyping," says venture capitalist Sunil Nagaraj.
The bottom line: Comparing the current small-launch landscape to the dot com bubble, Christensen says, "That kind of disruptive uncertainty is in no way incompatible with an industry that transforms to new and broader capabilities."
Go deeper