Two House Dems to attend visit to D.C. jail housing Jan. 6 defendants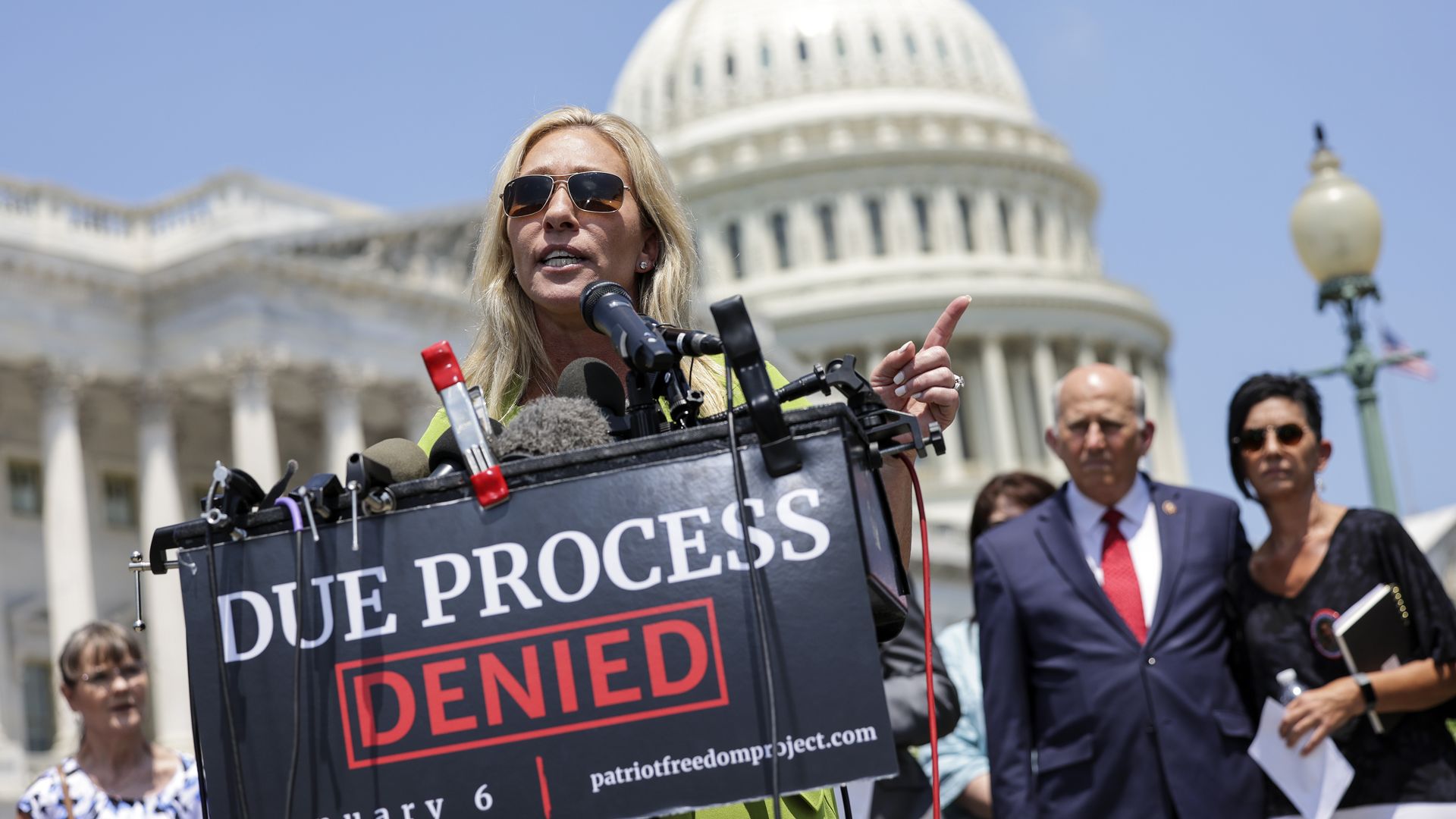 Two freshman House Democrats will be part of a congressional delegation led by Rep. Marjorie Taylor Greene (R-Ga.) to the D.C. jail — where Jan. 6 riot defendants are being held.
Driving the news: A spokesperson for House Oversight Democrats said progressive Reps. Jasmine Crockett (D-Texas) and Robert Garcia (D-Calif.) "will cut through Republicans' attempts to whitewash the dangerous realities of Jan. 6."
Between the lines: Don't expect the kind of bipartisan camaraderie sometimes found at CODELs led by lawmakers with aligned visions.
The spokesperson said the "MAGA-led tour" is "nothing more than Speaker McCarthy making good on his promise to give control of the Committee to extreme Republican voices."
"We are not going to allow lies to take away from the clear truth that insurrectionists attacked our democracy and Capitol," Garcia tweeted.
The intrigue: Rep. Summer Lee (D-Pa.), another progressive freshman, had been slated to go but pulled out before the Friday trip. Garcia was picked to go in her place.
Lee told Axios on Thursday, before withdrawing, "First of all, nothing that I do is 'joining' Marjorie Taylor Greene. She's not my leader. But I'll keep you [updated] on … whether we are going to be visiting incancerated Americans."
The big picture: Lee and Garcia aren't the only ones who want to harness the right-wing focus on the treatment of accused Capitol rioters as an opportunity to highlight broader issue of prison reform and prisoners' rights.
"I have a Bureau of Prisons oversight reform [bill]. I'll go to any federal prison and talk about that," Rep. Kelly Armstrong (R-N.D.), a more moderate Oversight member, told Axios earlier this month.
"If we're going to visit the D.C. jail, we should be talking to all the defendants and not just a subset ... unless that subset is being treated differently, and I don't think they are," Armstrong said.
The big picture: House Speaker Kevin McCarthy (R-Calif.) on Thursday met with the mother of Ashli Babbitt, the Trump supporter shot and killed by Capitol Police while attempting to force her way into the speaker's lobby on Jan. 6.
And in another sign House Republicans are forging ahead with their controversial push to re-litigate the insurrection, Rep. Barry Loudermilk (R-Ga.) told Politico he's aiming to release the first "findings" from his investigation into the Jan. 6 committee next Tuesday.
The bottom line: "Typically ... [prison] reform has been problematic more-so on the Republican side than the Democratic side," said Armstrong. "Sometimes it's like bizarro world out here."
Editor's note: This story was updated with additional reporting.
Go deeper