Japan reclaims World Baseball Classic crown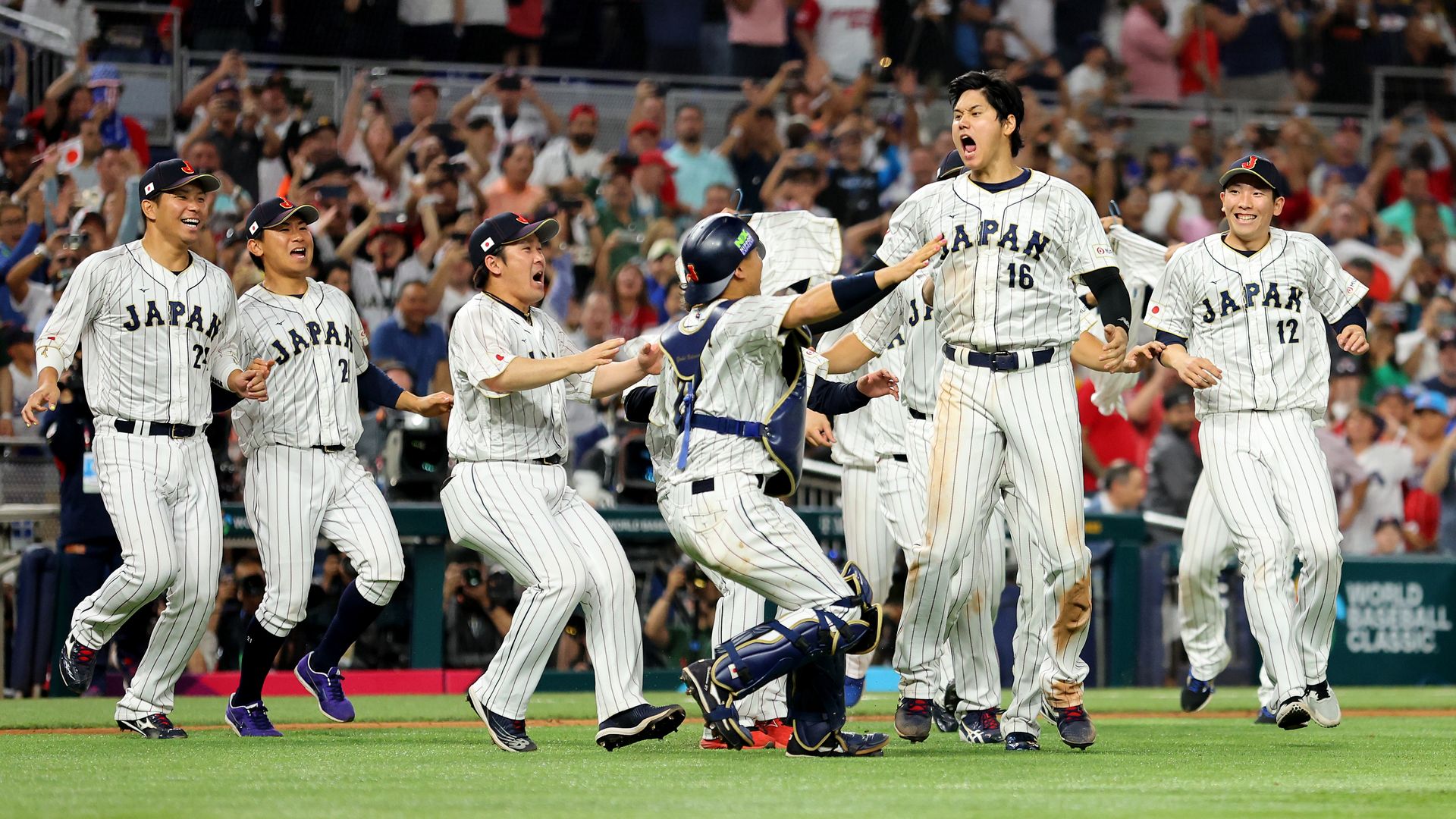 After two weeks of thrilling action, the best World Baseball Classic ever got a Hollywood ending.
Driving the news: Japan beat the United States, 3-2, on Tuesday night in Miami to win its third WBC title and first since 2009.
The final at-bat: Shohei Ohtani struck out Los Angeles Angels teammate Mike Trout on a full count to end it. You can't make this stuff up.
88 mph slider down (1-0)
100 mph fastball swung through (1-1)
100 mph fastball outside (2-1)
100 mph fastball swung through (2-2)
102 mph fastball down (3-2)
87 mph slider swung through. Strike three, game over.
🍿 Watch: All six pitches of the at-bat, and the final out as called on Japanese TV.
Recap: Four of the game's five runs came on solo shots, as neither team could deliver with runners in scoring position (combined 0-12). And all four homers came from guys who know a thing or two about dingers.
The big picture: Ohtani, named tournament MVP, spent the past two weeks cementing the case he's been not-so-quietly building over the last two years: that he's the best baseball player on the planet.
At the plate in the WBC, he hit .435 with 4 doubles, 1 HR and 8 RBI — and had the hardest-batted ball (118.7 mph).
On the mound, he went 2-0 with a 1.86 ERA, 11 strikeouts and a save in 9.2 innings — and tied for the hardest-thrown pitch (102 mph).
Plus: He also legged out an infield single on Tuesday by running to first base in a lightning-quick 4.16 seconds.
What he's saying: "I believe this is the best moment in my life," Ohtani said after the game. 🥹
The bottom line: When the WBC began, we wrote that it had the chance to become the type of global event that baseball has never truly had — so long as the stars put on a show. Mission accomplished.
Go deeper